Aquatic Bermuda Boat Tours
Sightseeing & Glassbottom Views
At Aquatic Bermuda, captain Tony and his wife operate a small 22-foot glass bottom boat, called the Coral Reefer. The boat has a capacity of 14 persons. The boat is so light that only about 6 inches of the boat remains under the water. 
This allows Tony to cut out the engine and drift silently over reefs that are sometimes less than just a foot below the surface! We had our toes curling! We got a chance to sneak up on vibrant parrotfish and other colorful fish the big boats can rarely see. Itís like snorkeling without getting wet! 
Aquatic Bermuda puts a lot of emphasis on sightseeing and glass bottom view of corals and marine life. They focus mainly on the lagoon patch reefs about midway between shore and barrier reef. Water is quite shallow there. With wonderful reef and coral formations, it gives you breathtaking views. 
This boat tour on the Coral Reefer can be highly satisfying for those who would like to have a lot of information about the island, sightseeing experience as well as a great glass bottom view of the underwater world. 
However, if you are looking for a snorkeling tour, you can consider
Jessie James
. But they wonít focus much on sightseeing and glass bottom view as Aquatic Bermuda does.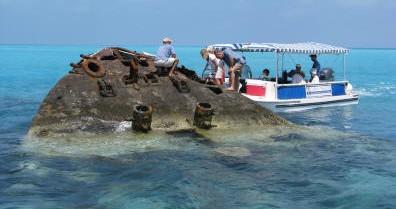 Photo: Aquatic Bermuda 
The Aquatic Bermuda boating tour is regularly scheduled for two and half hour trips. They operate from the Hamilton area. This is at the hub of all forms of public transportation. Pick up is from Barr's Bay Park at the West end of Front Street (Hamilton waterfront).  
To reach Aquatic Bermuda at Barr's Bay from Hamilton Ferry Terminal, keep harbor to your left, walk past the bank of Bermuda and turn left then immediately right. Walk down the short lane between red and green building to the Marine Police Station. Barr's Park is ahead beyond the hedge. 
Enter park through the gate and look for a boat with a Red Canopy. You should be able to find the boat right there. The chartered or exclusive tours of Aquatic Bermuda also depart from Pompano Beach hotel, 9 Beaches, Willow bank and the Fairmont Southampton on certain days of the week. 
Update June 2013: Unfortunately Tony had to sell off his Coral Reefer to cover medical expenses. Sadly, the Aquatic Bermuda tours on Coral Reefer are no longer available. However they continue to offer their small motor boats (Boston Whaler with 6 person capacity and BeachCat with 10 person capacity) on hourly rent. 
Indicative Rates 
17ft Boston Whaler Rent 
4Hours: $150 (weekdays), $165 (week ends and†holidays) 
8Hours: $260 (weekdays), $287 (week ends and†holidays) 
23ft Beach Cat Rent 
4Hours: $230 (weekdays), $256 (week ends and†holidays) 
8Hours: $400 (weekdays), $440 (week ends and†holidays) 
Location 
Aquatic Bermuda has no city office. For glass-bottom tours, you will find them with the boat at the Hamilton Ferry terminal which is at the west end of Front Street, next to Bank of Bermuda. For boat rentals, they deliver the boat at the dock of
Barr's Bay Park
. Keeping harbor to the left, walk past the Bank of Bermuda and take first left then first right. Walk down the short lane, between the red and the green building, to the Marine Police Station. You will see Barr's Bay Park ahead beyond the hedge. 
Contacts 
Phone: (441)236-2200 
Mailing address: Suite #240, 12 Church St, Hamilton HM11, Bermuda 
Note: They may not be very efficient with emails as they are mostly tied up with the sailing activities. 
Related Articles
Visitors' Reviews
Review and share your experience.