Hartley's Undersea Walk
A Top helmet diving operator in Bermuda
Greg Hartley generally runs two helmet diving boat tours daily, one in the morning and the other in the afternoon in Sandys Parish at the western part of the island. Their 40-foot dive boat, called the Rainbow Runner, has a spacious cabin, bathroom, changing room and shower. It's a glass-bottom boat, so the divers can get a great view of the underwater world right from the boat as well. 
This helmet diving adventure takes place on a sandy bottom and at a depth of about 10 feet of turquoise water, between coral reefs and waving sea fans. You can see parrotfish among the corals just few feet away. You can easily hand feed the beautiful angelfish. The whole trip typically lasts for about 3˝ hours out of which about 30-40 minutes is spent underwater. 
The Boat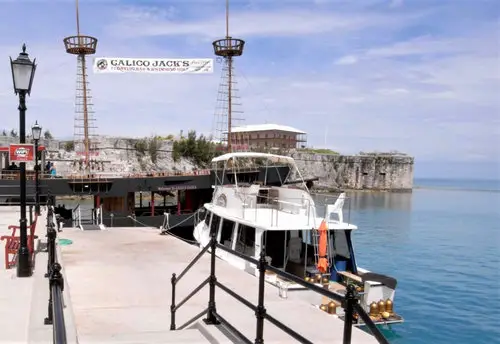 Photo: Hartley's 
They take a group of 5-6 together underwater and there would be typically 4 to 5 such groups. So once the boat reaches the site (in about 30 minutes, 2 miles away and within the reef line), each group goes under the water in turn, while others await their turn on board the boat. 
As you wear the helmet and start your walk on the sea floor, you can touch your face or adjust your glasses. You can even wear your prescription glasses or contact lens. There is no regulator or snorkel crammed into your mouth, and no mask squeezing your face as in other water sports. You need no lessons or swimming ability, only a spirit of adventure.  
Since Greg and his team have been helmet diving on the same reef for years, the fishes have become quite used to them. You may be a bit surprised to see that Greg has actually made friends with many of the marine creatures. 
Under the water, divers get introduced to fish such as Oliver the Grey Snapper or Charles the Hogfish. All these fishes are very friendly. Some fishes are so tame they will let you pet and hold them.  
Photo: Viator/Hartley's 
Snacks are available onboard and complimentary fruit drinks are provided. If the water temperature drops below 80 degree Fahrenheit, wetsuits and free hot chocolate are given to the divers. Divers must be aged 5 years and older and should bring a towel and bathing suit. Reservations are required. 
Departures
Departures are usually at 9am and 1:30pm (unless they have chartered bookings on a specific day). The boat usually leaves from the Mangrove Bay Public Dock. It is located right next to the Cambridge Beaches Resort. The dive site is less than 2 miles away (takes about 30 minutes by boat). Unless fully booked they usually do not operate on Sundays and public holidays, and also during the winter. 
Rates by Viator 
Contacts
Hartley's Under Sea Adventures Ltd.  
Phone: 1-866-836 3989 (Toll-Free);  441/234-3535 (in Bermuda) 
Note: They prefer to receive calls between 7am to 9pm EST. 

By Raj Bhattacharya 
Raj, a seasoned travel writer and Bermuda destination expert, has extensive global travel experience. This website reflects his profound insights, garnered over nearly two decades of dedicated findings and research on the island. Raj has assisted countless Bermuda-bound visitors by providing direct, personalized responses to their queries and imparting his wealth of knowledge through this platform. This site serves as an indispensable guide for those seeking informed and reliable insights into Bermuda's treasures. 
Related Articles
Visitors' Reviews and Comments
Tony Knight (June 2016) 
This excursion is the most unique experience I have ever had! My wife and I will never forget it. It's awesome. You go under the water and walk around the reef holding different fish. We are taking my daughter and her boyfriend this summer (2106) to experience this awesome excursion. I highly recommend it! 
Tracy Bateman (October 2013) 
My husband, sister, brother in law, and their daughter all went helmet diving recently. First we were pretty impressed with the experience!!  Although Capt. Greg was pretty pushy with his views and he tended to get off track pretty easily!! When we left we felt as if he made us feel pretty stupid!! Overall we loved being under water and loved the interaction with the fish!! Capt. Greg was like a fish charmer!! We could not recommend this trip to our family and friends...