Paraquet Apartments Bermuda
Category: $  Location: Paget 
Review Rating: 4.3/5 
Paraquet is a family run guest apartments located in Paget and on South Shore Road. The buildings are pastel pink with slanted white limestone roofs. With a small grassy lawn in front and its adjacent restaurant which is quite prominent and popular to locals, you won't miss this property as you go past it. Jonathan runs the property along with his staff. Although the property is small, there are several room types to choose from - Standard Suite, One Bedroom Suite, 2 Bedroom Suite, Studio Suite etc. 
All rooms have nice amenities such as AC, TV with many channels, microwave, coffee maker, attached bathroom with full shower and towels, fridge and importantly reliable free WiFi etc. 
Paraquet Apartments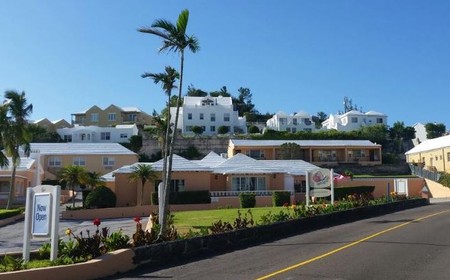 The Standard Suite is a cozy small room with a shared patio that has table and chairs for you to relax and soak in the nice and quiet environment around. It has a mini fridge instead of a full size fridge, a queen bed to sleep two. The One Bedroom Suite on the other hand has a full kitchen with a sink, a full size fridge, a living room, queen size bed, and of course all other amenities of a Standard Suite. 
The 2 Bedroom Suite has two rooms with two king size beds. So it can sleep a total of 4 persons and ideal for a small family. It has one private bath though. Take one of the upstairs rooms for better views. All rooms are clean and well maintained. 
A Standard Suite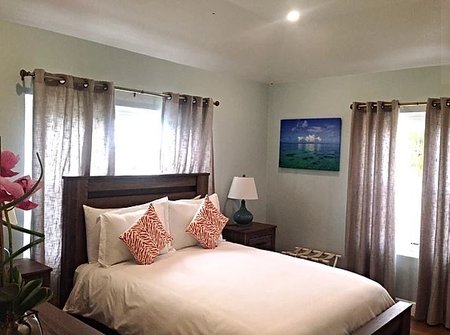 Photo: Paraquet 
If you want to cook or get some bread, fruits, deli type snacks etc and keep it in your fridge, then there is a Super Market known as Modern Mart within easy walk. Walk towards Hamilton City and you will reach Modern Mart (on the same side of the road) in about 7 minutes. 
There are side walks available on both sides of the road. Other than grocery items, you get wine and beer too at Modern Mart. It's open Monday through Saturday until 10pm and quite convenient. It has enough scooter parking too. 
Bathroom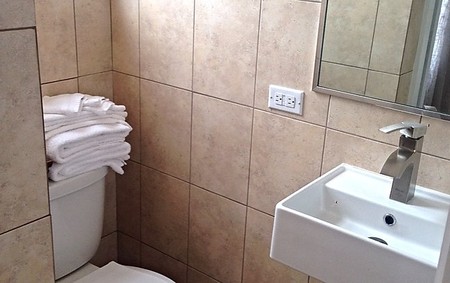 Photo: Paraquet 
And if you don't like to cook all your meals, then right next door is the
Paraquet Restaurant
owned and run by the same family. It serves nice Bermudian and western style food and quite popular with the local families, so you know that the food here is good and reasonably priced. The restaurant is open all day until 12am midnight which is a bonus. And what more, every guest staying at the apartment gets 10% off on all orders at the restaurant. Alcohol is not served at the restaurant. 
Coming to the location of Paraquet.... one of the best in all respect. Why? Because Hamilton City is only 10 minute by bus, and the bus stops (both ways) are right in front of the property on South Road. One of the most popular south shore beaches - the
Elbow Beach
is only 10 minute walk from the property. 
The service is very friendly. Jonathan would try to do whatever best he can to assist you with your stay and guide you about the island. Overall, this budget vacation apartment is good value for money. They do not however allow a stay for more than 30 days in one go. 
Location and Contacts 
The Paraquet Guest Apartments 
72 South Shore Road, Paget, Bermuda  
Phone: 1-441-236-5842; 1-441-531-2320 
Related Articles
3) Check out
Paget Parish
to know all about the parish including its attractions, activities, hotels, restaurants etc. 
Visitors' Reviews and Comments
Review and share your experience.