Elbow Beach Bermuda
Elbow Beach is located in Paget Parish off the South Road and between the Elbow Beach Resort and Coral Beach and Tennis Club. The beach has a gentle curve resembling an elbow and hence the name. It's one of the most beautiful pink south shore beaches of Bermuda. 
But it's a pity that the beach is often overshadowed by the resort of the same name. When you search online with the name of the beach, search results mostly show the Elbow Beach Resort. While a part of the beach is privately owned by the resort, a good stretch is actually public. 
As the beach is very close to the city of Hamilton (only few minutes drive) and there are three hotels on the beach front (the third one being the Coco Reef Resort tucked at one end), it gets quite crowded at times. However it remains as a very popular spot for both the tourists and locals. 
You will often see people taking a stroll on Elbow beach after finishing the day's work. The Elbow Beach Resort offers some great facilities to its guests at its private beach including full bathrooms and changing facilities, as well as shuttle services to take the guests back to the hotel lobby. 
Elbow Beach Bermuda (facing east)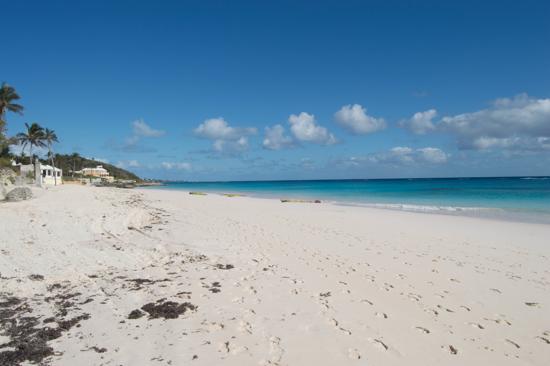 The public side of Elbow beach has basic bathroom facilities. 
You can also get rentals like snorkeling gears, sand chairs, chase lounges, beach umbrellas etc from facilities operated by Elbow Beach Hotel, but they are quite expensive. There is a popular restaurant and beach bar
Mickey's Bistro
right on the beach run by Elbow Beach hotel. You can plan to take your lunch here or just enjoy a few drinks. X Temporarily Closed 
You can get kayaks, paddleboards etc from
Bluewater Divers
, a diving and watersports center that operates out of the Elbow beach hotel. Update: Bluewater Divers no longer operates at Elbow Beach hotel. They have an outlet at Somerset. 
There are coral reefs quite close to the shore of Elbow beach. The reefs act as barriers to the ocean breeze and therefore the water here remains relatively calm, making it just ideal for swimming. Elbow Beach is a great snorkeling spot as well. 
The
Pollockshields
shipwreck is about 100 yards off the shore. The easiest way of seeing this wreck is to take an escorted snorkel kayak tour or an escorted snorkel boat tour from the Elbow Beach store. 
A series of small breakers are located within a few feet of the shore and offer an aquarium of marine life. When you're not swimming or snorkeling, long walks on Elbow beach in Bermuda can be equally enjoyable. In the evenings, you will often see locals playing beach volleyball. They will welcome you to join them and play. 
Elbow Beach Bermuda (facing west)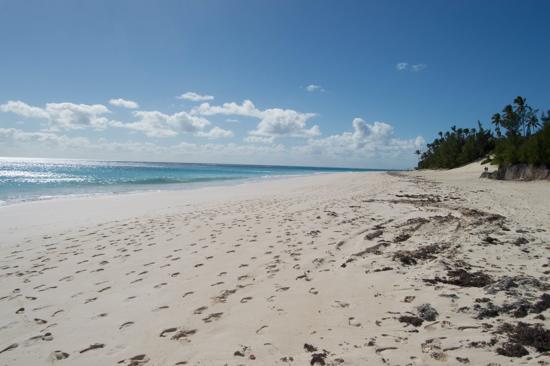 At the public part of the beach, sometimes a local vendor rents umbrellas and chairs. But you may not find him everyday. You can rent umbrella and chair from
Elbow Beach Hotel
. Two chairs and an umbrella cost $75 for the day. Note that elbow beach hardly has any tree shades. So lounging exposed under the hot sun during the day time may not be very pleasant or wise, particularly for elderly people. So carry an umbrella or at least a cap. 
A personal opinion: 
I think it's quite unfortunate that Bermuda's government allowed the Elbow Beach Hotel to use the same name as the beach itself because a part of the beach is private to the hotel. This not only overshadows the lovely south shore public beach which is arguably one of the top three beaches in the island, also you won't easily find description of the public beach using online search either. Instead you will see numerous commercial listings of Elbow Beach hotel in google search while looking for the beach info. I hope the same mistake is not made for naming any other hotel in the island. 
Elbow Beach Imagery 
Rotate the image for 360° view  
How to reach Elbow beach?
Visit the
Beach Map
to view the location of Elbow beach and several other great beaches. 
You can take bus #7 that runs along the scenic South Shore and get off at the bus stop near the beach. The bus route operates between Dockyard and Hamilton. From the dockyard, it takes about 50 minutes to reach the bus stop for Elbow Beach. From Hamilton you can take either bus #7 or #2, and the ride is only about 10 minutes.  
From the bus stop, there is a downhill road (Tribe Road #4) which begins at the sharp bend on South Road. You will need to walk down for about 500 yards to reach the beach. Walking back up to the bus stop can be a little cumbersome for some. 
If you want to avoid this walk, take a taxi and request the taxi driver to come back and pick you up. Taxi takes about 40 minutes to reach from the dockyard. Taxis won't usually hang around at Elbow beach. So unless you booked one, you need to walk back up to the bus stop.  
Road Map 
Nearby Attractions
Visit the
St. Paul's Church
located nearby on Middle Road (0.9 mile from Elbow Beach) and believed to have been once haunted. You can also rent a scooter from the
Elbow Beach Cycles
located in Elbow Beach Hotel premises to get around the island. Although a little over a km and a half from here, you can do 'A Memorable Evening With Mark Twain' at the
Four Ways Inn
in Paget Parish. A wonderful performance with great food and wine, this is one evening you would not want to miss. 
Related Articles
Visitors' Reviews and Comments
Bob (July 2018) 
This was the second time we took a cruise to Bermuda. The first time we went to Horseshoe Beach and it was very over crowded but it did have food and beach facilities. Before our second trip I researched Beaches in Bermuda and Elbow Beach seemed ideal. The Beach is beautiful and not crowded but the only facilities are two Porty Potties.  Don't count on renting chairs or umbrellas from the Elbow Beach Hotel. Even though there were empty chairs and umbrellas they said there were fully booked. They did sell us some water - 4 bottles for $22.00.  We had to find shade against the hill in back of the Beach. 
Steve E (September 2016) 
Rented an umbrella and 2 chairs today at Elbow beach resort, could not believe but they charged 100 dollars to rent for the day! They do provide service all day and bring you cold towels to cool off and have beach side food service. It was nice for a day, but they definitely gouge you. 
Chandra Turner (July 2015) 
Hi Raj. Love your blog. So incredibly helpful with my trip planning! I read on TA that Elbow Beach's umbrella/chair/snorkel gear rentals are via the Elbow Beach resort and are quite expensive. Is there another option for renting these things at Elbow? Trying to decide if I should haul my umbrella and other gear from NYC and then to/from Elbow (we are staying at a BnB that's a 15 min walk away). Or suck it up and pay the fee. Do you know how much they cost? And are they the same fee at other beaches like Horseshoe Bay? Many thanks. 
Raj (bermuda-attractions.com) July 2015 
Hi, yes you can get beach rentals like chairs and umbrellas at Elbow Beach from the Resort. They are expensive ... last I heard was about $65 for a couple of chairs and an umbrella. At Horseshoe, a chair or umbrella would rent within $15 each. 
Tracy (August 2013) 
Just got back from Bermuda. We did the ferry to Hamilton and the # 7 to Elbow Beach... We went around 10am, and there was 10 or less people at the beach. We swam for hours and left around 2pm. Fantastic day.. and a lot less crowded than the other beaches. 
Andrea Manzo (January 2013) 
I am taking a cruise to Bermuda in May with my family. There will be 16 of us. I was wondering if you can guide me on how to get from Kings Wharf to Elbow Beach? We would likely be spending a few hours there, I wasn't sure if the ferry or bus was more convenient? Also, is the ferry dock actually at Elbow beach or how exactly would we get there? Any information would be greatly appreciated. Thank you - we would like to get the logistics planned ahead of time.  
Raj (bermuda-attractions.com) January 2013 
Hello, there is no ferry service to Elbow Beach. You can either take bus #7 from the dockyard and get off at the bus stop for Elbow Beach in Paget parish (takes 50 minutes), or take the blue route ferry from the dockyard (Kings Wharf) to Hamilton (20 minutes) and then bus #7 or #2 (10 minutes). From the Bus stop it requires a 10-15 minutes walk to the beach.