St. Paul's Church Bermuda
Located in Paget Parish of Bermuda, St. Paul's Church was built in 1796 to replace another old church that was already existing there. It's an Anglican church that has it's own graveyard. One of the graves is of Harold Sidney Harmsworth, a famous man who went on to create the most successful media houses in England and popularized journalism in that country. 
He was a shy man and handled the finance and back office functions while letting his brother handle all the public relations. Harold died in 1940. But the church is probably best known for a ghost story around it. The locals say that there used to be a ghost in the church. 
No one ever saw the ghost but heard strange sounds and tinkling of the bells. It had once drawn a lot of media attention as well. Finally it seems an American scientist solved the mystery and pointed out that the sound was made by a bird - the Filio. However, no one saw the bird thereafter but the sound continued for a while. And one day the ghost was gone, and the sound was never heard of again. 
St. Paul's Church Bermuda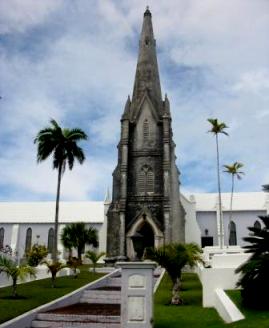 The church is open from dawn to dusk. There is no admission fee. 
Location and contacts
St. Paul's Church is located on Middle Road in Paget parish and next to
Paget Marsh
. 
Address: 69 Middle Road. Phone: (441) 236-5880 
Bus Routes: #2 (operating between Hamilton and Paget), 7 and 8 (operating between Hamilton and Dockyard). 
Road Map 
Raj Bhattacharya
Raj is an avid traveler, a travel journalist and a blogger. As an author of this website, he shares deep insights on Bermuda and related areas of interest. Since years, he has been helping countless viewers by posting quality articles, answering questions and sharing experiences on this website. Launched in 2008, this website is Bermuda's one of the leading sources of information since many years. 
Related Articles
1) Check out
Bermuda Churches
to know about the other great churches in Bermuda. 
2) Check out
Paget Bermuda
to find many other attractions in the parish. 
Visitors' Reviews and Comments
Share your experience.