Coral Beach & Tennis Club Bermuda
Category: $$$$  Location: Paget Parish 
Coral Beach and Tennis Club covers 26 acres of land area overlooking the beautiful south shore in Paget parish. The whole theme of the property is about old colonial charm with modern amenities. The oldest part of the property dates back to 1600s when it belonged to the Smith's family for 10 generations. Although facilities, rooms and cottages have been subsequently added, a serious effort has always been maintained to retain the old charm of the property. 
Note that this is a private club property and the usual access to facilities and accommodation requires membership. However non-members can also use the club if they are introduced through an existing member or if one has a reciprocal membership of another club. Cruise ship passengers do not require any introduction though. 
There are 9 cottages spread out in the lush gardens. The cottages are all quite different in design, but have kitchens, fireplaces and living-dining rooms. The cottages are set among lush gardens, either positioned on the cliffs overlooking the beach or in the privacy of greens. Cottages vary in size from a one bedroom to even four and five bedrooms. 
All cottages include a personal maid who prepares breakfast which is served at the private patio or terrace. There are also additional 26 rooms and 5 suites adjacent to the clubhouse offering great views of the beach and ocean. All have air conditioning and private terraces.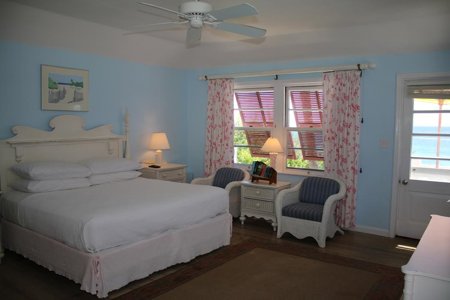 The suites have large bedrooms, living-rooms with a separate dressing area, and grand bathrooms with Jacuzzis. They have private access to their own gardens or ocean terraces, some with private swimming pools. 
The wooden clad Club House offers a casual elegance with a drawing room, reception area, dining room, bar and games room. From the Club House within a short walking distances are the elegant Longtail Terrace and Beach Terrace both with spectacular views of the pink sand and water below. 
You can dine on a terrace (subject to weather permitting) or in the restaurant. While you can be in smart casuals at Beach Terrace, dining in the main dining room (Coral Room) and Longtail Terrace would require you to dress up formally with jackets for dinner. 
You will also find a variety of shops, fitness studio (the gym has been renovated), games room and Beach Hut offering assortment of soft and tropical drinks. 
Also on the grounds are eight championship clay tennis courts, croquet, squash, 18-hole putting green, bowling lawn and the full service
Spa at Coral Beach
offering top of the line facials, massages, skin treatments, manicure and pedicure, salon services etc. 
The Coral Beach Club has its own gorgeous private beach. 
There are two things that require special mention - the food and the service. Both are excellent. The staffs are well trained and very friendly, and at the same time non-obtrusive. For lunch and dinner, the rock fish (which is a Bermuda special) is excellent and so are most of the other items in the menu including rack of lamb, chicken, beef etc. 
Some of the favorites here includes the Seafood Buffet dinner on Thursdays ... it's great and as evidence you will find many members on this day. Family night dinner on Sundays and Beach Barbecues on Tuesdays are also great attractions. They have nice selections of wine as well, although the range could improve a bit. 
The club also serves traditional British afternoon tea at 4pm which is a tradition in Bermuda. The tea is served in a pot and accompanied with many goodies, sandwiches and sweets. You must not miss this. 
The Coral Beach Club is an ideal location for weddings and private parties. There is a separate wedding area on the garden and close to the beach. The Longtail Terrace can accommodate up to 40 persons in a private function. The newly renovated Coral Room and the Main Lounge can each accommodate up to 100 persons. 
If you stay at Coral Beach Club, you should visit the
Alfred Blackburn Smith Nature Reserve
covering 8.7 acres of area. While it is not open to public, guests and members of the Coral Beach Club and Bermuda Audubon Society are allowed to visit the reserve. 
Rates provided by booking.com 
Location
The club is located just west of the Elbow Beach Hotel, it is less than 3 miles from the Hamilton City. It's on bus route #7 that operates between Hamilton and dockyard. 
Contact Info
Postal Address: Coral Beach and Tennis Club, Camden, Paget. 
Road Map 
Related Articles
2) Check out
Paget Bermuda
to know all about the parish including the attractions, activities, hotels, restaurants and more. 
Visitors' Reviews and Comments
Review and share your experience.