Coco Reef Resort Bermuda
Category: $$$   Location : Paget Parish 
Located at a quiet end of Elbow Beach, Coco Reef Resort provides one of the closest beach access in Bermuda with great water views from the rooms. From many of the rooms, the beach is only 15 steps away. The two storied buildings of the resort with its pastel colors reflect the traditional Bermudian choice and style. 
All rooms have original paintings with scenes from Bermudian life. The resort has undergone a major renovation in 2005. The new lobby has a soaring fifty foot atrium with crystal skylight. The 6000 sq. ft floor uses intricately designed quarry cut marble with Rojo Alicante tumbled marble inserts. 
The dramatic lobby features a triple layer octagonal fountain, marble top antiques, great paintings, impressive pottery, and statues. Surrounding the circular lobby are many arched doorways that lead to other sections of the hotel. 
There are 64 rooms. Out of that 32 are beach front, 31 having ocean views and a 1-bedroom suite. All rooms have excellent view of the water. The rooms are equipped with Direct dial telephones, Cable television, Coffee maker, In-Room Safe, Iron and Ironing Board, Bathrobes. The large bathrooms have tub/shower combinations.  
Coco Reef Resort Bermuda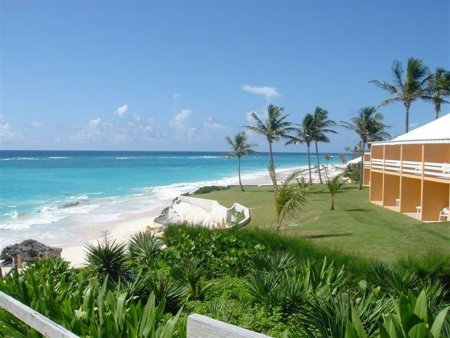 All rooms have balcony or a patio. The rooms are midsize and have a sitting area, fine hand-crafted wicker furniture, Original artwork, Hair dryers, Mini-refrigerators that are handy for stocking your own juices, drinks and such. All are non-smoking rooms. You can get beach towels at the reception. 
Coco Reef Resort Room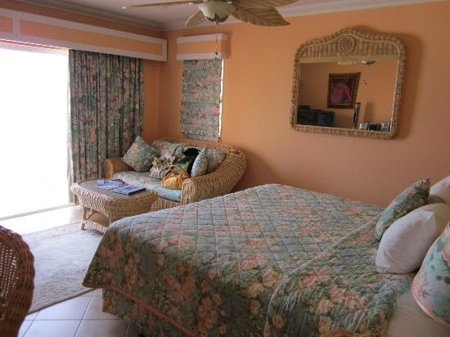 If you walk along the beach, you will see
Mickey's
, a beach restaurant serving great food and run by
Elbow Beach Hotel
(X Temporarily Closed) While you can certainly enjoy the food there, you should not use the beach chairs that are put up by the hotel for private use by their guests. 
Facilities
Coco Reef has its own small private beach that extends into the public Elbow Beach. 
Cafe Coco: Designed in Spanish style, this restaurant provides a great view of the ocean from all sides. British award winning Chef Jason Prangnell is in charge here. 
La Vista Bar: You can enjoy a great view of the ocean while sitting on an antique rattan chair. 
Tamara's Terrace: A newly renovated Mediterranean style terrace restaurant serving lunch. It overlooks the pool with great views of the South Shore. 
There is a Computer Room which has free high-speed Internet access. Complimentary wireless internet access is provided in the Lobby and Bar as well. 
Overnight laundry and dry cleaning services 
Sightseeing information and bookings, Concierge Services, Events and On-site wedding coordinator 
There are meetings rooms, a gift shop and a library within the resort. 
There is also a market store within easy walking distance.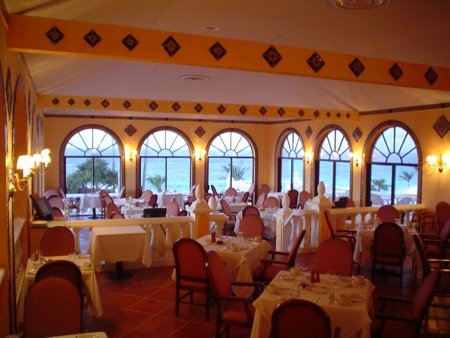 NOTE: Coco Reef issues day passes to visitors including cruise ship passengers who are not staying in the hotel as guests. Which means you can enjoy the day using their lovely beach and several other amenities. They provide beach. A 2-course lunch is included in the pass and it comes with a glass of wine as well.   
Rates provided by booking.com 
Location and Contact Info
Address: 3 Stonington Circle, South Shore Road, Paget, Bermuda 
Bus #7 (operating between Hamilton and Dockyard). It's a short walk from the bus stop to the main entrance of Coco Reef. Visit
Bermuda Hotel Map
to view the location of the hotel and others nearby. 
Phone: 800-648-0799 in the U.S. and Canada, 441/236-5416 in Bermuda 
Road Map 
Related Articles
2) Check out
Paget Parish
to know about all the hotels, restaurants, attractions and activities in the parish. 
Visitors' Reviews and Comments
Linda Cassino (June 2015) 
Do you know if coco reef resort still offers day passes for cruise ship passengers. We will be in Bermuda from June 17 to June 19, 2015 on celebrity summit. If not do you know of any other resorts or hotels who may have day passes. Thank you. 
Raj (bermuda-attractions.com) June 2015 
Hi, Coco Reef issued day passes in summer last year and haven't announced stopping it. So it should be available this year as well. 
Beverly Kaelin (April 2015) 
Love your website. We would like to spend a day snorkeling elbow beach and coco reef day pass sounds ideal. Do you need to reserve ahead of date and do you have contact info for them. Many thanks. 
Raj (bermuda-attractions.com) April 2015 
Hi, although you can get the day pass on arrival, better to book in advance. During high season, they may not issue the pass once it exceeds certain numbers. You can call up Coco Reef front desk and inquire. 
Judy McCauley (October 2012) 
Hi, I was wondering if you could answer a question for me? I read on one of answers of crowded beaches and it included Elbow Beach. My husband and I will be staying at the Coco Reef hotel first week of June. I guess my question is there a problem on this section of Elbow Beach being crowded with people who aren't staying at this resort? your advice is so helpful, keep up the good work. Thanks so much. 
Raj (bermuda-attractions.com) October 2012 
Hello Judy, This part of the Elbow Beach where Coco Reef is located, is quieter. The hotel has a small private beach that leads to the long expanses of the public beach. Every room has a great view of the water. So not to worry, Coco Reef is a good choice.