Cafe Coco Bermuda
$$$, Bermudian, International 
This upscale restaurant Cafe Coco is located in
Coco Reef Resort
in Paget parish Bermuda. Over looking the south shore, the window-side tables in the restaurant provide fantastic views of the ocean. With tiled floor and hand painted Mexican wall tiles and spanning across two levels, the restaurant designed in a Spanish style has a gorgeous classy look. There are fountains, sculptures and lights all around. While you can have candle lit dinner inside, there is also a wonderful terrace with great view of the water for outdoor dining. 
British award winning Chef Jason Prangnell is in charge here. He is an European Chef and served in the Caribbean before coming to Bermuda. During his stint in Caribbean, he had the honor of serving Queen Elizabeth II during the Commonwealth Heads of State summit in Trinidad. 
Jason has recently taken over from earlier celebrity Chef John Pritchard who was the host of TV's Red, Hot and Ready program. As starters, try the Grilled Ahi Tuna and Calamari, or Sautéed Gulf Shrimp. Some of the other great appetizers include Salad of Smoked Bay Scallops, Roasted Garlic Mousseline, and the Beef Tenderloin. 
Cafe Coco Bermuda 
Photo: Coco Reef Bermuda 
Some of the popular main courses here include Olive Oil Poached Bermuda Wahoo, Crisp Skinned Whitewater Snapper, Seared Scallops and Crisp Pork Belly, Spiny Lobster Cassoulet, Twice Cooked Angus Beef Short Ribs, and Pan Roasted Free Range Chicken. Try Crème Brulee for desserts. There is also a bar La Vista having wide range of wine selections. 
Terrace at the Cafe Coco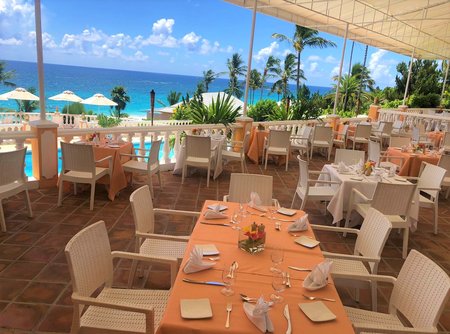 Photo: Coco Reef Bermuda 
Cafe Coco serves breakfast, lunch and dinner. 
Open Hours
Cafe Coco is open all seven days. 
Breakfast: 8:00–10:30am, Lunch: Noon–3:00 pm, Lounge Menu: 3:00–11:00pm 
Dinner: 6:30–10:00pm 
Location and Contact
Coco Reef Resort, 3 Stonington Circle, South Shore Rd., Paget Parishs, Bermuda 
Related Articles
1) Check out
Restaurants in Paget
know about all the great restaurants and bars in and around Paget parish. 
Visitors' Reviews and Comments
Share your experience.