Bermuda Catering Services
There are many questions that need to be answered before you choose the caterer or a restaurant for special occasions in Bermuda like a wedding reception or private party. For example, are you looking for full service buffet or a sit down type full service dinner? How much and what provision do you need to make for your vegetarian guests? 
Do you want traditional Bermudian cuisine or other type of food like continental, Italian, French or American? Do you want to consider serving drinks or like to put up a full service bar? Answers to all these will really depend on your budget, the profile of your guests and of course selection of the caterer. 
Wedding Receptions 
If you are planning a reception dinner in a hotel, in general hotels will use their own in-house catering services. Whether you engage a wedding planner in Bermuda or manage all wedding activities yourself, it's always a good idea to know what are the best restaurants, catering and food options available in the island. 
If you have decided on an outdoor wedding location like the Astwood Park, here is an idea: Why not get the caterer to put up a tent on the park itself and make all the arrangements for the dinner right at the wedding site. If you want, the caterer will even supply chairs, tables, tents, utensils and everything else required for the dinner. 
For indoor dining, other than the hotels that I have discussed under
Wedding Locations
, there are some excellent waterside restaurants that
can be great venues for reception dinner. 
The restaurant
Splendido
in Paget and right across the Elbow Beach can be a great choice. It has a marvelous dining room and a terrace which overlooks the south shore. In case of rains, they have indoor option as well. UPDATE: Splendido has closed down. 
Other great restaurants to host the wedding dinner includes
Harbourfront
in Hamilton City overlooking the harbor, and
Fourways
located in Paget overlooking the Hamilton Harbor having both indoor and outdoor options. 
A Typical Outdoor Arrangement in Bermuda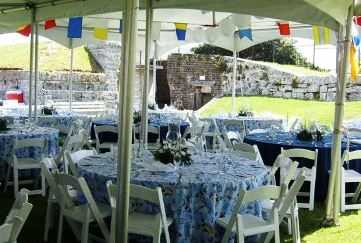 Catering Services in Bermuda 
Here are the top caterers, rental suppliers and bar service providers for all functions, private parties and other special occasions in Bermuda: 
Little Venice Catering: This group owns many great restaurants in Bermuda like La Trattoria, L'Oriental, Harbourfront, La Coquille and the first Italian restaurant in the island Little Venice. 
Island Restaurant Group Catering 
The group owns several restaurants in Bermuda including Barracuda, Latin, Hog Penny, Pickled Onion, Victoria Grill, Frog & Onion. They offer full service and custom catering. Their menu offerings include: Cocktail/Reception Menu, Gourmet Rotisserie Menu, Latino Themed Food Stations, Seated Custom Menu, Seated and/or Buffet Menu, Working Lunch etc. They also offer full bar service, staffing, all rentals like cutlery, tent etc, equipment and delivery. Email:
[email protected]
; Phone: (441) 295 3648 
Bouquet Garni: Run by Julie Grayston-Smith, they provide full service catering in Bermuda. They also supply tents, chairs & tables and other decoration items. 
PO Box FL 479, Flatts FL BX, Tel: 441/335 7079 
Food 4 thought Caterers
: They have been in business for over 10 years and specialize in wedding reception dinners, family brunches, rehearsal dinners as well as corporate functions, cruise and cocktail parties. 
Buzz Catering 
They run a fast food (cafe) chain in Bermuda having several branches all across the island. However they also do catering (minimum 10 persons) for breakfast, lunch and dinner. Service includes staff, delivery and equipment (if required). 
Buzz Office, BAS Building (3rd Floor), 19 Bakery Lane, Pembroke, Bermuda. 
FLAMZ BBQ & Grill: They are a mobile catering company offering authentic wood smoked BBQ fare and specializing in doing BBQ the old fashioned way. They can reach almost all locations within Bermuda with their equipment and supply. 
The owner Antwan Albuoy won the 'Low and Slow' category at the Father's Day BBQ Cook-Off on Court Street in June 2011. They use Hickory, Maple and Apple woods, combined with special homemade BBQ sauce in their preparations. Phone: 441/537-2442; Email:
[email protected]
Bermuda Rentals: They supply all types of items on rental during weddings including tents, gazebos & wedding arches, China, glass and silverware, champagne fountains, tables & chairs linens, dance floors and decorations. 
25 Serpentine Road, Pembroke Parish (just outside Hamilton), Tel: 441/292 7172  
The Flying Chef - A Service Scenario 
The Flying Chef X Closed down in December 2014 
Provide food and decorator services. They have been operating for over two decades in the island providing catering services for special events like wedding receptions, birthday parties, corporate events and such. They also arrange for tables, chairs, tents, bar tables and other decorative pieces on rentals. You can also choose from crystal, china, flatware, stemware and silver pieces. 
54 North Street, Hamilton, Pembroke, Bermuda. 
Island Rentals: X Closed  
They supply similar stuff as Bermuda Rentals. 3 Serpentine Road, Pembroke Parish, Tel: 441/295 5314 
Gosling's: They provide Bar services during weddings in Bermuda. They are the creator of 'Black Seal' rum that is extremely popular both in Bermuda and all over the world. 
Front Street and Dundonald Street, Hamilton, Pembroke. 
# 9 Dundonald Street,  Hamilton, HM 10, Bermuda. 
Burrows Lightbourne Ltd.: They are Bermuda's biggest wine and spirit merchant, and provide full beverage catering service for weddings, parties and other functions. They can supply tables, chairs, glassware and bar staff as well. 
East Broadway, Hamilton, Pembroke Parish. Tel: 441/ 295 0176 
Related Articles 
Visitors' Reviews & Comments 
Dee Brown 
Celebrating our 30th Anniversary in Bermuda May 2013. Staying on a houseboat at the Dockyard. Rather than a dinner on the beach, I was considering having a chef come in and cook us dinner on that night? Do you know of anyone that hires out to cook for such an evening? 
Raj (bermuda-attractions.com) 
Hi, You can try contacting Ian who offers private Chef service in Bermuda. His contacts: