Robin Hood Pub Bermuda
$, International Cuisine 
Bermuda's Robin Hood pub, dearly known to locals as the 'Hood', is located in the outskirts of
Hamilton
. It's about 10 minutes walk from Front Street. As a result, the tourists do not easily find it, although this continues to be a very popular pub and a sports bar for local Bermudians as well as the ex-pats. It's a traditional British style pub.  
The pub has a large dining area. The bar runs along the length of the dining room and most of the regular visitors would be sitting there. They have good selection of draft beers including Guinness, Fosters, Samuel Adams and more. Robin Hood is well known for shooters (or shots). 
There are more than 50 types of shooters (mix of alcoholic beverages) offered by the pub . One of the most popular ones to try is the 'Buffalo Sweet' which is prepared with a shot of Bacardi. 
There are many kinds of activities that go on in the pub depending on the day of the week. On Tuesdays you will find a quiz session going on with topics like general knowledge or sports, or music or some other subject. All are welcome to participate. 
Sometimes there is also prizes given away (usually some free drinks) for the right answers. On Fridays during the happy hours, Robin Hood serves free buffet including roasted beef, vegetables and such. 
Robin Hood Pub Bermuda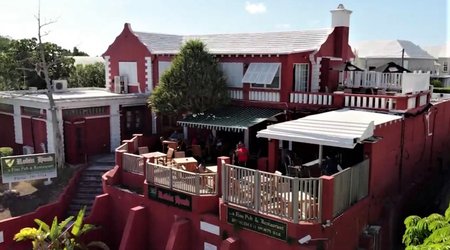 As part of its regular menu, Robin Hood offers variety of pub like food including pizzas, burgers, steaks and curries, or English favorites like Banger & Mash or Fish & Chips. Indian cuisine is nice. Pizzas prepared here are supposed to be some of the best available in Bermuda. The Fish Chowder in Robin Hood is very popular as well. 
Robin Hood also happens to be Bermuda's one of the top Sports Bars. A number of giant plasma screen TVs are fixed all around showing live sports including English Premier League, American Football, Ice Hockey and such. The day's schedule on TVs are written on a board at the rear side of the dining room. There is live music as well. 
Robin Hood, Bar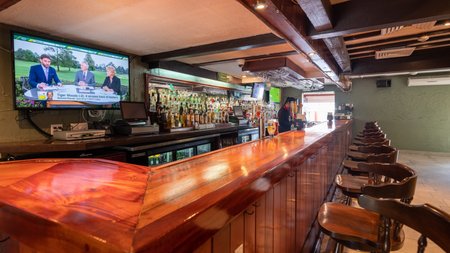 The Robin Hood also sponsors a football club in Bermuda. They also organize summer booze cruises and beach parties. Tickets to the cruise costs between $40 - $50 and can be bought from the pub. Along with free boat ride, one can also enjoy free beer and other alcoholic beverages during the cruise. 
Dress code is casual. Reservation is not required. 
Open Hours 
Bar 11:00 – 01:00 (Monday – Saturday), 12:00 – 01:00 (Sunday)  
Lunch 12:00 – 17:30 (7 days), Dinner 17:30 – 23:00 (7 days) 
Location and Contact 
Robin Hood Pub Bermuda 
25 Richmond Rd, Hamilton, Pembroke Parish 
Phone: 441/295-3314 
You can take bus #1 or #2 for Hamilton to reach the pub. 
Road Map 
Related Articles 
Visitors' Reviews & Comments 
Review and share your experience.