Ascots Restaurant Bermuda
$$$, Seafood 
The Restaurant and Ambience
Located on a country lane at the outskirts of Hamilton City, Ascots is a part of the beautiful boutique hotel
Royal Palms
. With surrounding trees, garden settings and fountains, the restaurant provides a great ambience. Both the hotel grounds and the restaurant are beautifully adorned and seems to have been done by someone who took their time and rendered their personal flair into the design and decor. 
This award winning place certainly prides itself on its attention to detail and is quite popular with locals too. Since Ascots is located at the end of a country lane within a ritzy residential neighborhood, it is far quieter a place than the other restaurants on Front Street. It has an old world charm about it and is ideal for a romantic dinner. The restaurant is housed in a spacious colonial hotel building that was built in 1903. The antique porcelain cutlery and Queen Anne armchairs give you a feel of an English Country House. Ascots Bar Lounge has wide selection of drinks and wine. 
Ascots Restaurant Bermuda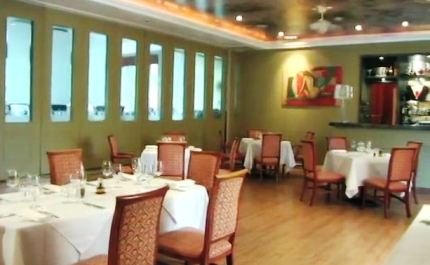 You can sit back and relax on comfortable settees and plush arm chairs, or have your cocktail on the patio overlooking the garden with a stone fountain and Mediterranean statues. It also serves dinner at the covered terrace or at the front porch if the weather permits. 
The restaurant inside is modern and spacious with large windows and silk curtains. The interior is quite soothing having shades of green on the wall, contrasting quite well with the paintings by a local artist. At one side the restaurant overlooks the pool and on the other the patio and garden. A center high ceiling is covered with Leonardo Da Vinci sketches. The tables are set apart enough to allow you some privacy. 
On the other corner is the private Wine Dining Room with a seating capacity for 14 people surrounded by wine bottles from all over the world 
Ascots is only few minutes' walk from Front Street City Center or the Hotel Hamilton Princess. It is however, quite an uphill walk. If you are driving from downtown Hamilton, getting here using Google maps could be slightly tricky as you would have to navigate through a number of small lanes. Once here, you can park your vehicle right in front of the Hotel where the restaurant is housed. You can also take a taxi to get there. 
Food and Wine
Food is Continental Mediterranean in style. The chief Chef Edmund and his team partner regularly with local fisherman, farmers and suppliers to get the highest quality seasonal ingredients available in Hamilton City. The menu has a wide range and the wine list is excellent. Portions are great and the food is beautifully presented. You can even choose to enjoy your drinks at the bar/ lounge before heading to the dining room for dinner. It is a very nice and relaxing way to start the evening. 
You get both hot and cold appetizers. We would surely try the Tomato and Mozzarella salad with a grilled rosemary bread, or fresh homemade ravioli filled with butternut squash and arugula served in fresh sage butter, tomato concasse. We also love the Bermuda Fish Chowder Laced with black rum and sherry peppers.  If you are up for some soup, the chilled banana soup (this is actually a specialty here) or the cold cucumber soup simply burst with flavor. 
The banana soup which comes with rum and toasted almonds in it, is especially nice without being too rich and doesn't leave you feeling too full for the next course. If you want to split your appetizer between two of you, the restaurant can accommodate you. In salads, the Ceasar salad is fresh and tasty. The Tempura shrimp with spinach salad is amazing too. It is in fact a good idea to split a salad and a soup so as to leave enough room for the entree. 
All mains include sides here. Fish is really fresh here. It is always a great idea to try the Catch of the day. It is really fresh and well prepared. If you get a chance try the Branzino here. You can also try the Blackened Atlantic Salmon served with red onion and confetti tomatoes speckled with a citrus beurre blanc, or Sauteed Red Snapper Served with avocado, artichoke, spring onion, or  a seared Tuna steak, with glass noodles cooked in a coconut lime curry , or Oven Baked Rack of Lamb Harissa. It would be a crime if the veal chops didn't warrant a mention here and the Lamb shank too is delicious. It is so tender that it falls off the bone! It comes with roasted vegetables and is a treat! 
There are great Vegetarian dishes available as well and here too all entree items are served with vegetables and potatoes of the day. 
In desserts, from a simple Cheesecake to a more elaborate Crepe Garibaldi (warm crepes filled with strawberries and a chocolate-hazelnut sauce, served with fresh berries and creme) which is one of our favorites here, you have it all. You can also go in for seasonal berries with Frangelico and chocolate ice cream or the pear crumble and ice cream which is simply delicious. Finish your meal with a cup of hot cappuccino. 
The restaurant has quite an extensive selection of wines, cocktails and beverages. They also have a special non-alcoholic champagne for Moms-to-be which is really great! The sommelier and bartender here are quite knowledgeable and serve some great hand crafted drinks. They will also take you on a tour of their well-stocked wine cellar if you want to take a look around it. 
The Service
The restaurant exudes elegance and the concept of service wafts over you the moment you step in. You will be greeted well and escorted to your seat very graciously by the team of excellent staff here. It's a great place to celebrate special occasions. In fact, you are most likely to find someone at a neighboring table celebrating a birthday or an anniversary, with the staff taking good care of you without being overly formal or intrusive, nor will you feel rushed or harassed here even if you wish to linger over your drinks or coffee. The wait staff, while making excellent recommendations to help you select, also take great care in noting down your desires and specifications to convey them to the chef. 
Trivia
Ascots is one of the classiest places to dine on the island and you wouldn't feel out of place if you dress up a little for dinner. Prices are on the higher side but the experience just about makes up for it. It is better to make reservations in advance. 
Conclusion
Dining at the Ascots is a must-do while vacationing in Bermuda. The is a fine dining establishment in a classic setting and is a very comfortable place with a welcoming and warm staff to give an exceptional dining experience to every guest. The food and presentation are second to none. So, don't be amazed if this turned out to be a dinner that lasts more than a couple of hours simply because it is so pleasant and relaxing to be here. It can thus be safely said that the restaurant is a cut above most of its peers with everyone ensuring you have a perfect evening. 
Indicative Prices
Soups and Salads: $12-$17, 
Appetizers: $18-$24, 
Main Courses: $42-$62, Pasta and vegetarian dishes: $28-$29  
Wine by glass is $ 10.50, Cocktails $12.50, Martinis $ 14.50, Beers $9.50, Juices and sodas $5 
They accept credit cards. Reservations are recommended. Dress code is smart casual.  
Open Hours
Open hours: Monday - Friday 12noon-2:00pm;   
Monday - Saturday: 6:00-9:30pm.   
Sunday closed.  
Location and Contacts
You can reach Ascots by Bus #1, 2, 10, or 11.   
Road Map 

By Raj Bhattacharya 
Raj, a seasoned travel writer and Bermuda destination expert, has extensive global travel experience. This website reflects his profound insights, garnered over nearly two decades of dedicated findings and research on the island. Raj has assisted countless Bermuda-bound visitors by providing direct, personalized responses to their queries and imparting his wealth of knowledge through this platform. This site serves as an indispensable guide for those seeking informed and reliable insights into Bermuda's treasures. 
Related Articles
Visitors' Reviews and Comments
Review and share your experience.