Ascots Restaurant Bermuda
$$$, Seafood 
Located on a country lane at the outskirts of Hamilton City, Ascots is a part of the beautiful boutique hotel
Royal Palms
. With surrounding trees, garden settings and fountains, the restaurant provides a great ambience. It also serves dinner at the covered terrace or at the front porch if the weather permits. Ascots is only few minutes walk from Front Street City Center or the Hotel Hamilton Princess. 
Since Ascots is located at the end of a country lane within a residential neighborhood, it is far quieter place than the other restaurants on Front Street and ideal for a romantic dinner. 
The restaurant is housed in a spacious colonial hotel building that was built in 1903. The antique porcelain cutlery and Queen Anne armchairs give you a feel of an English Country House. Ascots Bar Lounge has wide selection of drinks and wine. 
You can sit back and relax on comfortable settees and plush arm chairs, or have your cocktail on the patio overlooking the garden with a stone fountain and Mediterranean statues. 
The restaurant inside is modern and spacious with large windows and silk curtains. The interior is quite soothing having shades of green on the wall, contrasting quite well with the paintings by a local artist. At one side the restaurant overlooks the pool and on the other the patio and garden. A center high ceiling is covered with Leonardo Da Vinci sketches. 
Ascots Restaurant Bermuda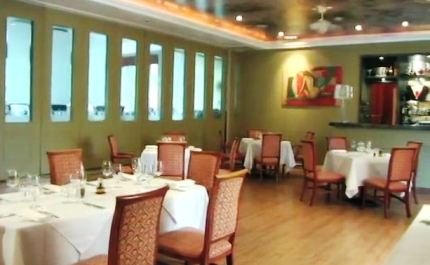 On the other corner is the private Wine Dining Room with a seating capacity for 14 people surrounded by wine bottles from all over the world. Food is Continental Mediterranean in style. The chief Chef Edmund and his team partner regularly with local fisherman, farmers and suppliers to get the highest quality seasonal ingredients available in Hamilton City. The menu has a wide range. Here are some of our favorite dishes at the Ascots. 
Appetizers 
You get both hot and cold appetizers. We would surely try Mediterranean chicken salad with goat cheese, or fresh homemade ravioli filled with crabmeat served in smoked-salmon-and-spinach cream sauce. We also love the Bermuda Fish Chowder Laced with black rum and sherry peppers. 
Entrees 
Our favorites include: 
Pan Seared Mahi-Mahi served with fresh citrus mango and bananas chutney flamed with Apricot brandy, or  
Grilled Yellow Tail Snapper Served with mussels and clams, or  
Pan Sautéed Tiger Shrimps Onions, tomatoes, garlic and fresh parsley with a white wine sauce accompanied with a Catalan chicken chorizo rice paella, or 
Oven Baked Rack of Lamb Harissa 
There are great Vegetarian food available as well. All Entree items are served with vegetables and potatoes of the day. 
Dessert 
Crepe Garibaldi (warm crepes filled with strawberries and a chocolate-hazelnut sauce, served with fresh berries and creme) is one of our favorites here. you can also go in for seasonal berries with Frangelico and chocolate ice cream. 
Indicative Prices
Soups & Salads: $10-$16, Appetizers: $17-$22, Main Courses: $39 - $49 
They accept credit cards. Reservations are recommended. Dress code is smart casual. 
Open Hours
Open hours: Monday - Friday 12noon-2:30pm;  
Monday - Saturday: 6:30-10pm.  
Sunday closed. 
Location & Contacts
You can reach Ascots by Bus #1, 2, 10, or 11.  
Road Map 
Raj Bhattacharya
Raj is an avid traveler and a full-time travel blogger. He has traveled to numerous countries across the world and loves to keep travelling. His mission here is to help viewers like you visiting Bermuda or seeking insights into related matters with the most comprehensive content compared to any other online resources. Since years now he has been helping countless viewers by posting quality articles on this website, answering questions and sharing experiences. Launched in 2008, this website is Bermuda's leading source of online information since many years. 
Related Articles
Visitors' Reviews & Comments
Review and share your experience.