Lost In The Triangle (LITT)
Seafood Restaurant Bermuda
$$, Seafood/Bermudian 
UPDATE: LITT in Hamilton City closed down in December 2020. It has reopened in Warwick replacing the erstwhile Swizzle Inn South Shore. Check out
LITT Warwick
for details.
---
The restaurant is located on Reid Street in Hamilton just behind Front Street. When Delvin Bean opened the restaurant in 2015, he had three things in mind... Local, Fresh and Family. So he wanted to focus on local cuisine at every bite you take and get an authentic flavor of Bermudian preparations. 
Inside Lost In The Triangle 
Photo: Lost In The Triangle 
This is essentially a seafood restaurant (although you get a range of other dishes as well)... the fresh seafood is ensured everyday as he runs a fishing charter (has a catamaran), goes out fishing himself and makes available the freshly caught seafood to his guests (particularly during dinner). 
You need to climb a staircase to get to the dining room which is located upstairs in a building. Although the entrance is not too prominent, you can find it next to French Connection. The dining hall is large with a bar counter located at one corner a little away from the tables. 
You can see TVs on the walls playing sports channels and giving it a flavor of some kind of a sports bar. In the evenings the bar and the restaurant is usually bustling with locals as well as tourists. Overall a relaxed ambience, friendly service and quite conducive to families with children. 
Now the food... the menu is quite extensive. If you go for the seafood platter, you can really end up eating a lot of different types of fish... however if you want something lighter, try out the crispy Wahoo (fish available in abundance in Bermuda waters)... it's delicious .... tender and moist inside. 
Crispy fish served with peas n' rice and salad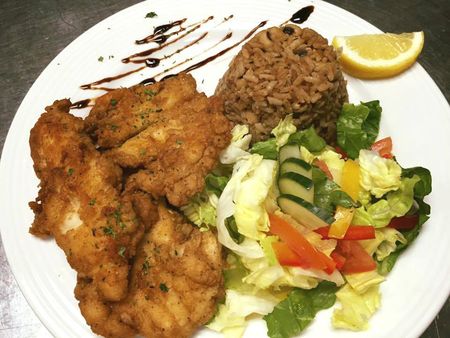 Photo: Lost In The Triangle 
Here are some of the great options in the menu... 
In appetizers try out the shark hash (one of the best in the island), conch fritters, wahoo or mahi mahi nuggets, batter fried calamari or chicken wings. If you like soups and salads, go for Bermuda fish chowder accompanied with spring garden salad. 
In the main course... if you are fish lover and have good appetite then go for the Catch of the Day. Other nice options include grilled wahoo, crispy fish dinner (this is deep fried wahoo and delicious... comes with fries and coleslaw), pan fried mahi mahi, steamed tuna etc. 
Lobster served with brown rice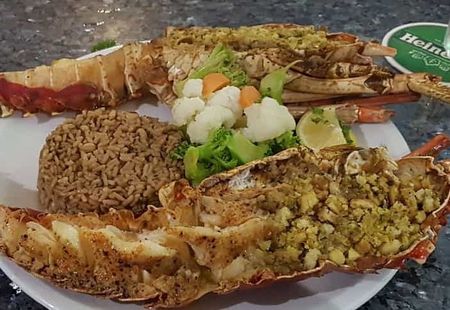 Photo: Lost In The Triangle 
And if you are looking for traditional meal of Bermuda... then try out the codfish with potatoes, eggs, bananas... usually Bermudians take this during Sunday brunch, but here you can get it during dinner as well. During season, you can get Bermuda spiny lobsters here. Meat lovers too have some thing to eat ... fillet mignons and grilled chicken breast. 
The menu offers a range of sandwiches and wraps including fish taco (excellent), grilled and crispy fish sandwich platter, fish cake platter, burgers etc. And there are many sides to order from including (coleslaw which is excellent here), French fries, peas n rice etc. 
Steak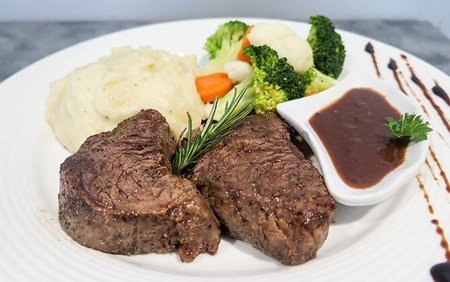 Photo: Lost In The Triangle 
There are kids items as well such as fish and chips, fish taco, chicken tenders and fries, cheese and hamburgers, spaghetti, fettuccine Alfredo (chicken, fish, shrimp) etc. 
Dessert choices are limited ... ice creams and some house pies. However selections of drinks at the bar is nice. Other than wine and beer, you get nice island cocktails here such as rum swizzle, dark n stormy etc. 
Indicative Prices
Appetizers, Soups and Salads: $9-12, Main Courses: $18 - $30, Sandwiches: $13 - $18. 
Open Hours
Serves lunch and dinner daily. 
Monday to Sunday: 11.30am to 10pm. 
Location and Contact
Walking distance from Hamilton Ferry Dock. 
13 Reid Street, Hamilton, Bermuda 
Phone: (441) 296-0094 
Related Articles
2) Check out
Top Cheap Restaurants
to know about the inexpensive dining choices in Bermuda that serve great dishes and are quite popular in the island. 
Visitors' Reviews
Review and share your experience.