Lost In The Triangle (LITT), Bermuda
$$, Seafood 
After
Swizzle Inn Warwick
closed down in May 2020, LITT has come up here and replaced it in early 2021. Bermudians will know that LITT is not a new name in the island. It operated in Hamilton and was a very popular seafood restaurant winning several awards like People's Choice Awards for best dinner menu from 2017 through 2019 in a row. However, it had to close down in December 2020 and now Delvin Bean, the owner of the restaurant has re-opened it in Warwick Parish.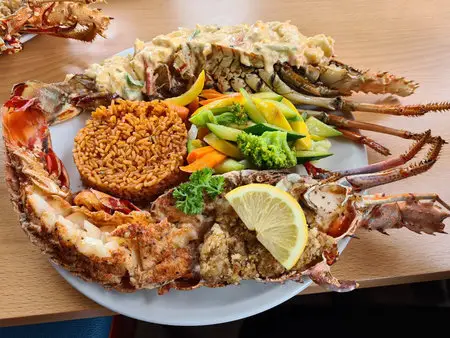 Full Lobster. Photo: LITT, Bermuda 
Like the original restaurant, LITT Warwick too specializes in fresh local seafood preparations which they were known for. The owner himself is a passionate fisherman and ensures that they bring in the freshest and the best fish daily. In fact he won't serve the fish unless it tastes fresh and great. 
The restaurant, which is located in a single storied building, has large screen TVs (50 and 70 inch) fixed on the walls that play major sports, movies and cartoons... it's a family friendly restaurant. 
In Appetizers, there are several options... some of the best ones include the wahoo nuggets, conch fritters and shark hash (when available). There are few different types of salads as well such as one prepared with baby spinach with cranberries, almonds and sesame seeds, and you can optionally add chicken, fish or shrimps to a salad of your choice. 
They are one of the best in the island to serve Bermuda Fish Chowder... a soup prepared with ground fish head, fish stock, and seasoned with sherry pepper and served with garlic bread. 
In Entrees, their signature dish is the Catch of the Day... ask the server for the day's selection, it could be a rock fish or a snapper caught fresh in the morning. 
One of the other very popular and has to be one of the best dishes is the baked or thermidor lobster (served only in season between September to March). It's prepared with light, sweet lemon butter sauce... you have the option of having half or full... absolutely mouth watering and comes in good portion. Also if available, try out their scrumptious Tuna Tartare. 
Tuna Tartare. Photo: LITT, Bermuda 
Other choices under Entrees include Crispy Fish Dinner (deep fried fish in a well seasoned traditional batter), Shrimp Feast (shrimp scampi, large fried shrimp and grilled shrimp) etc. Other than seafood they also serve Grilled Chicken Breast, Fillet Mignon, Sirloin & Shrimps, etc accompanied with optional Peas & Rice, Spanish Rice, White Rice, Macaroni & Cheese, Creamy Mashed Potatoes, French Fries etc. 
There are also sandwiches, burgers and wraps in the menu. For quick bites try out the fish wrap or the fish cakes. Another favorite here is Fish Tacos... includes two crispy or grilled fish tacos with lettuce, tomato, cheese & tartar sauce in a choice of soft or hard shells. They also have a few pasta dishes such as the Seafood Pasta (note that Delvin Bean is also a co-owner of
Pasta Basta
... another restaurant in Hamilton which specializes in pasta dishes). 
Sirloin & Shrimps. Photo: LITT, Bermuda 
LITT offers kids meals as well that includes a choice of Fish Taco & Fries, Wahoo Nuggets & Fries,  Fish & Fries, Chicken Tenders & Fries, Fettuccine Alfredo, etc. 
There is also bar service at LITT. The bartender makes some nice cocktails as well... Bermuda Mai Tai (made using Bacardi Gold Rum, Lazarroni Amaretto, pineapple juice, fresh lime, bitters etc), Rum Runner (another Bacardi Black Rum based cocktail), LITT's Yellow Bird (made with Bacardi Gold Rum, Apricot Brandy, galliano, orange juice, pineapple juice, lemon juice), etc. 
Service & Open Hours
Delvin Bean, the owner himself is often present in the restaurant and he is an extremely courteous and friendly person. Overall the service is friendly and the vibe is casual. However, note that this is a family restaurant and requires a dress code of smart casual... you may not be given service or even allowed entry if you are in your swim or beach wears. 
Open Monday - Sunday: 11:30 am - 10 pm. 
Takeaway service is available. 
Indicative Prices
Appetizers: $10.75 - $14; Some items such as shark hash, conch fritters etc based on market price. 
Soups: $10 - $12.75; Sandwiches: $11 - $18; Entrees: $26 - $42; Cocktails: $14 - $16 
Location and Contacts
87 South Road, Warwick Parish, Bermuda 
Bus route: #7 (operating between Hamilton and Dockyard) 
The restaurant is located on South Road between
Astwood Cove
and
Elbow Beach
, and at the corner of South Road and Dunscombe Road. 
Road Map 
Related Articles
1) Check out
Restaurants in Warwick
know about all the great restaurants and bars in and around Warwick parish. 
Visitors' Reviews
Tom Black (June 2012) 
We liked the new South side Swizzle Inn, lives up to the reputation of the original.  Ate there twice. Great 'Holy Chow' salad, and of course Swizzlers..