Bermuda Hospitals and Medical Facilities
While the number of hospitals and medical centers in Bermuda are limited, the quality of medical services in Bermuda is one of the finest in the world. There are a couple of hospitals and a few clinics in Bermuda. The main medical hospital here is King Edward VII Memorial Hospital, which is where you should head in the event of any medical emergency. Incase of an emergency, dial 911 to call an ambulance or call the Emergency Department of King Edward VII Memorial Hospital (441 239-1359). 
King Edward VII Memorial Hospital (KEMH)
This is the main hospital of Bermuda and located in Paget Parish. It is owned and operated by the government of Bermuda under Ministry of Health and Family Services. It is a well-equipped, modern surgical as well as general medical hospital. It has around 300 beds and has an Emergency as well as an outpatient department as well. 
KEMH 
Source: Bermuda Hospitals Board 
Services include:  
Ambulances, Intensive Care Unit (ICU), Angiography, Cardiac Diagnostic Unit, Heart Defibrillators, Diabetes care, Child's wagons, CT Scan and MRI, Asthma care, Dialysis unit, Hyperbaric chamber, ECG and Image Analysis Machine, Radiology, Ultrasound etc. 
Address and Contacts:  
7 Point Finger Road, Paget Parish, Bermuda. Phone (441) 236-2345. Bus Routes: #1, 2, 7 
Emergency department: Ground Floor, Acute Care Wing, KEMH. Emergency Phone: (441) 239-1359 
Open 24 hours a day, 365 days a year. 
Mid Atlantic Wellness Institute
(Formerly St. Brendan's Hospital) 
This is the only mental hospital in Bermuda providing an array of mental health services and treatments. The hospital is owned and operated by government of Bermuda (under Bermuda Hospitals Board). It also has an 8 bed detoxification unit. There is also a walk-in clinic at MWI for people who feel they need help from a mental health specialist. 
Address and Contacts: 
44 Devon Spring Road, Devonshire Parish, Bermuda.  
Phone: (441) 236-3770, fax: (441) 235-9383. 
8am to 5pm Monday to Friday 
24-hour Mental Health Crisis Line: (441) 239-1111 
Update March 2015: Ambulance services have been recently extended at both east and west ends of Bermuda. Bermuda Hospital Board and Bermuda Fire and Rescue Service have collaborated to provide ambulances at both ends of the island. Earlier ambulance could be dispatched only from the main hospital at Paget. Now ambulances are also stationed at Clearwater fire station at St. David's at the eastern end and Port Royal fire station at the western part. This will significantly help in cutting short transit time for patients at both ends. To call ambulance, dial 911. 
Bermuda Cardiac Health Center (CORE)
A first of its kind Cardiac Health Center has come up in Bermuda called CORE that supports and guides people having risks of developing heart disease. 
Lamb Foggo Urgent Care Centre
You can visit the center for minor injuries or illness requiring urgent attention. However for serious illness or injuries such as head or life threatening injuries, you should call an ambulance and rush to King Edward VII Memorial Hospital. The center has X-ray equipment. You can get treatment for minor illnesses such as bruises, cuts, cold and coughs, sprains, strains. When open, there is a physician, nurse and a technician to assist. 
Lamb Foggo Urgent Care Unit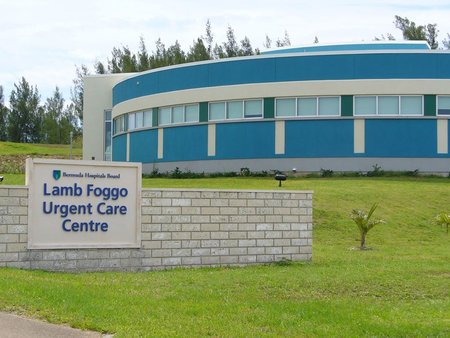 Source: Bermuda Hospitals Board 
Open Hours: 
Monday to Friday – 4pm to midnight 
Saturday and Sunday - 12 noon to midnight 
Winter weekday open hours: 6-10pm (months may vary from year to year as per their internal situation. Contact on the given telephone numbers if you happen to visit during the winter months) 
Location and Contacts: 
Lamb Foggo Urgent Care Centre, 1 Hall Street, Southside, St. George. 
Phone: (441) 298-7700 
Bermuda Healthcare Services
This is a private healthcare center in Bermuda. The services include: 
Physical Examination, Specialist Consultant from Lahey Clinic, MRI, X-Ray, Ultrasound (including Echocardiography), Baby Scan, Paternity Testing (DNA) . 
Bermuda Health Care Services (BHCS)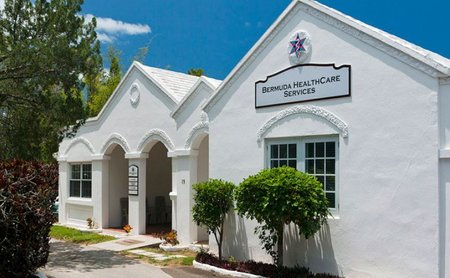 Source: BHCS 
Hours 
Monday - Friday 8:30am - 5:00pm 
Saturday as Scheduled 
Sunday Closed 
Address and Contacts: 
9 The Lane, Paget, Bermuda 
Phone: 441/236-2810 (Day Time), 441/699-0787 (Nights / Holidays); 
Brown - Darrell Clinic
This clinic was established in the year 2008 and is run by the same management as Bermuda Healthcare Services. It is on the hillside across from John Smith's Bay in Smith's Parish. It offers patients private care and has easy parking.  
Hours: 
Monday - Friday 8:30am - 5:00pm 
Saturday as Scheduled 
Sunday Closed 
Address and Contacts: 
129 South Road Warwick WK, 10, Bermuda 
Phone: 441- 297 — 3333 
BMSG Health Express Urgent Care
This urgent care unit of Bermuda Medical Specialties Group is the newest addition to the healthcare scenario on the island. It serves as an alternative to the Bermuda Hospital Emergency Room and provides medical care for minor injuries and illness such as cold, cough and flu, fevers, minor burns and bruises, allergies, sprains, sore throat, skin problems, wellness services etc. You do not need an appointment to visit and can simply walk-in. 
BSG Urgent Care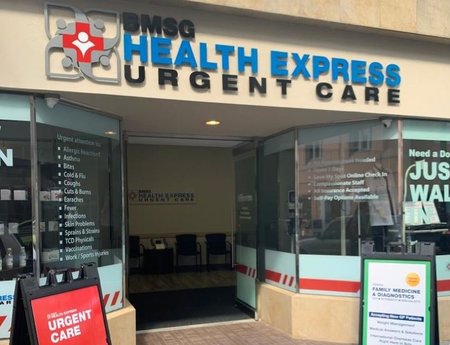 Source: BSG Urgent Care 
Location and Contact 
5 Reid Street, Hamilton, HM 11 (Across the road from HSBC), next to Phoenix Center. It's in the same spot as former PTech. 
Bermuda Dental Services
Below are the select list of dentists and dental services in Bermuda: 
Coral Dental 
(Erstwhile Bermudiana Dental Services) 
A family practice which started its operation in 1998 and has several qualified dentists now headed by Dr. Carmen Rabain. They offer services like emergency services (including pain, swelling or abscess, gum and soft tissue related problems), invisalign, X-Rays, examinations, consultation etc. 
Suite 401, Bermudiana Arcade,  
27 Queen Street, Hamilton City 
Open: Mon - Thu 7.30am to 6pm, Fri 7.30am - 5pm, closed on Sat and Sun. 
ReNew Dental Care - Dr. Jewel Landy 
Located in Hamilton, this privately run dental care unit provides services such as general dentistry, cosmetic dentistry, restorative dentistry, gum disease treatment, invisalign braces, sedation dentistry, laser dentistry, oral surgery etc. 
14 Dundonald Street, Suite 101, Hamilton, Bermuda 
Location: One block down the street east of Victoria Park 
Phone: 441-400-5858; 
Open: Mon - Thu 8am to 5pm, Fri 8am - 12noon, closed on Sat and Sun. 
Bermuda Braces Co. Ltd. – Dr. Deborah Tuzo 
83 Reid Street, Hamilton City. 
Paget Dental Group 
6 The Lane, Paget, PG 05 
Phone: (441) 232-4262, Fax: (441) 232-4268 
Fresh Breath Dental 
Opened in 2015, this dental care unit is located in Hamiton and offers services such as Routine Exams, Dental Hygiene, Dental Fillings, Dentures and Veneers, Emergency Dentistry, Teeth Whitening etc. 
48 Cedar Avenue, Ground floor, Hamilton. 
Phone: (441) 433-6825 
Bermuda Eye Care
Listed below are the select eye care services in Bermuda. 
Bermuda International Eye Institute 
This is a comprehensive eye care facility in Bermuda. Services include: 
Argon Laser Trabeculoplasty, Avastin/Lucentis, Botox, Lasik Treatment, Multifocal Lens Implantation, Optical Coherence Tomography (OCT), Patient Care Services, Restylane, Selective Laser Trabeculoplasty (SLT), Tele-medicine, Tisseel VH (Fibrin Sealant) 
The Arches, 13 Berry Hill Road, Paget, Phone: (441) 232-3937 
Bermuda Eye Center – Dr. Alicia Stovell 
17 Point Finger Road, Paget, Bermuda 
Phone: 441/232-9800 Fax: 441/232-5959 
Bermuda Optical Company 
Mechanics Building, 12 Church Street, Hamilton City 
Phone: (441) 295-6175 
Others 
Other opticians are  
Argus Optical Co (11, Parliament St, City of Hamilton, 441-292-5452) 
Atlantic Vision Care (68, Church St, City of Hamilton, 441-295-7300) 
EyeQ (Washington Mall, 441-293-7333) 
Other Medical Facilities
Bermuda Cancer and Health Center 
This is a registered charity and a non-profit organization. The services from the center includes ultrasound, bone densitometry and mammograms. The center is also actively engaged in educating the society on early detection and prevention of cancer and also assists patients in fighting Tuberculosis. 
Address and Contacts: 
46 Point Finger Road, Paget, Bermuda.  
Phone: (441) 236-0949. 
Diabetes Resource Center 
This is essentially a dispensary. Blood Sugar Testing done here. Also people can pick up supplies like insulin, syringes etc. from the center. Bi-monthly foot screening is provided by a podiatrist. 
Open from 8.30 a.m. to 12.30 p.m. Monday to Friday.  
Contacts: 
2 Beacon Street, Hamilton 
Phone: (441) 297-8427 
Related Articles
1) Check out
Bermuda Health and Safety Guide
to know about all health related risks in Bermuda and the safety measures that you should know of while visiting the island.