Chopsticks Bermuda
$, Chinese and Thai 
Located in Hamilton City, Chopsticks restaurant specializes in Chinese and Thai dishes. The restaurant has a distinct oriental atmosphere. You will see painted fans on the ceiling and oriental prints all around the walls. There are many sections and cubicles that can accommodate about 80 guests easily. 
Some of the nice Chinese preparations include jade chicken with spears of broccoli, mushrooms, and water chestnuts in a wine sauce. You can also get Peking duck here. But this needs to be ordered at least 24 hours in advance. Other than these, there are many other standard Chinese dishes available including beef in oyster sauce, seafood, chopsuey and others. 
One of the most popular and well known Thai dishes here is the Thai Green Curry. You can have a choice of chicken, beef, shrimps or scallops. It is served with spicy green curry sauce and includes pepper, cabbage, mushrooms, broccoli, baby corn, bamboo shoots, coconut milk etc. 
Another nice dish is the Thai Chili with Basil which includes meat of your choice with onion, scallion, pepper and basil in hot chili sauce. There are quite a few vegetarian dishes also available in the restaurant. Most of the dishes at Chopsticks come with steamed rice. 
Chopsticks Bermuda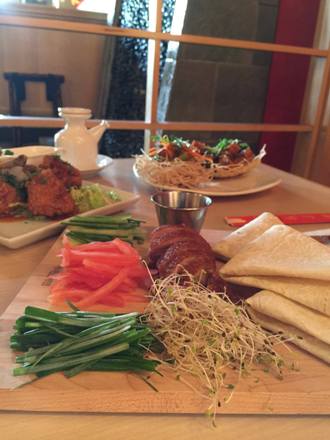 Photo: Chopsticks 
Other than usual beer, the restaurant serves Chinese beer having strong malt flavor. If you are a beer lover and haven't ever tried out Chinese beer, then here is your opportunity. It goes well with the oriental food. By the way, Chinese beer has won several awards in the World Beer Championships. 
Service at the Chopsticks is quite good. It also has a takeaway section. Reservation is recommended. The dress code is smart casual. They accept credit cards. 
Open Hours
They serve lunch Monday through Friday between 11:30am - 2:30pm. 
Dinner is served on all seven days between 5-11pm. 
Location and Contact
Located at the Eastern end of Hamilton City. 
88 Reid Street, Hamilton, Pembroke Parish 
You can reach by bus #1, 2, 10, or 11 
Phone: 441/292-0791 
Related Articles
Visitors' Reviews and Comments
Share your experience.