Bermuda Housing & Renting a House
About housing in Bermuda
Housing in Bermuda is expensive, in fact it's one of the highest in the world and that's no surprise. Because in this tiny island that measures only 21 square mile in size, the resident population is about 65,000. Which means that there are over 3000 persons living per square mile of the land area. So the demand for houses in Bermuda is ever increasing. 
Photo: kansasphoto, flickr, cc by 2.0 
If you are
moving to Bermuda
from another country on a work permit, your employer should arrange for your accommodation initially for a period of 3 to 6 weeks. If you are single, it is usually a one-bedroom apartment, and for families two to three bedroom apartments. Sometimes, the company may be putting you up in a small guesthouse. 
But soon, you will need to find your own accommodation. The better employers often provide a separate house rent allowance. The rent in Bermuda can have a wide range. It can be anywhere between $2,500 a month for a single room apartment to as high as $25,000 a month for a plush 3-bedroom house with a swimming pool and ocean view. 
Such houses with gardens and ocean view are not easy to find though. You should however find a nice 3-bedroom apartment within $5,500 per month. Most places in Bermuda are generally good, so you can settle with an apartment or a house that suits your basic need. Usually a government or a public sector job would subsidize any additional house rent which is over 25% of your salary and within a reasonable limit. Apartments are usually semi-furnished or furnished. 
So how much should you spend on accommodation if your employer is not bearing the house rent? The thumb rule is maximum of up to 30% of your monthly gross salary. Above that you will struggle to make the other ends meet and then saving some money to take back home. 
So for example, if you want to rent a house for $3,000 a month, you should earn around $10,000 a month (i.e. your annual gross package should be around $120,000). 
Note that Bermuda houses generally do not have central heating or air conditioning. During winter, it can become quite cold, and the beds can feel quite damp. So you will need to make other arrangements like room electric heaters which are available in retail shops. Also, try to carry an electric blanket if you can, they can be very useful in the winters. You can get that in Bermuda, but it will be quite expensive compared to the US or UK. 
How to rent a house in Bermuda?
Regular house rental ads come up in the local Bermuda newspaper The Royal Gazette (the only daily in Bermuda). They also have an online version. Look out for the 'Accommodation' section under 'Classifieds'. Many one and two bedroom apartments are advertised here daily.  
However, you should also use the word of mouth method and tell as many office colleagues and friends as possible about the kind of apartment you are looking for. In a small island like Bermuda, this is a very effective method because it spreads quickly. There will be always some or the other expatriates leaving the island and vacating their apartments. The landlord may not have advertised it yet, but the information may reach you through an islander faster. You can also be sure that when such accommodation was used by another expat, it must have some merits in it. 
Houses in Southampton, Bermuda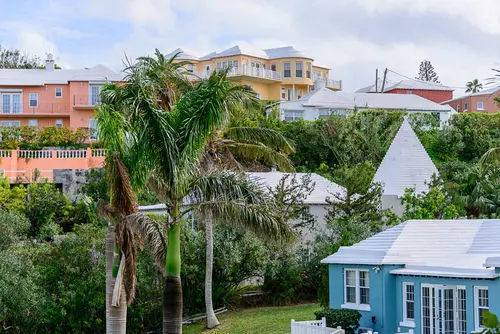 Photo: Craig Stanfill, flickr, cc by-sa 2.0 
Also note that, many expatriates do house-shares. Such information are available only through word of mouth. So, always spread the words on your housing requirements and keep your ears open. 
Another great way to look for a house rental is by visiting the
community website eMoo.bm
. Once you go to their website, visit the section 'Real Estate on Rental' and you will find plenty of apartment rentals that are reasonably priced. 
Another good approach is to get in touch with a reliable and reputed Real Estate agency in Bermuda. The rental deals in Bermuda often require inside information about the property and close coordination with the owner. A property agent is based placed to work it out for you. 
Check out
Bermuda Real Estate Agents
to know about the best property agents in Bermuda including those offering online services and who can help you with the right choice. 
Owning a house in Bermuda
There are restrictions for expatriates to buy and own a house or apartment in Bermuda. As per government norms, only 5% of the top line properties in Bermuda can be purchased by non-Bermudians and that too at a price far higher than the rate available to Bermudians. 
And a non-Bermudian can only purchase properties from another non-Bermudian which ensures that the pool of properties available to expatriates is regulated. However you can lease a property for a fixed period of time or go for time-shared properties. 
Related Articles
1) Check out
Bermuda Real Estate
to know about properties in Bermuda, what it takes to own or rent one, and how to go about closing the right deal. 
2) Check out
Living in Bermuda
for everything that you should know for living in the island. 
3) Check out
Bermuda Economy
to know about overall economic conditions of Bermuda. 
Visitors' Reviews and Comments
Kay Ellen (February 2015) 
Having rented in Bermuda and knowing lots of people in similar situations we all have the same stories to tell. When a deposit is handed over, this is rarely paid back to the tenant, despite best efforts to keep the house clean and report anything that needs repairing. We all agree that the best way to avoid being ripped off is not to pay the last months rent to avoid being out of pocket unfairly.  
Boban Thomas (May 2014) 
I am coming to work in Bermuda at the KEMH as a physician. What would be the good places to look for an apartment to live for a single person. Would prefer something that looks out to the sea but nothing fancy inside. Thank you for all the information. This is a fabulous website. How do you find time to provide this service. 
Raj (bermuda-attractions.com) May 2014 
Hi, emoo.bm is usually a good local site to start your search. Stay in or around Paget parish for easy commuting to KEMH. Hamilton or Warwick would also be fine.