Beethoven's Restaurant & Bar Bermuda
$$, Mediterranean/Swiss 
Tucked in the western end of Clock Tower Mall at the
Royal Naval Dockyard
, Beethoven's is a small casual restaurant serving mainly Swiss dishes. This restaurant was established and run by two Swiss chefs for a long time. It has been now taken over by new owners. However the restaurant settings and decor have remained pretty much the same as before. 
You will find collections of stuffed Saint Bernard dogs that brings about the theme from the name of the restaurant. There is also a courtyard or patio where you can dine al fresco. 
There is nothing much elaborate about the settings and the decor of the restaurant. But you do get a nice view of the ships at the dockyard area from the patio. Beethoven's serves breakfast, lunch, dinner and even afternoon tea. It's quite a convenient place to eat if you are in the dockyard area. 
Beethoven's Restaurant & Bar, Bermuda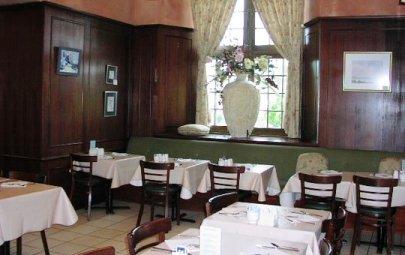 The lunch menu is quite elaborate and has over 10 main courses. Fish Chowder (soup from ground fish head) would be a great way to start. Some of the popular dishes includes roasted lamb, fried chicken, beef burgers, salads, sandwiches etc. 
The fish platter here is quite nice and prepared with catch of the day. Other favorites includes onion quiche with goat cheese and sun-dried tomatoes. 
Reservations are preferred if you plan for your dinner at the Beethoven's. They accept credit cards. 
Update: Beethoven's has closed down 
Open Hours
Daily 9am - 4pm 
Location and Contact
Beethoven's Restaurant & Bar 
Clock Tower Mall 
Royal Naval Dockyard, Sandy's Parish, Bermuda 
Phone: 441/234-5009 
You can reach by bus #7 or 8, or by ferry from City of Hamilton. 
Raj Bhattacharya
Raj is an avid traveler and a full-time travel blogger. He has traveled to numerous countries across the world and loves to keep travelling. His mission here is to help viewers like you visiting Bermuda or seeking insights into related matters with the most comprehensive content. Since years now he has been helping countless viewers by posting quality articles on this website, answering questions and sharing experiences. Launched in 2008, this website is Bermuda's leading source of online information since many years. 
Related Articles
3) Check out
Restaurants in Sandys
know about all the great restaurants & bars in and around Southampton parish. 
Visitors' Reviews & Comments
Share your experience.