L'Oriental Restaurant Bermuda
$$, Asian 
The Restaurant and Ambience
Located in Hamilton City Bermuda and above its group restaurant
The Little Venice
, L'Oriental is a feast for Asian food. The restaurant specializes in pan Asian dishes and gourmet food from almost all Asian countries including Thailand, China, Japan, Malaysia and Indonesia. It is in fact one of the few restaurants on the island that serves Asian cuisine. 
With just a small sign outside the door, the restaurant is reclusive and rather easy to miss. However once you go up the stairs, it is a beautiful setting in a clean and warm environment. The interiors are created with natural finish wood, rocks, waterfalls, a handcrafted pagoda, oriental arts and colorful dragons, and reflect a classy and cozy Asian flavor. 
L'Oriental, Bermuda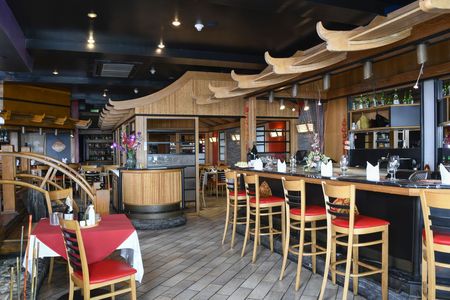 Source: L'Oriental 
An wooden footbridge inside goes over a narrow water stream and you will reach an elevated seating area. There is a Teppanyaki table where you can see your food being prepared on hot grills. It is the only place in Bermuda that offers Teppanyaki style cooking. The chefs here are specially trained to grill the food and serve them on your plate with great showmanship. It makes for a lovely experience indeed and a USP for the restaurant. 
Food and Drinks
If you are in a mood to try out something different, you can find a lot of fusion dishes here to experiment with. The menu is extensive and there is still a lot of room for making alterations as per the catch of the day. You will get the details from your server. 
There are separate Sushi, Caviar and Oyester bars as well to choose your food from. If you like soups, you can try out the Chicken Wonton soup with mushrooms, scallions and tofu, or the Miso Soup which is a white bean broth with tofu, seaweed and scallions. 
Spicy Crunchy Sushi Roll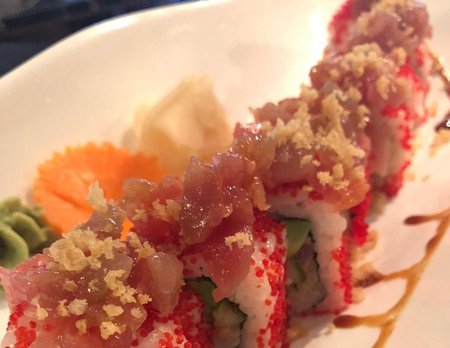 Source: L'Oriental 
Some of the popular appetizers includes Crab Spring Rolls with homemade peanut sauce, Thai Fish Cakes using ground fish, Peiking Duck Rolls, Golden fried chicken dumplings, or the pork ribs. The sushi appetizer is a nice choice but it is huge and a meal in itself. The signature sushi rolls are delicious and fresh. The Chef roll is one of the best, that has shrimp tempura, spicy salmon and cucumber wrapped in soy paper and topped with spicy crab, wasabi mayo and eel sauce. 
The minced chicken in lettuce leaves comes with an unusual twist. The Bermudian roll here, which is basically a spicy tuna roll is one of the best on the island. We also tried the Spicy edamame beautifully paired with a sparkling sake. 
And some of the favorite main courses here are: 
Kung Pao Chicken (stir fried diced chicken with hot pepper black sauce, cashews and rice), Thai beef curry, red curry shrimp with rice, French chicken and shrimp skewer with steamed rice, or Szechwan style roasted duck. We have had the Thai curry and General Tsau Chicken here and it was quite tasty. Go for one of the Teppanyaki even though you are not at the table, you can still order them. The salmon teppanyaki is great and portions are large. 
Sushi Garden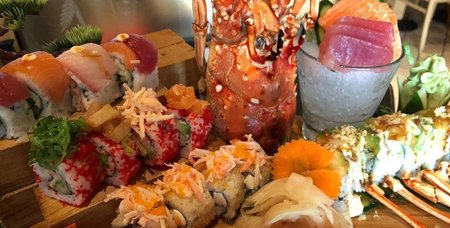 Source: L'Oriental 
You get some nice vegetarian dishes here as well like the mixed vegetarian Wok with stir-fried vegetables and tofu or the very delicious veggie spring rolls and veggie tempura which come steaming hot. They even serve a complimentary shot of limoncello which adds a good touch to the dining  experience. 
For dessert you can try the Green Tea panacotta which is delicious or even the rum layer cake. The attention to detail you will find here is quite commendable. Sometimes you might find your ice cream presented decorated with fruit to make it look like an animal ! 
On Tuesday nights, L'Oriental offers sampling on a wide range of Chinese menu. They also have a Thursday buffet with a wide range of sushi, calamari, chicken and pork dishes. You can go during Happy Hours for drinks with which they also offer sushi delights. 
There is a sushi happy hour too from 5.30-6.30pm which gives you great deals and believe us when we say the sushi here is not something you would want to miss! They have a great selection of well made sushi and sashimi. Presentations are beautiful and creative, almost like a work of art and portions sizes are quite large as well. 
The Service
Service is quite pleasant here though it could get a tad bit slow at times. The staff is friendly, helpful and attentive without being overbearing. You will be warmly greeted and shown to your seats where you will be explained how the dining plan works and also the details of the menu. 
The wait staff too is great at explaining each dish to you. You can even choose to not order off the menu and leave it to the chef's selection. You will not regret it as you will find them bringing out a brilliant array of food that is just right for you.  
Trivia
They accept credit cards. Prices are at par with normal Bermuda standards. Reservation is recommended especially for the Teppanyaki table as it is quite popular. It is a great place for kids too. Dress code is smart casual. Washroom access however can be a bit odd as it is located a floor below.  
Conclusion
The restaurant gives you good value for money in terms of food and service. You can also spend a special occasion here as the team here goes out of the way to make it memorable for you. You can be in the heat of things near the Teppanyaki table and have a group dinner or simply choose a more serene seating by the window overlooking downtown Hamilton and enjoy a romantic meal. So although it is a little elusive, take time to find the place, as it is well worth it! 
Open Hours
LUNCH: Monday to Friday, 12:00pm - 2:00pm 
DINNER: Monday to Sunday, 5:30pm - 10pm 
Indicative Prices
Soups come for around $7-$15.75 and Appetizers range between $13.75-$19 and sides are around $7.50 
They have a wide variety of signature sushi rolls that are between $16-$21 
Entrees range from$26-$32 and items from the Teppanyaki counter come for $26-$43. They come with Teppanyaki vegetables and steamed rice.  
17% gratuity is added to your bill 
Location and Contact
32 Bermudiana Road, Hamilton City, Bermuda 
Bus to reach L'Oriental: #7 or 11 
There is also a Take Out Express location at the corner of Church Road and Par-La-Ville Road in Hamilton City. 
Road Map 
Related Articles
Visitors' Reviews and Comments
Share your experience.