L'Oriental Restaurant Bermuda
$$, Asian 
Located in Hamilton City Bermuda and above its group restaurant The Little Venice, L'Oriental is a feast for Asian food. The restaurant specializes in pan Asian dishes and gourmet food from almost all Asian countries including Thailand, China, Japan, Malaysia and Indonesia. The interiors are created with natural finish wood, rocks, waterfalls, a handcrafted pagoda, oriental arts and colorful dragons, and reflect a classy and cozy Asian flavor. 
An wooden footbridge inside goes over a narrow water stream and you will reach an elevated seating area. There is a Teppanyaki table where you can see your food being prepared on hot grills. The chefs here are specially trained to grill the food and serve them on your plate with great showmanship. 
If you are in a mood to try out something different, you can find a lot of fusion dishes here to experiment with. There are separate Sushi, Caviar and Oyester bars as well to choose your food from. If you like soups, you can try out the Chicken Wonton soup with mushrooms, scallions and tofu, or the Miso Soup which is a white bean broth with tofu, seaweed and scallions. 
L'Oriental Restaurant Bermuda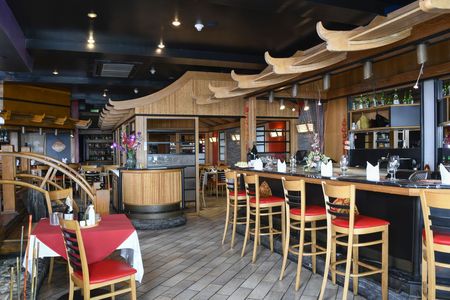 Some of the popular appetizers includes Crab Spring Rolls with homemade peanut sauce, Thai Fish Cakes using ground fish, Peiking Duck Rolls, Golden fried chicken dumplings, or the pork ribs. And some of the favorite main courses here are: 
Kung Pao Chicken (stir fried diced chicken with hot pepper black sauce, cashews and rice), Thai beef curry, red curry shrimp with rice, French chicken & shrimp skewer with steamed rice, or Szechwan style roasted duck. You get some nice vegetarians dishes here as well like the mixed vegetarian Wok with stir-fried vegetables and tofu. On Tuesday nights, L'Oriental offers sampling on a wide range of Chinese menu. 
They accept credit cards. Reservation is recommended. Dress code is smart casual. 
Open Hours
Lunch: Monday-Friday 11:30am-2pm;  
Dinner: Daily 6-10pm 
Location and Contact
32 Bermudiana Road, Hamilton City, Bermuda 
Bus to reach L'Oriental: #7 or 11 
There is also a Take Out Express location at the corner of Church Road and Par-La-Ville Road in Hamilton City. 
Road Map 
Raj Bhattacharya
Raj is an avid traveler and a full-time travel blogger. He has traveled to numerous countries across the world and loves to keep travelling. His mission here is to help viewers like you visiting Bermuda or seeking insights into related matters with the most comprehensive content compared to any other online resources. Since years now he has been helping countless viewers by posting quality articles on this website, answering questions and sharing experiences. Launched in 2008, this website is Bermuda's leading source of online information since many years. 
Related Articles
Visitors' Reviews & Comments
Share your experience.