Little Venice Restaurant Bermuda
$$$, Italian 
Little Venice is the first Italian restaurant in Bermuda and is located in Hamilton City. It is owned by Emilio Barbieri who came to Bermuda in the 1960s from the isle of Capri. After working in various hotels in Bermuda, he opened up Little Venice in 1971 to pursue his passion and popularize Italian food in the island. He has been more than successful in his effort. This is an upscale restaurant and the dishes here are relatively pricey. 
There are many sections for seating in the restaurant. The chandeliers on the ceilings, tiled floors and decked up waiters all create a classy atmosphere inside. You can also choose to dine outside on the terrace. 
As starters, some of the favorites here include Golden Fried Calamari, Homemade Meatballs and Marinated Beef Carpaccio. Caesar or the Greek salads are also excellent. For the main courses, try out the catch of the day which is prepared in different style on different days. So ask the chef to check out the fish preparation for the day. Another great choice would be the seafood medley that has shrimps, mussels, clams and seafood of different types prepared in a white wine sauce and tomatoes. 
Little Venice Bermuda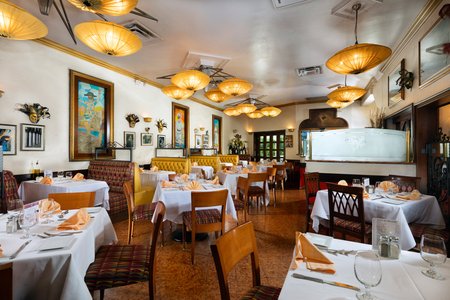 Other popular dishes include grilled salmon, seared yellow fin tuna and sea bass. They also serve nice veal dishes, lamb chops, grilled chicken and steaks. If you like pasta, there is a fairly good range to choose from including Ravioli, Bolognese, Risotto and others.  The restaurant makes fresh desserts everyday. While they have ice creams of different flavors, some of the unique desserts we found here include Ram Baba which is rum-infused yeast cake served with rum sauce, or the Almond Panna Cotta with orange caramel. 
Being close to the business hub in Hamilton, you will see many business executives having lunch and dinner here, or just relishing wine. This is also a good place for families. Little Venice has a wide selection of Italian wine (over 1000 types) and has a separate wine bar. 
While the service is generally quite good, during the peak hours, you may sometimes feel that it could have been better. 
They accept credit cards. The restaurant mostly runs full, so reservation is highly recommended. Dress code is smart. 
Open Hours
Lunch 12.00am-2.15pm ( Monday - Friday) 
Dinner 6.30pm-10pm (Monday - Sunday) 
Location & Contacts
Little Venice Restaurant Bermuda 
32 Bermudian Road, Hamilton City 
Buses to reach Little Venice: #1, 2, 10, or 11 (all originating at Hamilton bus terminal). 
Phone: (441) 295-3503 or (441) 295-4362 
Raj Bhattacharya
Raj is an avid traveler and a full-time travel blogger. He has been travelling all across the world since decades. His mission here is to help viewers like you visiting Bermuda or seeking insights into matters related to Bermuda with the most comprehensive content compared to any other resources. Since years now he has been helping countless viewers by posting quality articles on this website, answering questions and sharing experiences. Launched in 2008, this website is Bermuda's leading source of online information since many years. 
Related Articles
Visitors' Reviews & Comments
Review and share your experience.