Little Venice Restaurant Bermuda
$$$, Italian 
The Restaurant and Ambience
Little Venice is the first Italian restaurant in Bermuda tucked away in a side street in downtown Hamilton City. It is owned by Emilio Barbieri who came to Bermuda in the 1960s from the isle of Capri. After working in various hotels in Bermuda, he opened up Little Venice in 1971 to pursue his passion and popularize Italian food in the island. He has been more than successful in his effort. 
Emilio brings a slice of Italy to the island of Bermuda with his restaurant. He is a great host and makes dining here a charming experience with his amicable and entertaining nature. The very attentive staff too have taken in his footsteps and ensure they deliver a warm dining experience for all their clients. 
Little Venice Dining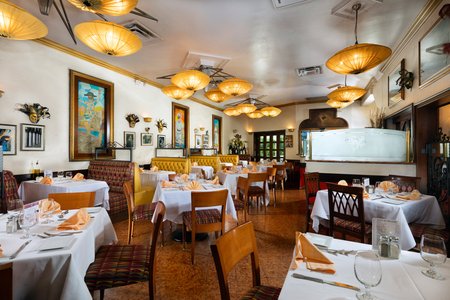 Source: Little Venice 
This is an upscale restaurant and the dishes here are relatively pricey. However, it is an ideal place if you are planning to celebrate an occasion and make some good memories while relishing on an old-school authentic Italian meal. Do not however, confuse it with a pizzeria. The outlet has been renovated recently and is now even more classy, comfortable and stylish. The new decor featuring one of Canaletto's Venetian paintings is quite clever and serves as a perfect backdrop. 
There are many sections for seating in the restaurant. The chandeliers on the ceilings, tiled floors and decked up waiters all create a classy and relaxing atmosphere inside. You can also choose to dine outside on the terrace or in the bar area which also has a television usually showing a game of football or cricket. 
Food and Drinks
As starters, some of the favorites here include Golden Fried Calamari, Homemade Meatballs and Marinated Beef Carpaccio. The fresh and flavorful Bufala Burrata too is a great appetizer which is an authentic Italian fresh mozzarella, speck and watercress, arugula pesto. Caesar or the Greek salads are also excellent. 
For the main courses, try out the catch of the day which is prepared in different style on different days. So ask the chef to check out the fish preparation for the day. Their red sauces are great. Another great choice would be the seafood medley that has octopus, rock fish, shrimps, mussels, calamari, clams and seafood of different types prepared in a white wine sauce and tomatoes. A side of their freshly made tagliolini makes the meal wholesome and delicious. You can also try it in the form of a Griglgiata di Pesce which is mixed grilled seafood along with perfectly cooked vegetables. 
Clams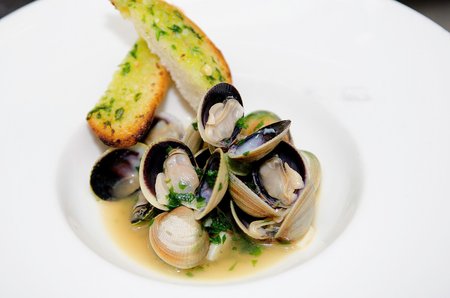 Source: Little Venice 
Other popular dishes include grilled salmon, seared yellow fin tuna and sea bass. They also serve nice veal dishes, lamb chops, grilled chicken and steaks. If you like pasta, there is a fairly good range to choose from including Ravioli, Bolognese, Risotto and others. The ravioli Caprese is a must-try.   
What gives the restaurant its distinct stature is its home-made pasta dishes which are finished table-side inside a hollowed wheel of parmesan cheese. The exquisite signature dish Caccio e Pepe is really delicious and the portions quite generous. It is quite a spectacle as it comes with a show too when finished off table-side, where they put the hot pasta on a wheel of parmesan add some liquor and light it on fire to melt the cheese. After a few minutes it is mixed with spaghetti and pancetta and served. It is worth every penny you spend. The massive cheese wheel was actually sent to Bermuda from the old country and it is stored in a bath of buffalo milk each night. 
The Little Venice Favorites such as the Veal Scaloppine which comes with a fresh squeezed lemon sauce or a portion of tender chicken breast breaded and golden fried with a side of marinated tomato concasse, are indeed absolute favorites. Some of the best Bermudian classics are also on offer on the menu here such as the fish chowder which you can combine with your very Italian tagliatelle to get an adventurous twist! 
The restaurant makes fresh desserts everyday. While they have ice creams of different flavors, some of the unique desserts we found here include a special sponge cake which is extremely light and fluffy. You can also go for a simple but delicious mousse dessert. The Tiramisu, which is quite uniquely served in a white chocolate bowl and the pistachio or the Tuscan olive oil gelato need special mention here with their outstanding presentation and flavor. The extra virgin olive oil dessert might not be on the menu but you can ask for it and if available it is not something you would want to miss. 
The restaurant offers a chef dinner as the chef also creates special appetizers, main courses and desserts every day. 
Little Venice has a wide selection of Italian wine (over 1000 types) and has a separate wine bar. They have received two glasses as an Award of Excellence from the Wine Spectator. From Champagnes to reds, sparkling whites, Vini Bianchi italiani, Chardonnay and Riesling, Sauvignon Blanc, Rosato, Barelo, Barbaresco, Tuscans, Chianti and much more, they boast of housing them all! 
The Wine Bar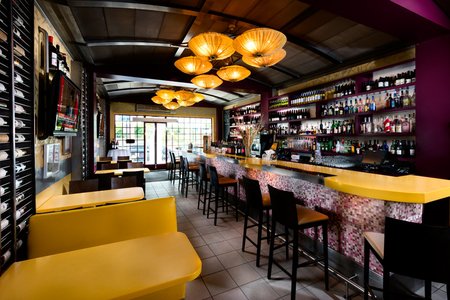 Source: Little Venice 
The staff too can give you great advice on wine selection. In fact if you have dietary restrictions, some of the staff can be quite knowledgeable in helping you with your selection. You can also choose to start your evening at the wine bar for a drink along with some freshly cut cheese and a good variety of bites and then head into the adjoining restaurant for your dinner.  
Trivia
Being close to the business hub in Hamilton, you will see many business executives having lunch and dinner here, or just relishing wine. This is also a good place for families, but is especially recommended for couples. It is a great place for a romantic dinner for two. 
They accept credit cards. The restaurant mostly runs full, so reservation is highly recommended. Dress code is smart casual. 
Conclusion
So if you are looking for classic Italian cuisine in a light and airy ambience augmented by some very friendly and attentive staff who exude genuine family affection, this is the place to be. It is Hamilton's fine dining at its best. From perfectly cooked pastas in mouth watering sauces to the freshest seafood and also some great kid's meals and sinful desserts along with a customary round of limoncellos as an aperitif, that is on the house, they have it covered. Although the options are classic Italian, you can always find something here that you will love. 
Indicative Rates
The special Cacio and Pepe (serves two) is approximately $21.75-$28.75 per person with an additional $1-$4.50 depending on optional toppings 
Appetizers range from $19.75-$24.75 and soups and salads between $10.75-$24.75 
Pastas and sandwiches come for around $25.75 
Main course and special dishes range from $33.75-$46.75 
Drinks can cost you between $7.75-$20.75. Wines by glass range from $ 11 for sparkling to $16 for a glass of white or red wine. Whiskies range from $10-$50 and Bourbons $11-$15 a glass.  
Sides need to be ordered separately and a 17% service charge is added separately to your bill 
Open Hours
Lunch 12.00am-2.00pm (Monday - Friday) 
Dinner 6.30pm-10pm (Monday - Saturday) 
Wine Bar: 12noon to closing (Monday - Friday); 6pm to closing (Saturday) 
Location and Contacts
Buses to reach Little Venice: #1, 2, 10, or 11 (all originating at Hamilton bus terminal). 
Address: 
32 Bermudiana Road, Hamilton City 
Check out
Hamilton Dining Map
to see the location of this restaurant along with several others that are located nearby. 
Road Map 
Related Articles
Visitors' Reviews and Comments
Review and share your experience.