Port O' Call Restaurant Bermuda
$$$, Seafood 
The Restaurant and Ambience
Port O' Call is an elegant and upscale restaurant located on Front Street of Bermuda's Hamilton City. This two level restaurant is the only one on Front Street that has an entry from the ground level. The restaurant inside looks quite sophisticated with cedar paneling and brass fittings. 
It has several sections for seating. There is a main dining room, a lounge where there is an extensive bar, a private dining room and a small terrace for al fresco dining. The small terrace upstairs is an excellent place for watching the hectic activities on the Front Street and also to get a wonderful view of the Hamilton Harbor.  
Port O Call, Inside Dining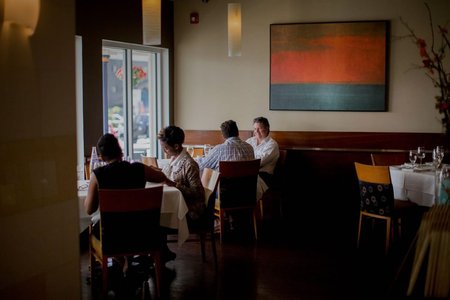 Source: Port O Call 
There are large plasma TVs in all the indoor sections, including in the Private Dining room that can accommodate 16 persons. It has intimate nooks for quiet couple dinners (except maybe on weekends) and at the same time is a great place for dinner parties. 
Food and Drinks
The restaurant serves both lunch and dinner. The food here is mainly focussed on fresh seafood and is uniquely local to the island. The menu changes frequently depending on what is available in the market on the day. They also have several specials available every day and the portions are good too. 
If you want to start with a soup, try out the homemade fish chowder or the roasted pumpkin puree. The sweet potato soup too is quite rich and flavorful. There are a number of appetizers to choose from. Some of the favorites here are the tuna and avocado crudo, the three ways fresh fish tartar, roasted beef and asparagus salad with goat cheese, salt and pepper tempura fried oysters, pan roasted scallops, grilled shrimps, crab trio and curried fishcakes. 
Port'O Call Bermuda - Terrace Dining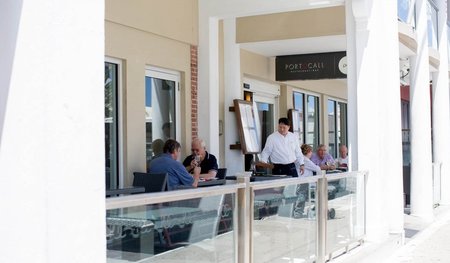 Source: Port O Call 
The seaweed salad is quite delicious too and so is the shrimp tempura which you will find on the bar menu. The Parmesan fries come piping hot and crisp and are a treat for hungry palates. 
The restaurant serves grilled spiny lobsters between September and March. Some of the other delicious main courses include St. George's seared scallops which is as local as it gets, and goes beautifully well with a saffron risotto, salt and pepper prawns which is just perfectly seasoned, tuna/avocado tartare for the more adventurous diner, the very juicy and tender pan seared salmon, seared shrimp and scallops and grilled filet of salmon. 
The filet mignon is quite moist and delicate with crisp vegetables and sauces. The seared scallops with risotto and the Surf n Turf are delicious. If you are up for it, try the Rockfish with Black rice and the Pucker up martini which rounds it off brilliantly. It is also noteworthy that for a seafood place, they serve excellent steak with seasoning, preparation, quality of the cut etc, all being excellent. 
Other than seafood, you also get dishes like veal chop, duo of duck, Sole, steaks, rack of lamb, roasted chicken breasts, pork chops and braised beef short ribs. All dishes are perfectly cooked and seasoned. They serve amazing duck pate and smoked duck breast, burrata risotto with asparagus, peas and lemon zest that lends the dish just the right bit of tanginess.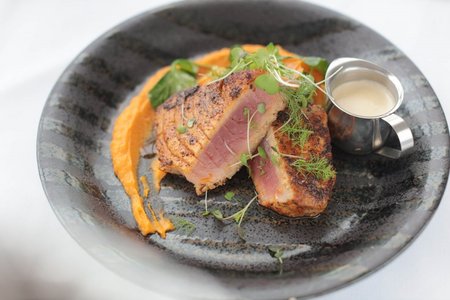 Source: Port O Call 
During lunch the menu is a little shortened, however you get some additional items including fish cakes which are spot on and tasty, fish sandwiches, Fish and Chips which has a large piece of fish lightly battered and scrumptious, and pasta dishes. 
For dessert, they serve some of the best cheesecakes on the island. They are so light and fluffy, you will not have any difficulty devouring a generous portion of it ! The twice baked cheese souffle is light and lovely. The mud pie too is worth a try and so is the mouth watering lemon tarte raspberry sorbet. If you want to keep it really simple after a hearty main course but don't want to let the dessert slip by, try the homemade vanilla ice cream. 
Port O' Call serves wine by the glass and has an extensive selection of over 40 types of wine and many innovative cocktails. They offer everything from Chardonnay, Riesling, Sauvignon Blanc, Bordeaux, Rose and Blush to Pinot Noir, Grenache, Malbec, Cabernet Sauvignon, Zinfandel and Merlot and much more. We loved the class with which they served us when we ordered a bottle of crisp white wine. They keep it on ice nearby and fill your glass up when you start to run low. Actually, you can begin at the bar if you arrive early and then move on to the dining area. The bar area however sometimes gets a little noisy that also echoes on the hard floor to the other areas of the restaurant. 
Happy hour is from 4pm - 7pm (Monday to Friday). They received many awards including excellence award from Wine Spectator magazine, Best Power Lunch award, and Best Daily Specials. 
The Service
While the service has been generally good, with the staff being quite warm and engaging, we have had times when we have been disappointed with it and thought it could have been better. By the way, the restaurant has also received an award for Best Attentive Staff. They come across as a small  family and are a lot of fun. 
Trivia
Port O' Call accepts credit cards. People tend to dine here over long hours in a relaxed environment and the restaurant doesn't seem to mind at all. So we strongly recommend making reservations here. Dress code is smart casual. This place is not cheap but the meal and experience you get here is excellent. 
Conclusion
Opt for this classy place, which is also a local favorite, for that special dinner out. While the restaurant has been around for decades, the menu reflects more modern times. The food is lovely, the staff attentive while not being overbearing, well trained and knowledgeable, and you will be sure to find something on the menu for everyone's taste. Conveniently located on a busy downtown street, you can even simply choose to unwind and relax with a drink on the terrace as you watch the world go by. 
Indicative rates
Appetizers range between $15-$21 while a bowl of their famous House made Fish chowder comes for around $9 
Entrees will cost you about $21-$45. Bermuda fish is not listed on the menu and your server will inform you about daily selections and preparations as per availability and rates 
Desserts are around $12 
Open Hours
Lunch: Monday - Friday (12 noon - 2:30pm), 
Dinner: Monday - Saturday (6pm - 10.30pm), Sunday closed 
Location and Contact
87 Front Street, Hamilton City, Bermuda 
Road Map 

By Raj Bhattacharya 
Raj, a seasoned travel writer and Bermuda destination expert, has extensive global travel experience. This website reflects his profound insights, garnered over nearly two decades of dedicated findings and research on the island. Raj has assisted countless Bermuda-bound visitors by providing direct, personalized responses to their queries and imparting his wealth of knowledge through this platform. This site serves as an indispensable guide for those seeking informed and reliable insights into Bermuda's treasures. 
Related Articles
Visitors' Reviews and Comments
Share your experience.