Port O' Call Restaurant Bermuda
$$$, Seafood 
Port O' Call is an elegant and upscale restaurant located on Front Street of Bermuda's Hamilton City. This two level restaurant is the only one on Front Street that has an entry from the ground level. The restaurant inside looks quite sophisticated with cedar paneling and brass fittings. 
It has several sections for seating. There is a main dining room, a lounge where there is an extensive bar, a private dining room and a small terrace for al fresco dining. The small terrace upstairs is an excellent place for watching the hectic activities on the Front Street and also to get a wonderful view of the Hamilton Harbor.  
There are large plasma TVs in all the indoor sections, including in the Private Dining room that can accommodate 16 persons. The restaurant serves both lunch and dinner. The food here is mainly focussed on fresh seafood. The menu changes frequently depending on what is available in the market on the day. 
If you want to start with a soup, try out the homemade fish chowder or the roasted pumpkin puree. There are a number of appetizers to choose from. Some of the favorites here are the three ways fresh fish tartar, roasted beef and asparagus salad with goat cheese, salt & pepper tempura fried oysters, pan roasted scallops, grilled shrimps, crab trio and curried fishcakes. 
Port'O Call Bermuda - Main Dining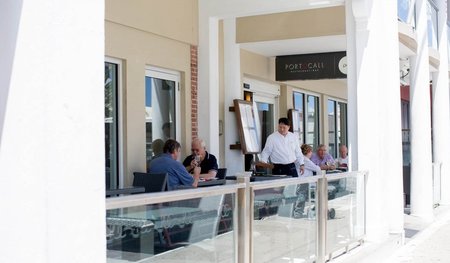 The restaurant serves grilled spiny lobsters between September and March. Some of the other delicious main courses include pan seared salmon, seared shrimp and scallops and grilled filet of salmon. 
Other than seafood, you also get dishes like steaks, rack of lamb, roasted chicken breasts, pork chops and braised beef short ribs. During lunch the menu is a little shortened, however you get some additional items including fish sandwiches, Fish & Chips, and pasta dishes. 
Port O' Call serves wine by the glass and has an extensive selection of over 40 types of wine and many innovative cocktails. Happy hour is from 4pm - 7pm (Monday to Friday). They received many awards including excellence award from Wine Spectator magazine, Best Power Lunch award, and Best Daily Specials. 
While the service has been generally good, we have been disappointed at times and thought it could have been better. By the way, the restaurant has also received an award for Best Attentive Staff. 
Port O' Call accepts credit cards. People tend to dine here over long hours in a relaxed environment and the restaurant doesn't seem to mind at all. So we strongly recommend making reservations here. Dress code is smart casual. 
Open Hours
Lunch: Monday - Friday (12 noon - 2:30pm), Open daily for dinner 
Location and Contact
87 Front Street, Hamilton City, Bermuda 
Raj Bhattacharya
Raj is an avid traveler and a full-time travel blogger. He has traveled to numerous countries across the world and loves to keep travelling. His mission here is to help viewers like you visiting Bermuda or seeking insights into related matters with the most comprehensive content compared to any other online resources. Since years now he has been helping countless viewers by posting quality articles on this website, answering questions and sharing experiences. Launched in 2008, this website is Bermuda's leading source of online information since many years. 
Related Articles
Visitors' Reviews & Comments
Share your experience.