Harry's Restaurant & Bar, Bermuda
$$$, Steakhouse, Western 
Restaurant and Ambience
Located in Hamilton Bermuda, Harry's at the Waterfront is a steakhouse and a family run business. It's located at the Waterfront complex of Hamilton overlooking the harbor. The family has been in Bermuda since generations and were earlier in the shipping business. 
Named after the father of present owner Will Cox, the restaurant has won the Mayers Awards for Best Restaurant and Food Hygiene and Safety. The restaurant has a traditional elegant décor of a steakhouse with dark wood paneling, brass fixtures and white tabletop arrangements. 
Harry's Restaurant Bermuda 
Photo: Harry's 
You can easily recognize the restaurant with its giant size marlin statue on the outside patio. The inside dining room has brown leather chairs, light interiors, red floral arrangements and soft lighting to provide a modern and an elegant fine dining ambience. Although you do not get  a view from all the seats in the restaurant, you can have a pretty view of the harbor from the terrace or the bar area. 
Elegant dining room of Harry's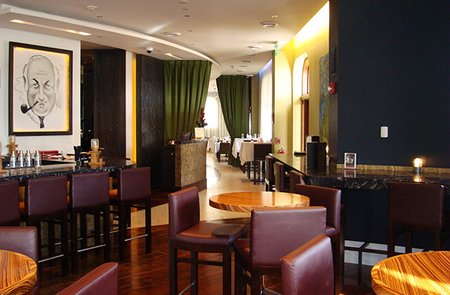 Photo: Harry's 
Food and Drinks
The restaurant offers three different menus - one at the bar which is moderately priced, a tapas menu where the sides can easily be shared between two, and there is a formal menu which is relatively expensive. Harry's serves both lunch and dinner. 
The focus is on organic ingredients from all over the world. Try the Harry' Classic which is also the owner's favorite. It's a complete meal and includes Petite Iceberg Salad, Classic Shrimp Cocktail, 14oz Strip Steak, Tender Tiny Peas and Jessica's Cheesecake. 
The beef here is aged for 21 days and flavored to taste. Aged New York Hand Cut Strip Loin and the bone in rib eye are excellent. They know how to do their steaks right (to your liking of course). 
Steak at Harry's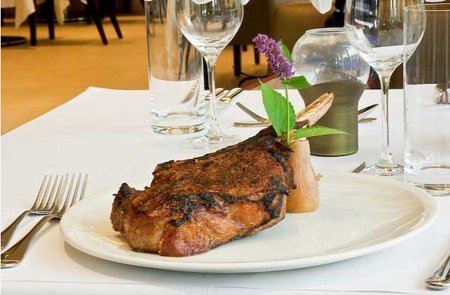 Photo: Harry's 
If you like fish, go for the fresh catch of the day. During lunch you also get items like the lobster sandwich or the crab cake sandwich with tropical fruit salsa, or steak sandwich with mushrooms, caramelized onions and truffle mayonnaise. The Petite filet is very good especially with a side of asparagus and French fries. 
Fish at Harry's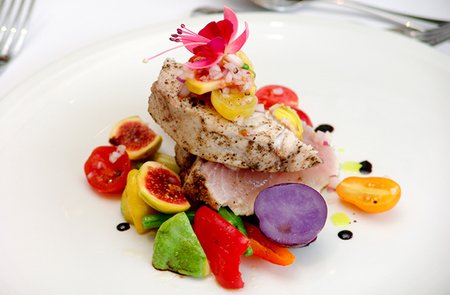 Photo: Harry's 
The Tuna Tartare is one of our favorites. The hint of ginger in it actually makes it extra special. In soups, the Broccoli and cheese soup is lovely, well seasoned and oozing flavor. The Bermuda Fish Chowder here is one of the best too. Get a splash of Tobasco into it and you will have a veritable feast even before you get to the entree. 
Pizza is also great and so is the rather boastful, yet justifiably so, Harry's burger. The bread here is of superior quality than what you get at most other places in Bermuda. They have a few specials and some of them like the Veal special are awesome. 
Harry's is also well known for their vegetarian dishes and can also make it gluten free. Although the food menu is concise, it makes the use of fine ingredients, which they procure by importing their own meats and also growing their own produce for years. 
For desserts, try out the trio Assorted House-Made Ice Cream and Sorbets, or the Chocolate Molten Cake with dark chocolate sauce and crème anglaise or even the delicious pecan caramel coupe. The Goat cheese cake here is one of the best you will find on the island. It comes with a ginger snap cookie, kaffir lime creme angalaise and iced grapes. You will find the food here is always fresh and presented beautifully. 
You can also finish off your meal with one of their special coffees or a cigar from their great collection. You can try the Irish coffee with Jameson whiskey or the Orange Sunrise coffee with Absolut to complete a well rounded meal. 
The bar at Harry's has spirits from all over the world. However the special drink here is the Harry's Rum which is light amber colored, and was invented by Harry himself and Malcom Gosling of Bermuda's Gosling's Rum. 
Harry's Barrel Rum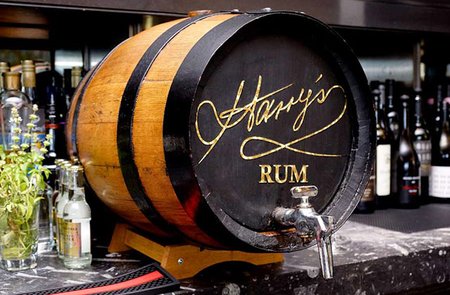 Photo: Harry's 
The restaurant also has an extensive selection of wine. The list is long, well chosen and offers good vintages. There is a wine cellar housing over 2,000 bottles of wine. They serve some very innovative and delicious cocktails which are properly prepared and served. We simply loved the Cocchi Americano Spritz and the Dark n' Stormy here too is one of the best. You can also choose to enjoy your drinks on the outside patio and then move inside for the meal. 
Service
The service is overall excellent and they can really make you feel at home. The staff is very interactive and quite friendly and attentive though not overly so. They can also make great recommendations for both food and drinks. Attention to details is noteworthy. 
Trivia
There is a private dining room at the center of the restaurant that can accommodate 10 persons. Friday happy hour time is special. The restaurant gets full with locals and becomes very lively. It is a very popular hangout especially for the locals on Friday nights after work and the place can get very noisy, though not outrageous. However most afternoons are quiet and relaxed. 
The restaurant has unique Micro brews. All the kegs are exported back to the US for recycling. They accept credit cards. Dress code is smart casual. 
Conclusion
Tucked away in one of the side streets of the buzzing Hamilton city, the restaurant is a great combination of wonderful food, an excellent wine list, friendly staff and nice intimate atmosphere. In fact the drinks and the dark and cozy ambience are the main reasons why you should give the place a try. The dimness of the dining room along with the beautiful splash of dusk seeping in through the bar windows lends it the perfect dose of charm. So whether you want to have an romantic evening out or a casual one, the place can cater to both.  
Open Hours
The restaurant is open from Monday through Saturday from noon until 10pm. Sunday closed. 
Indicative Prices
Appetizers: $10-$21 
Salads: $15-$24 
Entrees: $32-$65 
A Harry's Classic meal from start to finish : around $85 
Sides: $12-$14 
Desserts: $15-$29 
Cocktails : $12-$17, Wines by the glass: $8-$14, Beers: $8-$9, Pitchers: $55-$65 
Location and Contacts
Road Map 
Harry's at the Waterfront Complex 
96 Pitts Bay Road, Hamilton, Pembroke, Bermuda 

By Raj Bhattacharya 
Raj, a seasoned travel writer and Bermuda destination expert, has extensive global travel experience. This website reflects his profound insights, garnered over nearly two decades of dedicated findings and research on the island. Raj has assisted countless Bermuda-bound visitors by providing direct, personalized responses to their queries and imparting his wealth of knowledge through this platform. This site serves as an indispensable guide for those seeking informed and reliable insights into Bermuda's treasures. 
Related Articles
Visitors' Reviews and Comments
Share your experience...