Alexandra Battery & Building Bay Beach
Located at the eastern edge of Bermuda in St. George's, Alexandra Battery is a fortification made in the 1860s. Just below the fort, there is a small beach which is well known in Bermuda for colorful sea glass. This beach is known as Building Bay Beach. 
First about the fort... It was named after the princess of Denmark Alexandra. She was married to Edward VII who later became the king of Great Britain. 
Alexandra Battery Bermuda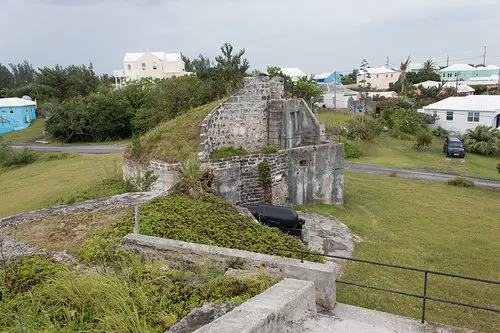 Photo: Captain-tucker, cc by-sa 4.0 
Alexandra fort is located about a mile away from
St. Catherine Fort
and near
Gates Fort
. The fort was built on a site where there was another old battery called
Building Bay Battery
which was built in 1840s. 
Like several other forts, this one too was built to guard the eastern water ways. 
There were nine guns known as the Rifled Muzzle Loaders that were mounted at the Alexandra Battery. One such gun is still there on the site at the southern end of the battery. 
A unique feature of these guns was the use of metal flash plates (called Gibraltar Shields) around the cannons to protect the gunners from incoming fire. 
Rifled Muzzle Loader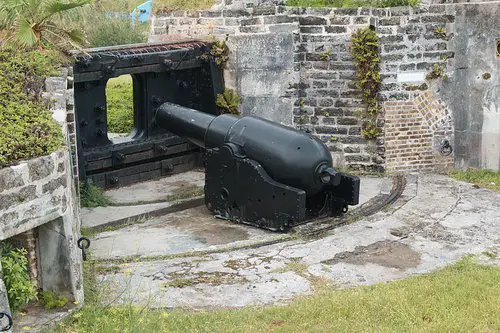 Photo: Captain-tucker, cc by-sa 4.0 
In early 1900s, when the princess of Denmark Alexandra became the Queen, the entire fort was modernized and equipped with two 6-inch modern guns for coastline protections. These guns were called the Rifled Breech Loaders. 
Climb up the steps of 6-inch Rifled Breech Loaders emplacements and enjoy the lovely views of the water. The fort is open to public. It was last manned during the World Wars I and II. However it did not have to ever get involved in any enemy encounters. 
Now about the beach... Next to the battery is the small Building Bay Beach, also known as Alexandra beach. This beach is hardly known to tourists. 
Building Bay Beach Imagery 
Rotate the image for 360░ view 
But it is well known to the locals for its colorful sea glasses. While there are lots of sea glasses on the beach, if you go towards right... on reaching the beach park you will see a beach cave and there are lot more colorful sea glasses in the cave. 
It's not easy to reach the cave though. You will need to navigate through and cross over a few rocks. But it's manageable. 
You can find many soft pieces of glass, mostly brown and amber. There are lots of greenish and white ones as well, but not too many blue glasses and hardly any red ones. We also found many pottery pieces and shells lying there. 
This beach is located at the north eastern shore of St. George's. The beach is so named because this is where the building of the ship
Deliverance
took place in 1610 after the original ship of Sir George Somers got wrecked at a nearby reef. 
The Deliverance was used by Somers and his men to continue their voyage towards Jamestown in Virginia although they retained the claim on Bermuda. The construction of the ship Deliverance was supervised by Sir Thomas Gates. 
There are no toilet facilities here or any concession stands or snack bars. Admission is free for Alexandra Battery or the beach. They are open during the day until sunset. 
How to reach
Alexandra Battery is on Barry Road in St. George's Bermuda. It's about 30 minutes walk from the St. George's ferry dock. On your way to the beach it would be a little uphill walk, but the walk is beautiful and scenic. 
To reach the fort or the beach, get to Duke of York street from Kings Square (of St. George), keep walking along Mullet Bay Road keeping the ocean to your right, you will enter Cut Road. 
Go past St. George's Dingy Club, and then Cut Road continues and becomes Barry Road, soon you will see the fort. 
Alternatively take a taxi. However getting a taxi back from the battery may be difficult. So keep taxi contacts handy with you unless you hire the taxi for a few hours. 
There is a public telephone booth from where you can call a taxi. You can use both Bermuda and U.S currencies at the booths and will need 50 cents to make a local call. 
Road Map 
Related Articles
1) Check out
Bermuda Forts
to know about the historic forts in Bermuda. 
4) Check out
St. George's
to find out other great attractions in the parish. 
Visitors' Reviews andáComments
Julie Guido (August 2015) 
Alexandra Battery and Buildings Bay is one of our first stops every year we visit Bermuda. Every year the beautiful Sea Glass gets less and less, but there is still a lot. Hardly any Blue on the Beach. 
You have to venture out in the water to find that treasure.... The harshest water to the right brings the best glass for those who are brave :)  
It is a beautiful place to check out. There usually aren't too many people on the beach either. We've been there and had it all to ourselves....The fort is really cool too. 
If you take a right out of the Bay you can drive right up the road and check out the Bermuda cows on the dairy farm too.... So many things to see on this amazing island... 
Ashlyn (April 2011) 
When me and my family got out of the taxi for a quick grab, I found a very weird blackish grayish piece of sea glass. I looked it up and only jewelry came up. 
This beach has a lot of blues and greens, pinks purples anything you could ask for. I even found an orange. I totally recommend this beach to sea glass lovers.