Fort Cunningham Bermuda
Fort Cunningham is located at Paget Island on Bermuda's St. George's Harbor. When the first Governor Richard Moore came to Bermuda in 1612, he thought that Paget Island is one of the most strategic locations in Bermuda. Because, right next to Paget Island is the channel that connects the Atlantic ocean to the St. George Harbor. 
And an enemy vessel entering the harbor, would have a clear access to the Town of St. George. So governor Moore decided to build a platform in 1612 with guns on it to guard the channel. The original platform which was semicircular in shape, was at a level lower than where the fort is located presently. 
Later more batteries were added near the original one by the subsequent governors of Bermuda during 1616 and 1619. All these batteries in Paget island were close to the ocean and were collectively known as the Paget Fort. Due to the continuous pounding by the waves, none of these batteries lasted for long and required periodic repairs.  
Around 1740, governor Alured Popple made major repair work and mounted 10 guns on the fort. In 1746, there were so many prisoners of the war who had to be brought into Bermuda that the only place they could be accommodated was here in Paget Fort. 
Fort Cunningham Bermuda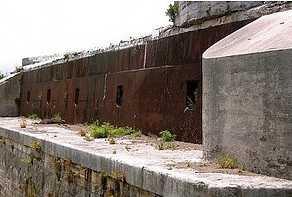 The fort was damaged by a severe sea storm in 1791 and had to be rebuilt. Several reconstruction and renovation took place, and finally the Fort Cunningham came up in 1875 that replaced the old Paget Fort. It was named after Captain Thomas Cunningham who was from the British Royal Engineers and supervised the construction of the fort. 
A special feature of Fort Cunningham is that it had walls made of iron plates called Gibraltar Shields, that were armor plated & case mated. This was the only fort so built in the whole of Western Hemisphere. It had seven huge 38 ton, 12.5 inch bore Rifled Muzzle Loader guns that were mounted in 1880's. 
The fort is surrounded by a dry moat. The interior of the fort is shielded with iron plates which are about 15 inches thick and laminated with layers of teak wood up to 20 inches thick. All these measures were taken to absorb the shock of incoming shells. 
Unfortunately the fort today remains in a badly damaged condition. Some of the guns have been recovered after excavation though. The fort is however classified as a World Heritage Site. 
How to reach
Fort Cunningham is not directly accessible. It is located in Paget Island on
St. George's Harbor
in St. Geoge's parish Bermuda. You will need a boat to reach the island.
Blue Hole Watersports
operates from Grotto Bay Beach Resort at the eastern part of Bermuda and offers motor boat rentals. Their location is suitable for reaching the island. With prior permission from Bermuda Department of Youth, Sports and Recreation, it is possible to camp in Paget Island. 
Road Map 
Raj Bhattacharya
Raj is an avid traveler, a travel journalist and a blogger. As an author of this website, he shares deep insights on Bermuda and related areas of interest. Since years, he has been helping countless viewers by posting quality articles, answering questions and sharing experiences on this website. Launched in 2008, this website is Bermuda's one of the leading sources of information since many years. 
Related Articles
1) Check out
Bermuda Forts
to know about the historic forts in Bermuda. 
3) Check out
St. George's
to find out other great attractions in the parish. 
Visitors' Reviews & Comments
Review and share your experience...