Yo Cherry Ice Creams & Yogurts, Bermuda
$, Ice Creams and Yogurts 
This  award winning store is the island's only self-serve frozen treat shop. They now have two outlets in Bermuda, the original one in Hamilton on Bermudiana Road and the other newer one on York Street in the Town of St. George. The Hamilton outlet is very close to the Hamilton ferry terminal and can be easily walked down from there. The one in St. George is also quite conveniently located close to the Cruise ship terminal here and is also near the museums and opposite the Somer's supermarket.  
This ice cream parlor, which you will see is actually much more than just that, has a unique feature and that is, it also caters to those who are vegetarian, vegan, kosher or even diabetic. The ingredients they use are pure and includes some locally grown products like Gingered beet, sweet corn, carrot and pumpkin. 
Though very popular, it is quite a small and unassuming place with very limited seating arrangement. The Hamilton outlet has a little outside seating arrangement too. However it is a very neat and clean place and the friendly staff who give you a warm greeting more than makes up for the inadequacies. 
Yo Cherry at St. George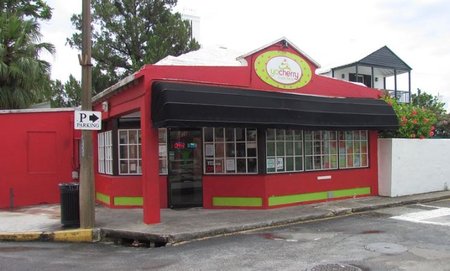 Since they have a takeaway service available, a good option would be to pick your ice cream at Hamilton outlet and take the short stroll up to the nearby Queen Elizabeth Park or Albuoy's Point, which have lots of seating. 
The store is conceptualized, designed, built and owned by the husband and wife team- Carlos and Regina Francis. After a lot of travelling around in the US and a great deal of research work back home, they decided that this was a good business to venture into and thus opened the doors to their first outlet in the year 2013. Since then they have never had to look back.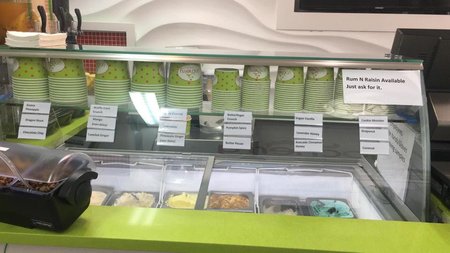 This is a good place to stop by for dessert after a dinner or a little cool off when you are touring the island or if you simply want to treat yourself to a sweet indulgence. There are a wide variety of ice creams, frozen yogurts, Gelato and Sorbets along with a range of mouth watering baked products on offer. 
Kids will love the place with its diverse flavors in frozen yogurt and freshly made ice creams. Apart from the regular choices, they offer some unusual  ice cream flavors  like the soft coconut, scoop pineapple, ginger and pralines and rum raisin which are quite delicious. You will come across some really innovative ones like avocados, tamarind or even grapenut ice cream. There are so many flavors on display, you might have a hard time zeroing in on one. They let you sample a few free of charge, before you can make a choice. The flavors change everyday, so you will find something unique whenever you visit. 
You can also try the non fat sorbets for a change. The Ginger-Pineapple or the Tamarind-Ginger sorbet especially are great choices. 
They have a soft serve wall with rotating flavors, where you can serve your own choice of frozen yogurt and take your pick from the assortment of candy, chocolate, nuts, syrups, cookie dough and fruit toppings that are available. With about fifteen flavors to choose from, there are several that you can mix as per your liking. When it comes to the selection of toppings too, you will be spoilt for choice. 
There are the amaretto cherry yogurt, the coffee flavored, the salted caramel or cotton candy yogurt or just the simple mango yogurt which are very nice and worth a try. A mix of strawberry vanilla and cappuccino yogurt makes an interesting combination. 
The baked delights that you will find on offer here are also quite overwhelming and hard to choose. Especially worth mentioning here are the donuts which are hand made by the owner Carlos. They are thick, flaky, sweet and the freshness oozes out. You can also sample these before buying but they are definitely worth a try. They also have cookies, cupcakes and warm brownies with walnuts. The staff here will also warm them for you if you want. They have great milkshakes and mocha too. 
The service here is quite friendly and staff quite chatty and amicable. In fact a welcoming customer service is a part of their motto and you will also see it in their credo that says "Service With a Smile or It's Free!!". The place is air-conditioned and has free WiFi too. They print the password on your receipt. So look out for it. Customers can earn loyalty points here too ! 
Pricing could be a little tricky if you are not aware of the system. You will be charged by weight and not number of scoops as you might be otherwise used to. You fill up your cup with your choice of yogurt/ice cream and toppings and that would be priced according to the weight. The price per ounce is $1. So you can get the portion size that you want and charged accordingly. 
Open Hours
Hamilton Outlet: 
Monday to Thursday: 11am - 9.30pm 
Friday and Sunday: 11am - 10.30pm 
Saturday: 10am - 10.30pm 
St. George outlet: 
Monday to Thursday: 12pm - 9pm 
Friday to Sunday: 12pm - 10pm 
Location and Contact
Hamilton Outlet: 
Address: 8, Bermudiana Road, Hamilton 
Phone: 441-292-2020 
St. George Outlet: 
Address: 38, York Street, St. George 
Phone: 441-292-2022 
Road Map (Hamilton Outlet) 
Related Articles
Visitors' Reviews and Comments
Share your experience.