Commissioner's House Bermuda
Located at the premises of
National Museum of Bermuda
at Dockyard, Commissioner's House once used to be the home of the Dockyard Commissioner and thus the name. This is a grand Georgian House built in 1820s and the first ever cast iron house in the world. In fact the frame of the building was cast in England and then brought to Bermuda. 
The commissioner who was the overall in-charge of the dockyard, used to live in this building between 1827 - 1837. After that, the building was taken over by the British army. 
In 1862, the house became Royal Marine barracks. Subsequently during the World War-II, it was used as the allied headquarters for North Atlantic submarine radio interception. Erstwhile Bermuda Maritime Museum (which is now the National Museum of Bermuda) took up the biggest restoration project ever in the island to restore this building over 25 long years. It was finally opened to public in the year 2000. If you have interest in the days of
Slavery in Bermuda
and how the life of the Bermudian slaves used to be, you must visit this place that has some of the best collections of exhibits and artifacts of the period. 
Commissioner's House Bermuda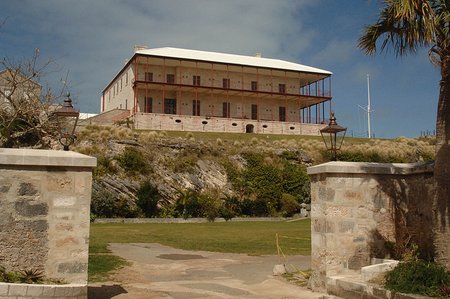 Source: Wikimedia Commons 
Two upper floors in the Commissioner's House are made of mahogany moldings and feature rare Bermuda coins, map, archival, and art collections. In the first floor you will find exhibits that depict the story of Bermuda's slaves through some stunning and disturbing facts and figures. 
You will be able to understand in details the transatlantic slave trade route, its effect on history and Bermudaís place in the
African Diaspora
. Artifacts that have been recovered are mainly from shipwrecks and include cowry shells, glass beads, restraints and weaponry that were used against the slaves. There are also many other items recovered from excavations and private collections. 
All these artifacts retrace the life of slaves and how they too were impacted by Bermuda's growing economy. You will see the slaves' involvement in growing tobacco and onion farms that once used to be a flourishing business in Bermuda, and also slaves becoming skilled carpenters, masons, sailors and even pilots. 
In the first floor you will also know about the history of the Portuguese who came to Bermuda around 1850s, their connections with Bermudians and their impact on island culture. Other exhibits and artifacts in the first floor includes Bermuda's connections, maritime trade and cultural exchanges with West Indies, history of century old Newport Bermuda yacht race, rare coin and note collections, how Bermuda's tourism industry evolved etc. 
The Second Floor mainly comprises of rare books, collections from US Air Force and Royal Navy like the items and furniture used by them etc.  
In the ground floor, the walls are made of limestone. Here you will find exhibits around Bermuda's contribution to World War-I. You will know about the local defenses used, armed forces, and Bermuda's war veterans. 
A must see in the Commissioners House is the
Hall of History
, a 1000 sq. ft. wall mural created by Graham Foster depicting five centuries of life in the island. 
Admission fee and Open Hours
Update May 2015: the Commissionerís House was damaged during Hurricane Gonzalo in October 2014 and is currently closed while repair work is being done. 
Location and†Contacts
Bermuda Maritime Museum, Royal Naval Dockyard 
Phone: 441/234-1418 
Bus Routes: #7 or 8 (operating between Hamilton and Dockyard). From Hamilton you can also easily reach dockyard by blue route ferry (20 minutes). Check out
Royal Naval Dockyard map
to see the location of Bermuda Maritime Museum. 
Related Articles
1) Check out
African Diaspora
to trace the legacy of slavery through Bermuda's heritage trail. 
Visitors' Reviews and†Comments
Share your experience.