Hall of History Mural Bermuda
If you love wall murals, this is the one you mustn't miss in Bermuda. Hall of History is a 1000 square feet larger than life mural created by the Bermudian artist Graham Foster. You will find it in the
Commissioner's House
located at the National Museum of Bermuda in Royal Naval Dockyard. 
Graham started the work in 2005 and it took him 7,000 hours of research and painting to complete this mural over more than 3 years time. On November 2009, it was officially opened by Her Majesty The Queen. At the time of opening, Graham had presented a painting "The Wreck of the Sea Venture" to the Queen. The mural depicts over 400 years of life in Bermuda and you will be able to see virtually everything that made a mark in the island over the past centuries. 
Starting from the 1609 wrecked ship the
Sea Venture
that led to the first settlement in Bermuda and the first settlers hunting for wild hogs, the story-line goes all the way up to Bermuda's modern times including cruise ships and construction cranes. The mural traces the island's human settlement, flora & fauna, architecture, folk traditions & lore, trade, transport, religion and culture. Bermuda Railway has also been featured that no longer exists today. 
Hall of History Mural Bermuda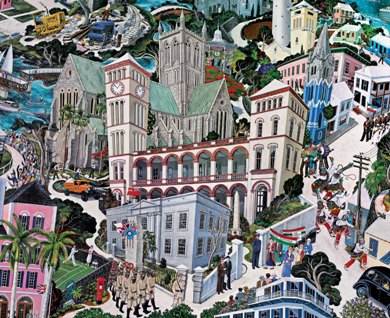 In order to create this mural, Graham researched deep into the history of Bermuda and collected heaps of information from various sources including from the internet. When he started the work, the venue in Commissioner's House was in ruins. He initially painted the panels in the studio and then transferred them to the venue. 
Graham Foster was born in Bermuda in 1970, and had been a professional artist since 1995. He received his education in Bermuda College followed by in The Museum School of Fine Arts in Boston, USA. His art work primarily follows two themes - one is inspired by the flora & fauna, people and culture of the island, and the other more triggered by his subconscious thoughts producing more expressionistic and innovative work. 
Hall of History Mural Bermuda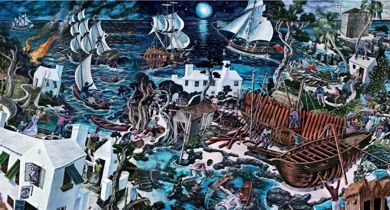 Other than being a successful painter, Graham is also a well known sculptor specializing in welded steel. In fact he wanted to become a sculptor, and later changed his directions to paintings due to lack of adequate space and equipment. In 2002, he became the first Bermudian sculptor whose work was purchased at the
Bermuda National Gallery
as part of its permanent collections. The sculpture was titled "21st Century Fetish Family".  A lot of his sculptures are influenced by Tribal Art. Graham's solo exhibitions are held at the ACE Gallery and Masterworks Foundation. 
Update November 2011: Graham Foster's Mural "Hall of History" is now captured in a 14" x 14" Coffee table book. It depicts the deep history and heritage of his murals with many high quality pictures of the mural. The text of the book has been written by Rosemary Jones. In case you are not able to spend enough time at the Commissioners House to absorb all the details of the mural personally, this hefty book can be a great possession to explore those details. It's currently retailing for $65 and is available at the bookstores island wide. 
Admission & Open Hours
Commissioners House in located inside the National Museum of Bermuda (formerly Bermuda Maritime Museum).  
Location and Contact
Royal Naval Dockyard complex, Ireland Island, Sandys Parish. 
Phone: 441/234-1418 
Raj Bhattacharya
Raj is an avid traveler and a full-time travel blogger. He has traveled to numerous countries across the world and loves to keep travelling. His mission here is to help viewers like you visiting Bermuda or seeking insights into related matters with the most comprehensive content compared to any other online resources. Since years now he has been helping countless viewers by posting quality articles on this website, answering questions and sharing experiences. Launched in 2008, this website is Bermuda's leading source of online information since many years. 
Related Articles
Visitors' Reviews & Comments
Jimmy Wayne (January 2017) 
Just visited Bermuda and the commissioners house. We reviewed the mural;  Absolutely unbelievable !