Rotisserie Grill Bermuda
$$, American/Boston Market Concept 
Rotisserie Grill is a family restaurant located at Collectors Hill in Smiths Parish and run by Walter Simmons, his wife Emma and brother Wilmont. It was earlier the site for another restaurant called Mr. Chicken run by the Furberts. Simmons took up the space after Mr Chicken was relocated to Hamilton City. 
Simmons who live up the hill wanted to create a restaurant in line with the Boston Market, a U.S restaurant chain. He brought in most of the equipment and fittings from the U.S and Italy. In fact the business oven was brought in from the Old Hickory of New Jersey who supplied the original ovens to the Boston Market. The menu is primarily based on four main ingredients - chicken, ribs, fish and pot roast as in Boston Market. There are also daily specials and fresh salads prepared. 
You will also find mashed potatoes, fresh vegetables, macaroni and cheese, rice, corn bread, muffins, cookies and croissants in the menu and they are all made at the restaurant's kitchen. They also serve specialty coffee, juices, milk shakes biscuits, cheese cakes, soft serve ice creams and cold drinks. 
Rotisserie Grill Bermuda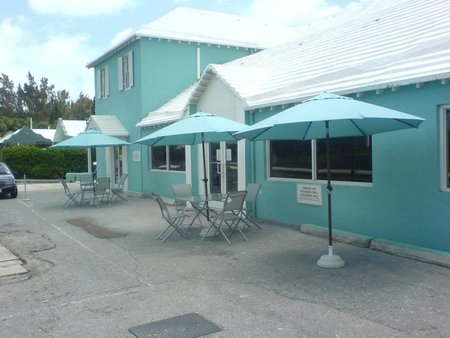 Photo: Rotisserie Grill Bermuda 
While Rotisserie has proper sit-down type items in the menu, they have grab and go kind of meals as well. Another nice dimension to their menu is the sit-down family meals. A family of four to six people can order this meal and have great fresh food. There is a take out section and the family-feast package is also available in that. 
The whole idea is to make affordable and good food for both local regulars and tourists. The restaurant's motto on the sign outside says - Real Food, Real Good, Real Fast. The restaurant has ample shared parking (up to 50 cars) at the back side.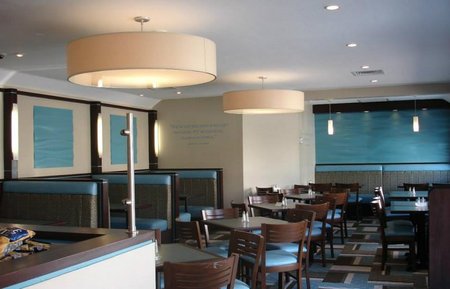 Photo: Rotisserie Grill Bermuda 
Credit cards are accepted. Dress code is smart casual. Reservation is recommended. 
Open Hours
Rotisserie serves breakfast, lunch and dinner. 
It's open daily from 8am to 10pm. 
Location and Contacts
8 South Road at Collector's Hill, Smith's Parish. It located right next to
North Rock Brewery
. 
Phone: 441/232-7444  
Bus Routes: #1, #3 (operating between Hamilton and St George). The restaurant is at a short walking distance from the bus stop. But easiest would be to take a taxi from Hamilton. 

By Raj Bhattacharya 
Raj, a seasoned travel writer and Bermuda destination expert, has extensive global travel experience. This website reflects his profound insights, garnered over nearly two decades of dedicated findings and research on the island. Raj has assisted countless Bermuda-bound visitors by providing direct, personalized responses to their queries and imparting his wealth of knowledge through this platform. This site serves as an indispensable guide for those seeking informed and reliable insights into Bermuda's treasures. 
Related Articles
Visitors' Reviews and Comments
Tom Black (June 2012) 
This is a new restaurant on the island, Rotisserie Grill, right next to North Rock Brewery on South Road. I do believe this was the BEST chop salad with Rotisserie chicken on the island, and it was $13. They serve beer and wine, and the staff was more than helpful and pleasant.  While a 1$ in price, this is a 4$ in taste.  I recommend you stop by there.