Ocean View Golf Course Bermuda
Ocean View Golf Course is a 9-hole, 2940 yards, par 35 course and the second course in the island which is managed by Bermuda Government (the other one is the 18-hole championship
Port Royal Golf Course
). And like Port Royal, this one too is a public course and all including visitors are welcome to book tee times. 
It has fantastic views of Bermuda's north shore particularly from the first two holes (you don't get much views of the water from the rest though). You can sometimes see cruise ships passing by from the first hole. The course is only few minutes drive from Hamilton city.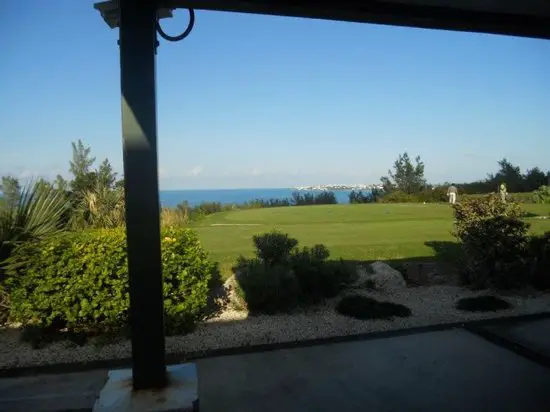 Photo: Ocean View Golf Club 
Although the course is short, but with undulating fairways, changing elevations, bunkers and even water bodies, the course is quite challenging. Course layout and contours are nicely setup. It requires accuracy in shots or else you might find a hole gets long as you try to find your way back to the green. 
The 8th hole is very scenic. There is a lake near the 9th par-3 hole... with fairly strong Atlantic breeze flowing in here at times, it requires deft hands when you come to this hole.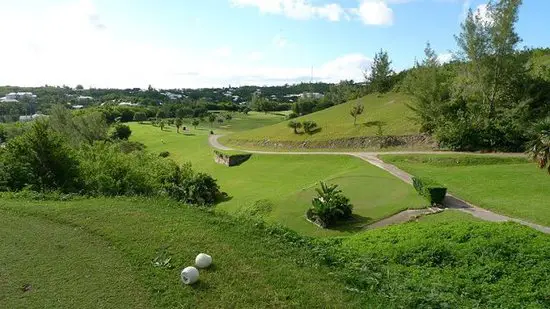 Photo: Ocean View Golf Club 
Two of the par-3 holes are about 190 yards and shots from the back tees can be challenging. There are two par-5 holes as well. Although this is a 9-hole course, there are total of 18 tee positions, so when you finish a round, you can use the back tees to play the second round, and soon you will realize that the challenges are different. The course requires several blind shots as well.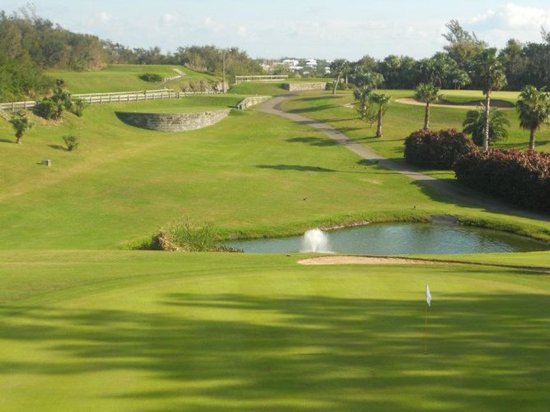 Photo: Ocean View Golf Club 
Fairways and the greens could be better maintained, however they are good to play. At some areas you may not find much grass and you might need to take a shot from a bare patch. The staff and the management are very friendly... if you reach early and request them, they will try to accommodate you if there is space available. A round here is usually quick and the fellow golfers usually allow you to play through if you are on a faster pace. 
Why should you play here
One of the best things about this course is the value for money. If you look at the green fees at some of the 18-hole well known courses in the island, the fees and rentals here are far cheaper in Ocean View Golf Course. Plus the challenges are moderate for a great round of golf. 
Secondly, it can serve as a nice warm up course before you head on to one of the big brother courses like Mid Ocean or Port Royal. Another advantage is, it is quite close to Hamilton City (2.5 miles), so if you stay around Hamilton, it would hardly take 7-8 minutes to arrive or get back by a taxi. There is usually a taxi available at the club premises, otherwise the staff would assist you to get one.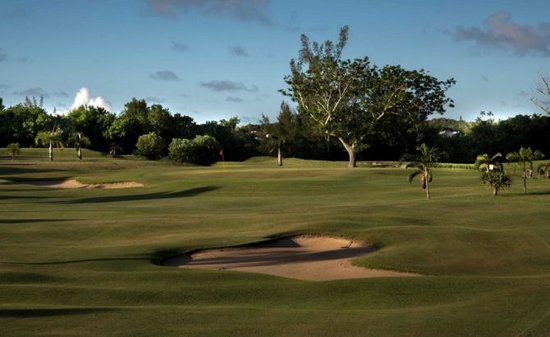 Photo: Ocean View Golf Club 
Facilities
The present Clubhouse used to be known as the Waltington House that was built in the 1600s. The house was used by the U.S army during World War II. The Clubhouse has been recently upgraded and has wonderful views of the north shore. There is a bar and lounge in the Clubhouse serving beverages and it also serves breakfast and lunch. There is also a banquet room here which can be booked for private functions (call 441-295 4916). 
There is a small golf shop but well stocked with Greg Norman and Adidas apparels, golf balls with makes such as Titleist Pro V1, Pro V1x and Taylor Made. The shop also has hats, ball markers and divot tools. 
Pull Carts 
Motorized Golf Carts 
Practice Putting Green/ Chipping area 
Driving Range 
Multi-purpose meeting room 
Pro Shop and Resident Golf Pro 
Rates
Fees 
Green Fee: $50.00 per person (all day), includes golf cart. 
Juniors Green Fee: $12.00 
Cruise Ship Package: $65 (includes green fee, golf cart, club rentals and range balls). Cruise Ship ID card is required to be shown. 
They do not charge any fees for accompanying spouse, partner or friend who won't play. 
Rentals 
Club Rental $25.00 
Club Storage Annually $50.00 
Locker Rental Daily $3.00 
Driving Range balls (Bucket): $5.00 
Lessons with Golf Pro: 
1/2 Hour Lesson $50 
1 Hour Adult Lesson $90 
9 Hole Playing Lesson $200 
45 Minute Junior Lesson $20 
V1 Pro software based video lesson and email follow Up $125 
Tee Time Booking and Inquiry
Dress Code: collard shirts, Bermuda type shorts or long trousers and soft spiked golf shoes. No jeans, short shorts, mini skirts, tee-shirts, jogging shorts, or sweat pants. 
Location
2 Barker's Hill Road, Devonshire Parish, Bermuda. 
Ocean View Golf Course is about 12 miles from Royal Naval Dockyard and only 7 minutes drive from Hamilton City. Buses come only part of the way. Note that you can't carry golf clubs in public buses. 
Road Map 
Related Articles
1)
Bermuda Golf
: Know about all other golf courses and clubs in Bermuda. 
Visitors' Reviews and Comments
Laurie Schell (July 2017) 
We would ferry over to Hamilton to Front Street then what bus would we need to take to get to 2 Barkers Hill Road Devonshire Parrish? Also is it true the bus doesn't take you right to the golf course? Also, are you able to take clubs on buses. We are not bringing entire set just a few clubs? Would a taxi be better and what is an approximate cost of that? Front Street to address above? We are coming September 18-19th from a cruise. Thank you. 
Raj (bermuda-attractions.com) July 2017 
The buses may not allow the clubs (some drivers can make an exception), so suggest plan on a taxi. The taxi fare from Front Street (Hamilton Ferry Terminal) to Ocean View Golf Course would be around $19 one way (including 15% tips). 
Pete Hookings (February 2013) 
Watlington House was not used by the US Army during world war 2. They were stationed in the fort on the hill where the bus stations are - Fort Langston. It was filled in after the war. I lived in the house with my parents, Carl E Hookings MD during this time 1952-1955. 
Francis Watlington is buried in the back yard. The US Army had an artillery battery in the fort, and a signal corps unit in the field to the ENE of the house. These guys were like big brothers to my brother and me. The taught us how to play baseball, pitch horseshoes etc. We went to free movies at the two PXs they had. 
The CO of the artillery unit lived in Bermuda after the war and married a Bermuda lady. I spoke to him several years ago when I was visiting Bermuda, and he remembered my family. He was elderly and blind at the time. Like you I was appalled to see the condition the house was in the last time I visited. In the late 80s when it was the clubhouse, I visited the manager whose office was upstairs in my Dad's bedroom It looked pretty much as I remembered.