Five Forts Golf Cub, Bermuda
This course with 18 holes, 4436 yards, par 62 used to be known as St. George Golf Course, that was owned and operated by Bermuda Government. It had  a pro-shop and a bar and restaurant within the club compound. The golf course was closed down for several years when the entire land area was given out for redevelopment to the Marriott group who opened the St. Regis luxury resort here  in May 2021 and restored the golf course to its old glory. 
This course was the last one designed by Robert Trent Jones Sr. before his retirement. The course has been renamed to
Five Forts Golf Club
because it is is surrounded by five historic forts. You can see the cruise ships passing by Bermuda's North shore. This is a course with picturesque settings offering scenic ocean views almost from all the holes. There is a green that overlooks the famous historic
Fort St. Catherine
which is the largest fort in Bermuda and the most visited.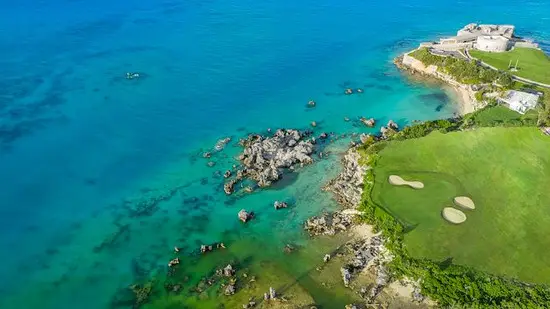 Photo: St. Regis Bermuda Resort 
The 18th hole was named after Bermuda's first Governor, Richard Moore. The course offers many challenges and difficulties including sand traps and bunkers. There are numerous short par-threes. The turf conditions have been greatly enhanced. There are GPS enabled golf carts and these are also used to extend services and refreshments to the golfers. There is a separate putting green. Golf rentals are also available. 
Tee time booking
For inquiry, reservation and membership, call +1 441-543-2222. 
There is a Golf Pro Shop 
Time: Monday and Tuesday from 9:00 a.m. to 5:00 p.m. 
Wednesday to Sunday from 7:00 a.m. to 6:00 p.m. 
Phone: 441 543 6715 
Location
1 Park Road, St. George's Parish. If you are coming by cruise ship and docking at Town of St. George, this golf course is about 2 miles away. Buses come only part of the way (#1, #3, #10 or #11). You can't however carry your own clubs if you plan to come by a public bus. Take a taxi instead. 

By Raj Bhattacharya 
Raj, a seasoned travel writer and Bermuda destination expert, has extensive global travel experience. This website reflects his profound insights, garnered over nearly two decades of dedicated findings and research on the island. Raj has assisted countless Bermuda-bound visitors by providing direct, personalized responses to their queries and imparting his wealth of knowledge through this platform. This site serves as an indispensable guide for those seeking informed and reliable insights into Bermuda's treasures. 
Related Articles
1)
Bermuda Golf
: Know about all other golf courses and clubs in Bermuda.