Clarence Cove Bermuda
Clarence's Cove is a nice small beach at
Admiralty House park
on Spanish Point road and northwest of Hamilton City. It has been named after Duke of Clarence. If you have a scooter, just go down the winding narrow road and there is a nice entry to the beach. 
You can also drive the scooter right down to the waters edge. North shore in Bermuda is not well known for beaches. You have most of the beautiful pink beaches on the south shore. But this one I think is an exception. There is a concrete walkway which goes all the way to the water and forms a dock. There is a stairway at the end going down into the water.  
Clarence Cove is a great snorkeling place. You can see a number of underwater caves and they are so unique. However, I would not recommend snorkeling if it's a windy day, particularly when north wind is strong. In calm waters you can see fish when snorkeling, better if you swim near the cliff edges. You can also see a lot of lobsters here other than fish, other marine life including turtles. 
Clarence Cove - Hamilton Bermuda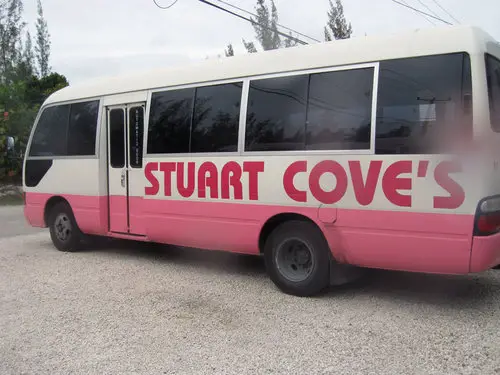 The water visibility here is about 30 feet across and 5-15 feet in depth. The area is also very nice for picnic and there are picnic tables laid out. You can see shady trees growing of the beautiful lagoon. There is a man-made 'Admiral's Cave' close by. 
Clarence Cove Beach at Admiralty House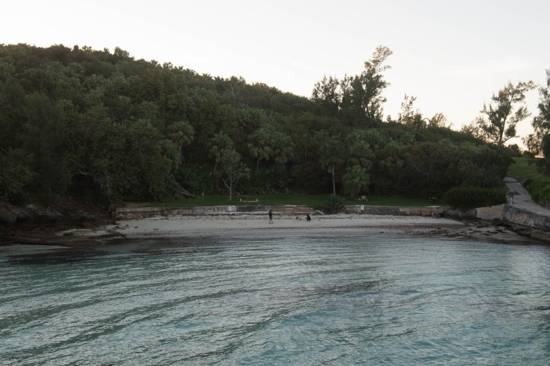 There are two other beaches nearby, Spanish Point Park (at Stovel Bay, Spanish point) and
Deep Bay
(North Shore Road, just before the eastern part of Admiralty House Park). These are also great places for snorkeling. 
How to reach Clarence Cove?
Bus #4 from Hamilton City has a stop next to the main gate of Admiralty House Park. Takes about 10 minutes. Get off here and enter Clarence Cove through an entry just before the main gate. If you have a scooter, just go down the winding small road. You can also drive the scooter right down to the waters edge. It is open from morning till sunset all days of the week, and there is no admission fee. 
Road Map 
Raj Bhattacharya
Raj is an avid traveler, a travel journalist and a blogger. As an author of this website, he shares deep insights on Bermuda and related areas of interest. Since years, he has been helping countless viewers by posting quality articles, answering questions and sharing experiences on this website. Launched in 2008, this website is Bermuda's one of the leading sources of information since many years. 
Related Articles
2)
Pembroke
: All about the parish, its attractions, hotels, restaurants etc 
Visitors' Reviews and Comments
A Hamilton Beach
: Stan Snarski was looking to find out a snorkeling and bathing beach in Bermuda's Hamilton City. He enjoyed this beach years back with his family but has now forgotten the name of the beach.