Victoria Park Bermuda
Victoria Park is a nice little public park in Hamilton City located north of
City Hall
and covering a full block between Victoria Street, Cedar Street, Washington Street and Dundonald Street. There are nice shaded and winding paths across the park. You can see many types of trees and shrubs here including bushes, golden acacia trees and Norfolk pines. The main features are the sunken garden, lawns, and flower beds in traditional English style, and the beautiful ornate iron band stand. 
The Band Stand was setup in 1899. During the British time, the regimental bands used to play here. In 2008, the band stand which had become quite dilapidated, was sent to Scotland for repairs. This was the only one of its kind and could be repaired only in Scotland from where it was originally imported. 
Victoria Park (North East Entrance)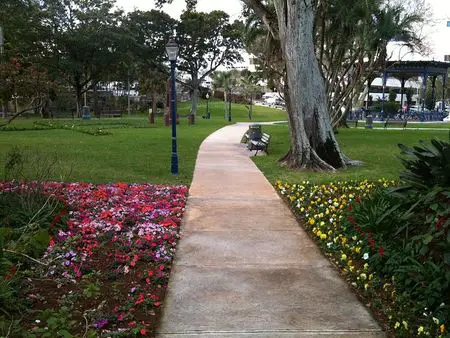 Source: Wikimedia Commons 
The refurbished bandstand has been restored in April 2009. Here open air concerts are still performed during the summer and December months just before Christmas. 
Band Stand at Victoria Park 
Source: Wikimedia Commons 
There are restrooms available at the park. But note that many of the homeless locals use these toilets. So they may not be in great conditions all the time. 
From time to time, City of Hamilton organizes several family events at Victoria Park. For example in 2011 City of Hamilton held Summer Sunday of the Park series here. This fun and family event was held on first Sunday of every month between May to October. Events and activities included: 
Kids Area featuring fun castles, face paintings etc.  
Performances from various local talents and groups including Joy T. Barnum, Chandra Maybury, The Berkeley Institute Dance Group, String Ensemble from Cedarbridge Academy, Jonae Smith, Sia Spence and more. 
Vendors selling food. There was a light bar available on site. 
The events took place between 3pm - 8pm. Admission was free. 
Location
Victoria park is located in Hamilton City behind the City Hall as well as the Central Bus Terminal, and right next to Bermuda Musical and Dramatic Society. The nearest entrance while coming from the City Hall would be the one at Victoria Street or Washington Street. 
Road Map 
Related Articles
Visitors' Reviews and Comments
Share your experience.