Carole Holding Bermuda
Carole Holding is a renowned artist in Bermuda specializing in watercolor paintings. She is a British born painter who came and settled in Bermuda in 1968. Her art focuses on Bermuda's beauty and surroundings including beaches, moongates, lighthouses, scenery and landscapes etc. 
Although the original paintings are quite expensive and start from $2,500, there are print versions available that have a much lower price range. 
Some of them are very affordable and can serve as a nice souvenirs to take back home. She also sells Bone China Mugs, boards, T-shirts etc. with her artwork impressions on them. 
Whenever she paints a scenery, she does it on the location itself and starts with a pencil to define her composition. Then she layers it with a series of washes to finalize the paintings. She prefers the on-location open air ambience over the studio as she feels that she would otherwise miss out on the essence of the moment. 
She uses the studio mainly to create kitchen art, T-shirt designs and floral paintings. 
Painting of Hamilton by Carole Holding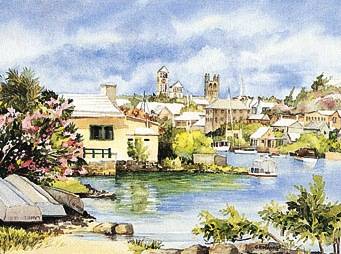 Carole is also a well known chef and her talent in this area is also visible in form of the food products that she sells in her outlets. These include Jam, Jelly, Marmalade, Rum Cakes and such.  
Carole has a family history of serving in catering and hotel industry. She attended a catering college in England and by 22 she was managing a restaurant in Regent Street, London. After her move to Bermuda in 1968, she continued to work in the hotel industry initially. Soon her childhood interest in art triggered her to develop her artistic career. 
Carole is also the owner of the beautiful waterside property
Watercolours
in Warwick parish where she lives. A part of the property is used commercially as a guesthouse and this is one of the most sought after budget accommodations in the island. 
Store Locations and Contacts
There are several outlets: 
The Bermuda Shop. Other than excellent paintings and artwork, the store has a good collection of bone china items with floral and scenic impressions, banana dolls, handbags made with silk and shells, shell jewelry, scented soaps etc. The store is located at the Clocktower Mall, Royal Naval Dockyard. Open year round daily including on Sundays (9am to 5pm). 
Heritage Wharf (Royal Naval Dockyard). This is a Duty Free shop selling various items that are available at her other shops but at lower duty free prices. Open when cruise ship is berthed at the dock. 
'The Bermuda Shop by Carole Holding' at Fairmont Southampton Hotel, Phone: 441/238-7310. Open year round daily including Sundays, 9am to 5pm.  X Closed 
Hotel Hamilton Princess, 76 Pitts Bay Road, Hamilton City. Open all through the year including Sundays. April to October: 9am to 5pm. November to March: 10am to 5pm.  X Closed 
81 Front Street, Hamilton City (Phone: 441/296-3431)  X Closed 
Kings Square in St. George, Phone: 441/297-1833. X Closed 
Update November 2012: Carole Holding has closed down her main outlet at Front Street on October 31st 2012. When I asked her why, she wrote back "No ships planned in Hamilton for the future. Closing 31st October on Front Street Hamilton with other 3 locations that will still operate plus a Christmas Market from Dec 1st to 16th in Hamilton". So this means that she doesn't expect enough customers in her Front Street outlet as there are no cruise ships planned in Hamilton in the near future. 
Update January 2018: The hotel shops both at Hamilton Princes and Fairmont Southampton have also closed due to less traffic in those shops over the years. The only shops now available for purchasing Carole Holding art, designs and food products are in Dockyard at The Clocktower Mall and the Heritage Wharf cruise terminal during the ships cruise season. 

By Raj Bhattacharya 
Raj, a seasoned travel writer and Bermuda destination expert, has extensive global travel experience. This website reflects his profound insights, garnered over nearly two decades of dedicated findings and research on the island. Raj has assisted countless Bermuda-bound visitors by providing direct, personalized responses to their queries and imparting his wealth of knowledge through this platform. This site serves as an indispensable guide for those seeking informed and reliable insights into Bermuda's treasures. 
Related Articles
Visitors' Reviews and Comments
Share your experience.