Watercolours Bermuda
A Great B&B Accommodation
Hotel Category: $$  Location: Warwick Parish 
Watercolours is a beautiful BnB in Bermuda located on the Harbour road of Warwick Parish. It's an excellent charming home built in 1996. Owned by
Carole Holding
, an artist herself, this fabulous property has beautiful architectural details. 
There are only two but large and excellent bedrooms in Watercolours. Located right on the water edge, both the bedrooms open up through the French doors on to the wonderful view of the harbor and the nice little swimming pool. The two rooms can be booked individually. 
Watercolours Bermuda, a Bed and Breakfast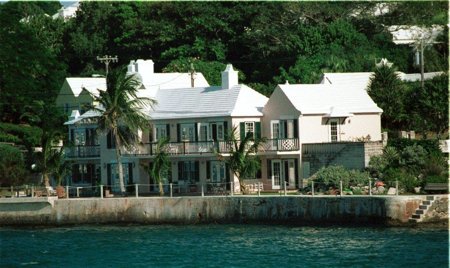 The location is quiet and off the road. This Bed and Breakfast accommodation is just 3 minutes walking distance from the ferry terminal where you can take a ferry to Hamilton city - takes only 10 minutes to reach all the actions of Front Street. 
There are plenty of chaise lounges and outdoor tables, and you can relax by the pool and enjoy your breakfast with stunning harbor views. You can see the ferries passing by all the time. With its quiet and charming settings, it's a perfect place for a romantic vacation. 
Swimming in the fresh water pool (that receives salt spray) is so relaxing and invigorating. Imagine floating on your back and staring up at the blue sky with palm trees swaying in the breeze. Such a unique experience. 
Out of the two bed rooms One has a queen size bed, and the other has either twin beds or a king size bed. Each has attached bathroom with hairdryers, toweling robes, Egyptian cotton towels and toiletries. 
There is a coffee maker, TV, video with alarm clock, and individually controlled air-conditioning and lots of closet space. Breakfast is served between 8:00 AM to 11AM. You get fresh baked breads and muffins, cereals, yogurt, fresh orange juice and fresh coffee. The orange marmalade is simply superb and is our favorite.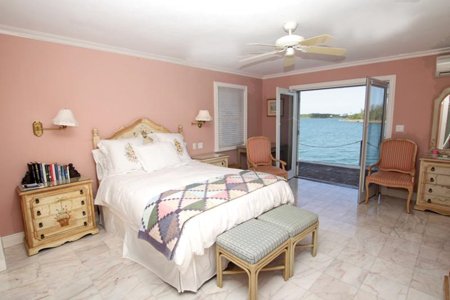 Carole's special recipe jams were also fantastic, the Black Current and Bacardi Gold. She introduced a new cocktail - Raspberry rum and sprite, tasted delicious. 
If you want, she will also arrange for professionally administered Swedish massage or a facial in your room. There is a library which is filled with books and island guides. So if you plan to do some reading while sitting by the pool side, the library can feed you with lots of books. If you flip through the guest book of Watercolours, you will see quotes like "We have experienced a little piece of heaven on earth"; "Feels like we have stumbled into a film set or beautifully written novel" and such.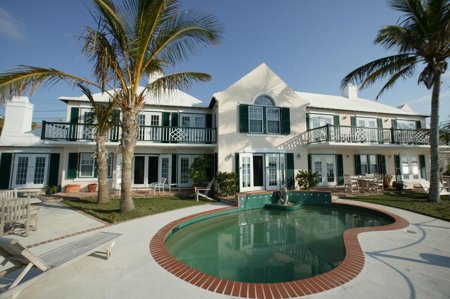 Rate is inclusive of all taxes. A two night deposit is required to hold a reservation. The balance is due one month prior to arrival. You will need to stay here for a minimum of three nights. If you cancel your booking prior to one month of arrival, generally full refund is made. The charges here include the continental breakfast and also the maid service (Monday through Saturday). 
My overall opinion
This is a very well maintained property. Although there is no beach here and accommodations are limited, it offers a wonderful experience overall in terms of comfortable stay, warm and hospitable hostess, great views of the water, nice pool and very easy walk to the ferry dock giving you an convenient access to Hamilton city. So a great choice for a budget accommodation and a romantic stay. 
Rates provided by booking.com 
Location and Contacts
73 Harbour Road, Warwick Parish. The ferry stop is a short walk. Hamilton City is only 10 minutes by ferry. Watercolors is not on any bus route. Due to its central location, you can easily get to the
South Shore Beaches
or
Astwood Cove
that are only 2-3 miles away. It takes just 5-10 minutes by taxi or a 30-minute walk. If you decide to walk, you will pass through Bermuda's scenic
railway trail
and picturesque Tribe roads.  
Road Map 
Related Articles
Visitors' Reviews and Comments
Phil Thompson (February 2019) 
Raj, You always give excellent advice so here goes.... My wife and I (fit seniors) are staying with Carole and Joe Holding at Watercolours on Harbour Rd near Belmont Ferry. We want to get to the scenic South Shore Beaches Walk. Carole says we can walk up to Middle Rd to get Bus#8. Either Keith Hall or Morgan Rd? (Is Keith Hall Rd too steep?) We then take Bus #8 to Waterlot Inn. Wait for the free? Southampton Princess shuttle to take us over to South Shore Beaches? Is this a good option? Or As a Plan B should we take a taxi from Watercolours to beaches? Or even a Plan C where we take ferry into Hamilton then find the bus terminal to take Bus #7 out to the beaches? Is the Bus Terminal near the ferry wharf??? Any suggestions would be appreciated.... thank you. 
Raj (bermuda-attractions.com) February 2019 
Hi, Keith Hall road is initially little steep (when you approach from Watercolours), then flattens out and goes downhill towards the end. But that's not much of a problem. The real problem is it's very narrow and there are no sidewalks. Cars coming from behind would be a scary feeling. I suggest not to walk on that road. Morgan Road is comparatively broader, more scenic and most importantly has a sidewalk (on the left and all along up to Middle road). Bus #8 won't go all the way up to Waterlot Inn. You need to get down at the junction of Middle road and Lighthouse road. The free shuttle of Fairmont Southampton is actually meant for the hotel / restaurant guests and not for public... although the driver may not verify. And secondly it may not be available when you reach. Better you continue to walk and reach Horseshoe bay beach (about a mile from Middle road). Plan-B is good, but there is no taxi stand there at Watercolours. You need to ask Carole to call one for you. Plan-C too is quite doable... the main bus terminal in Hamilton is at a walking distance from the ferry terminal (750 meters), but you can get bus#7 on Front Street as you come out of the ferry terminal. 
Nancy and Richard Adams (April 2013) 
We stayed at Watercolours a few years ago, for our 25th wedding anniversary.  We've traveled a lot during our long lifetimes, but Bermuda has always been our favorite getaway.  We've stayed in a variety of accommodations over the years, from a small BnB in Hamilton to the large waterfront resorts, but our favorite, by far, is Watercolours. Watercolours mirrors the refinement of the island, as well as the ambiance of an English BnB. We were there with a another couple, so we thoroughly enjoyed the privacy and spectacular views as we sat by the pool drinking Gosling's 140 Proof Black Rum with Coke, something Carole Holding introduced us to. 
The location of Watercolours, right next to the ferry stop, provided us the freedom to move about the island without having to hail a cab or hop on a scooter.  The ferry ride to and from Hamilton was relaxing and especially enjoyable at night, with the lights from the homes and businesses reflecting in the water.  We purchased one of Carol Holdings framed prints of Watercolours, which adorns our powder room, a constant reminder of our time there.  We're hoping to return to Watercolours in the next year or so, to introduce our grown children to the beauty that is Bermuda.