Talbot Brothers Bermuda
Talbot Brothers were one of the first musical groups in Bermuda that took the island by storm in Calypso music starting in 1940s through 1960s and even beyond. They were all brothers represented by Archie who was the lead singer and also on acoustic guitar and harmonica, Austin on acoustic guitar, Roy on his homemade unique bass, Ross (Blackie) on electric guitar, Bryan on a large 10-string ukulele, and cousin Mandy on accordion. They received their initial music lessons from their mother. 
Talbot brothers first started singing in Wesleyan Methodist church at Tuckers Town where their mother played the organ. In 1930s, they became popular performers at the private parties held by the affluent families in Tuckers Town and other wealthy areas of Bermuda. 
It was in 1940s when the
Calypso Music
was slowly sipping into Bermuda from Trinidad, when they formed the Talbot Brothers group and improvised the Calypso to an easy flowing enjoyable music that were themed mostly around love and current island issues.  
They were the first in Bermuda to popularize Calypso and with some unique variations. A unique trait was their spontaneity on stage, sense of humor and involving the guests in their performances. Unlike the typical Trinidadian Calypso, Talbot Brothers did not use percussion, and their instruments had unique blend of acoustic and electric guitars, harmonicas, a large called a Tiple, an accordion and Roy's huge booming bass that you can see in the picture.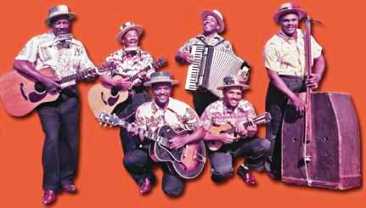 The homemade bass was created out of a meat packing crate and a single fishing line. Later when the group toured different countries, this bass known as the Doghouse was of particular curiosity to fellow performers and celebrities, many of who even put their autographs on it. 
Talbot Brothers were the ones who with their swinging and easy flowing music helped establish Bermuda's image as a no-worries, carefree leisure destination. They performed wearing floral shirts and straw hats. 
There had been many instances in clubs and private events where the evening dinner parties spilled over to become breakfast parties and then to lunch parties. And often they would continue the party even further at their own home at Harris Bay. Despite their huge demands, the Talbot Brothers never performed on Sundays though. 
While their fame started in Bermuda, it spread quickly to USA as well where they toured regularly over the next 20 years performing at many famous clubs and hotels. They also appeared in the prestigious Ed Sullivan series where American celebrities were featured. 
It was after their recording of the swinging ballad Bermuda Buggy Ride when they became extremely popular with the Americans. Many American tourists visiting Bermuda those days wanted to meet up with the Talbot Brothers and enjoy their performance. 
Talbot Brothers also toured in England performing at the  London Palladium and Mayfair Hotel. In 1970, they were awarded The Queen's Certificate and Badge of Honor in London. 
When it comes to their compositions and musical creations, there are many that have passed the test of time. Archie composed the title song for the 1956 Columbia movie production Bermuda Affair. The group recorded many original and popular songs like Razor Razor, Atomic Nightmare, Remember Bermuda and lot more which are now available on CDs. 
Roy Talbot, the man with the booming bass, was the last surviving brother who died at the age of 94 on May 15, 2009. He lived in
Paget parish
in Bermuda at Harris Bay. 
Related Articles
2) Check out
Bermuda Music and Dance
to know about music and dances that are now part of the island's cultural tradition.