Bermuda Railway Trail: Bike & Beach Tour
This is a great combination tour to explore the nature at the western end of Bermuda on bicycle, go past some historical sites and natural landscapes, get narrative information from the guide and then return for a cool off swim by a beachside. The tour operates from the dockyard. So the cruise ship passengers have an advantage with the starting location. Initially you will be transferred to a beach venue (at Ely's harbor) by a shuttle boat (or bus). Along the way you will witness the beautiful rural scenes from the boat and the guide will explain the places that you pass by. 
Once you reach the beachside venue in Somerset (in Sandys parish), you will be given a 21-speed mountain bike and a helmet. The guide will then lead you through the famous
Railway Trail
at a leisure speed. This is the western part of the trail with excellent scenic views. 
Southampton Railway Trail (facing west)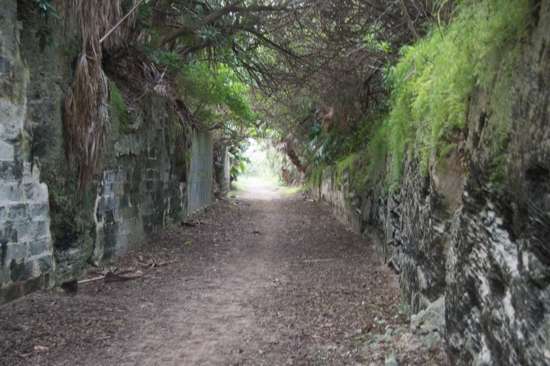 The guide will stop at several places showing you historical landmarks, beautiful landscapes, water-view areas and sprawling estates. He will also narrate a lot of background information of the landmarks. You will pass by
Heydon Trust Park
(which is one of the largest parklands in Bermuda and houses the oldest chapel in the island that was built in 1620),
Fort Scaur
which was built by the British in 1870s to safeguard the Royal Naval Dockyard. You will also visit the 17th century Mott Family estate and many other interesting landmarks. 
The bike ride will be for about 5 to 8 miles and mostly on flat terrain. Once you return to the beach venue, you can enjoy a cool off swim. The tour also includes complimentary beverages. 
Tour Info
This is a group tour. The total tour duration is about 3.5 hours. The tour is operated by Fantasea Diving and Watersports. The tour leaves daily from Island Tour Center located at Dockyard.  
Tour includes a professional guide, boat cruise (alternatively a bus ride) with narrated commentary, mountain bike with helmet, bottled water, soft drinks etc. You should carry your own towel. Minimum age 10yrs, Minimum height 58 inches, Maximum weight 250lbs. You must be in good physical shape. 
Book the Tour
You can book the Bike and Beach Tour using Viator - World's #1 online booking service 
Rates by Viator 
Contact Info for Tour
Island Tour Center (located at the Royal Naval Dockyard in Sandys). 

By Raj Bhattacharya 
Raj, a seasoned travel writer and Bermuda destination expert, has extensive global travel experience. This website reflects his profound insights, garnered over nearly two decades of dedicated findings and research on the island. Raj has assisted countless Bermuda-bound visitors by providing direct, personalized responses to their queries and imparting his wealth of knowledge through this platform. This site serves as an indispensable guide for those seeking informed and reliable insights into Bermuda's treasures. 
Related Articles
Visitors' Reviews and Comments
Share your experience