British Colonial Hilton, Nassau, Bahamas
Category: Mid-Range 
The British Colonial Hilton is a five-star luxury property located in downtown Nassau and close to all the major shopping hubs and restaurants. True to its name the property has a grand old world colonial touch in its architecture and there is an elegant air about the property which you would like. This used to be the site for Old Fort of Nassau back in 19th century. In 1901 a huge all-wooden hotel was opened here and named 'The Colonial Hotel'. However it was destroyed by fire and the present hotel came up in 1924 although it went through several renovations and changes in ownership subsequently. 
The great thing about the hotel is that you would be able to see the cruise ships come and go right from the hotel grounds. You can walk to the straw market and the ferry dock right from the hotel and the hotel back exit leads to the in-house restaurant, sunbathing zone, pool and pool bar and then the hotel's own private beach with loungers and conical shades and umbrellas. The popular
Junkanoo beach
– a public beach with food stalls, music, water sports etc is a short 10-minute walk from Hilton. 
British Colonial Hilton, Nassau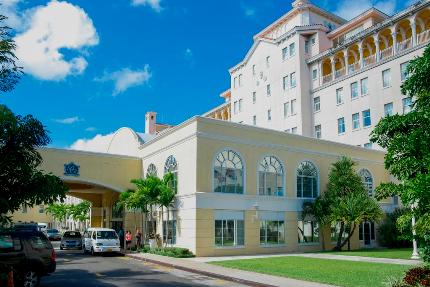 Rooms
There are different kinds of rooms at the hotel and the common sub types are Harbor and City view rooms. Some facilities are available to Hilton Honor holders like free in room WI fi (other guests have to pay for this facility). Some common amenities are alarms, electronic locks, smoke detectors, safe, emergency call buttons, thermostat and equipment for differently abled people. Other room amenities are hair dryer, coffee maker, ironing board, mini bar, mini fridge, phone with voice mail etc. bathrobes, black out window curtains, ergonomically designed writing desk and chair and anti-allergen feather pillows are other special features. Room service is available only in the evenings.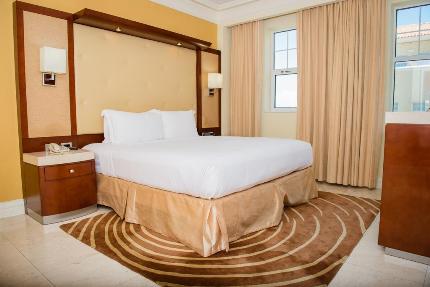 The harbor view guest rooms are of two types - partial and full sea views with the latter being more expensive. The bathroom is fully done up in marble with an enclosed shower area. There are sofa beds in some rooms. 
The 1 king bedrooms can accommodate up to 4 people and have refrigerator and coffee maker besides HDTV, king sized bed, wardrobe and bathroom. The Harbor view 2 double bedrooms have the capacity to accommodate 4 people and have similar amenities. 
The Island View 1 king bedroom can only accommodate 2 people but has a serenity king bed and peter Roth amenity hamper in the bathroom. 32 inch TV, ergonomic mahogany desk and chair are the other features. The Island View 1 queen bed room is also similarly designed. 
The Island view 2 double bedrooms are mean for families of 4 to 5 people while the Island view 2 twin bed rooms are for 2 adults 
The suites have all the common amenities listed above and have direct access to the executive lounge. Each suite has separate furnished living room, complimentary afternoon snacks and continental breakfast and a minimum of 2 TV sets. The 2 room suites have a pull out sofa bed plus a king sized bed or 2 double beds. 
The Governor General suite has an open balcony overlooking the Nassau city and a whirlpool tub plus a separate shower area in the bathroom as special features. These suites are fully adaptable for differently abled people and have laundry caddy too. 
The Panoramic Harbor View Prime Minister Suites are a step ahead with free Wi fi and a separate powder room and kitchen along with all other facilities. True to their name…these suites have excellent Harbor views. An upgraded version of these suites with a separate office area is also available and is primarily meant for business travelers. The bathrooms have sophisticated serenity bath tubs plus a separate shower area while the bedrooms have serenity beds. 
The Executive rooms have an elegant official look about them and are preferred by business travelers as well as regular tourists. The bathrooms are marble finished and have sophisticated accessories. The executive harbor view rooms have 1 king bed or 2 double beds while the Island view 1 queen bed and Island view 2 double beds have nice views of Nassau Harbor. 
There are some accessible rooms available for the use of guests and these have Island views with all other specified room amenities. 
Important room tip 
Choose the rooms on higher floors (5th floor and up) …they have better views even if they are not water views. Ask the reception to upgrade you …they usually do that to guests who ask first if upgrades are available. Some of the rooms need repairs and the AC unit doesn't work properly so check all facilities properly before you actually agree to stay in the allotted room. If possible take the premium suites… the lower range rooms are quite small. Sometimes the Harbor view rooms show only concrete views so these are things you should check beforehand. 
Resort Fee 
Each guest is charged a specific fixed amount per day for the use of electricity and other services. This is over and above the room tariff. 
Wi fi in the lobby and some resort public areas is free. In room Wi fi is chargeable unless specified otherwise. 
Dining
One good thing about staying at the Hilton Colonial is that there is no compulsory all inclusive package. You can choose to dine at the in-house restaurants, nearby restaurants or choose to rustle up some meals in the kitchenette. Alternatively you can order in from the in room menu too. 
AQUA is the newest restaurant at Hilton and it's very popular amongst tourists. The restaurant has great sea views and serves great seafood such as 'catch of the day'. Both a la carte and buffet options are available along with a decent range of drinks and cocktails. The restaurant is open from 6.30 a.m. onwards to 10.30 p.m. so this is the place to go to for an early breakfast as well. 
The BULLION is classically designed sophisticated bar with timber and copper accents along with venetian blinds, louvers and herringbone parquets. The chandeliers and credenzas and leather upholstery on furniture gives off a colonial vibe and guests usually dress up for drinking and dining here. The menu is a mixture of Bahamian favorites and colonial classics and the range of liquor is good. Usually the Bullion opens at 5.00 p.m. and closes at 12.00 a.m. but on weekends it closes at 1.00 a.m. 
There is an onsite Starbucks outlet so you know where to get your caffeine fix from. 
Patio Bar and Grille serves a range of snacks, American comfort food and some local dishes. This place is near the pool and sees a steady flow of tourists who mostly drop in too avail the full service bar. The Patio is open from 11.00 a.m. to 5.00 p.m. every day. 
There is Mac Donald and
Arawak Cay
nearby and some other good dining options around are Conch Fritters Bar and Grill, Gregory's Mediterranean delights along with Bahamian Cooking Restaurant. 
Other facilities
The Colonial Hilton is in downtown Nassau and sees a fair share of business travelers along with tourists. This is probably why the business center is well equipped with facilities for audio visual equipment rental, business phone, express mail, fax, photo copying service, video conferencing facility, video messaging and video phone. There are meeting rooms, conference rooms and travelers can choose to rent offices. 
Lobby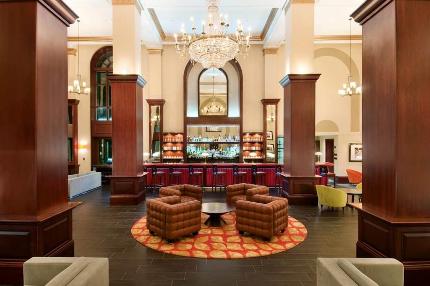 The resort caters well to families with kids and has a range of special family packages… the details of which can be found in the official website of the hotel. There is a special kids menu, some selected children's activities and cribs and high chairs are provided on request. Babysitting service is also provided at extra charge. 
There is a gym with decent range of cardio and weight equipment. 
There is a baggage storage area, electrical service desk, concierge desk and foreign currency exchange service at Colonial Hilton. There is a separate recreation desk which organizes guest's activities and a dedicated valet service and laundry service. 
There is an onsite gift shop and convenience store along with a snack shop. The hotel also a news stand and a tour and travels desk. 
The staff at Hilton are proficient in several languages and are trained to handle differently abled guests. 
Guests have free access to basketball, beach games, fitness room and paid access to sightseeing tours, snorkeling, water sports and sailing. 
There is an in house pool with a separate kid's area. 
One of the most commendable features of the hotel is that it's largely accessible. The business desk, concierge desk, one in house restaurant, meeting rooms, public entrance, registration desk and parking slots are accessible. Many of the routes of the hotel to different facility areas are also accessible and accessible transportation can be arranged if you give advance notice. The doors have 32 inch width, the ADA guidelines have been followed and visual/ strobe alarm systems are installed. All rooms are wheelchair accessible, elevators have braille numbering and service support pets are allowed. 
The Hilton Colonial sells Day passes to guests and that includes access to restaurants, private beach, water sports, swimming pool etc, so you need to understand that most places in the resort can be accessed by day guests. 
Packages like breakfast and Wi Fi deals and leisure escape packages as well as honeymoon packages are available, though their terms and conditions need to be verified from the official website. 
Some attractions which are very near the Hilton Colonial are Pirates of Nassau, Straw Market, Christ Church Cathedral, Pompey Museum, National Art Gallery, Tax free shopping hub, and Festival Place, Rawson Square, Nassau Public Library and Queen's Staircase. 
Overall Opinion
The best thing about Colonial Hilton is its proximity to all attractions in downtown… for example the famous Junkanoo beach and Arawak Cay are just a few minutes walk. You can reach the hotel in ten minute walk from the pier and can walk it down to a bunch of tourist attractions and the straw market nearby. Grocery shopping around is quite cheap especially if you buy from a regular grocery store in the market and then you can stock up your kitchen. 
There are hammocks, lounge chairs and good pool side service in the hotel but parasols are very few in number and that's uncomfortable if you visit in summers. Though day pass tourists are around…there aren't a great number as the bulk goes to Atlantis. In general the atmosphere is relaxing and the food at Aqua and the Patio are good. Breakfast in the Executive lounge is quite ordinary but in the afternoon free drinks premium coffee beverages and good snacks are provided (you can access these for free if you stay in premium suites). In a sense it's wise to take the suites…you get a kitchen and free access to lounge and free Wi fi which makes up for the elevated tariff. 
The colonial Hilton is not a young property and she has been remodeled quite a few times. Some old large rooms have been broken down into smaller weirdly shaped ones and you may not quite like the changes. There is overall lack of maintenance, sometimes sofa springs creak and there are leaks in faucets and cracks in tubs. The Hilton allows you to pick the room before you arrive so use that feature well. If you are an Honors member and have been frequently using the Hilton chain of hotels then you might be disappointed… the service standards are not at par with what Hilton normally practices. 
Paddle boarding, kayaking and snorkeling equipment are available in the hotel but there are only two pieces of each equipment and they obviously issued on a first come first served basis. The beach is quite small but nice and then again it's quite difficult to find a hotel with a private beach in downtown. 
Try taking the breakfast inclusive package…the buffet is good and the omelet station is worth mentioning. Remember surcharges are there on every meal so overall the costs of dining will be inflated. Enquire specifically if there is a high school prom event clashing with your visit…in case this happens you will be subjected to loud music which goes on the entire night. 
In case staying near the cabbage or cable beach is not your priority than staying at the Colonial Hilton isn't a bad idea… you just have to shed high "Hilton like" expectations. 
Rates provided by booking.com 
How to Reach
The Nassau International Airport is just 20 minutes of cab ride and you can book a cab from the airport to reach the Colonial Hilton. Ask the cab to turn right onto the Kennedy Drive and then left into Blake road before a last right turn into west Bay Street… after sometime you will see the pristine white cluster of buildings of Colonial Hilton. 
Road Map
Contact Details
British Colonial Hilton 
One Bay Street, Nassau, Bahamas 
Phone: +1-242-322-3301; Fax: +1-242-302-9010 
Related Articles
Visitors' Reviews and Comments