Hotel Riu Palace
Paradise Island, Bahamas
Category: Luxury, All-Inclusive, Adult-Only 
The Riu Palace All Inclusive Island Hotel is a part of the famous Riu Chain and the Bahamian edition is right next to the Atlantis Beach Tower and close proximity to
Cabbage Beach
. This is an all-inclusive resort that's equipped with swimming pools, Jacuzzi, beach, solarium terrace and a well-equipped spa and beauty center besides bars and restaurants. This hotel has no tie ups with Atlantis but naturally being its neighbor, guests of Riu have easy access to Atlantis Casino, aqua venture and other facilities. Incidentally this luxury hotel has been conferred the AAA triple diamond award. 
Following renovations the Riu Palace would reopen in fall 2017 with special added features and remodeled rooms…there are talks of the restaurant being completely adult only when it reopens. 
Rooms
There are a total of 379 rooms in Riu Palace divided into five types with the junior suites being the most affordable option. 
All rooms have modern design, attached balconies and white and contrast shaded shaded décor with dark wood furniture. The rooms have either a king sized or two queen sized bed, HDTV with a nice election of satellite channels, free Wi Fi, fitted matching carpets, coffee maker, in room safe, iron and ironing board. There is also a mini bar, liquor dispenser and a turn down service. 
Hotel Riu Palace, Paradise Island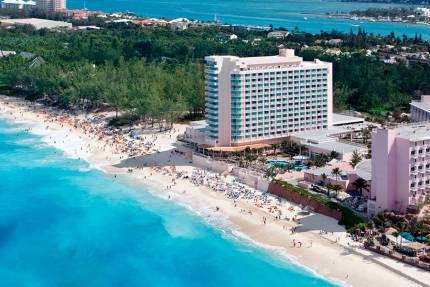 Photo Source: Riu Palace 
The bathroom has modern fittings and a combined shower tub along with vanity case and a hair dryer.  
The room sub types are junior suites ocean view, junior suite superior ocean view and ocean front suites along with special suites, family suites and double rooms. As you must have noticed with room names, all rooms have ocean views. 
The junior suites are 334 sq. feet and they either have 1 king bed or 2 double beds with a smallish balcony….these have partial ocean views. The 334 sq. feet junior suites with superior ocean views are similar but have a complete ocean view from the balcony. The ocean front suites are much larger with pastel shaded upholstery and flowery curtains shading a wide open balcony that directly overlooks the ocean. These suites have large sofas and extra amenities apart from regular features. The special suites have 31 m sq. floor area and comprise of a bedroom, bathroom, lounge area and balcony. Bedrooms have a large king sized bed and the lounge area has settees and a large sofa. 
The Family Suites with sea views are meant for a family of 4 to 6 people and they have 2 bedrooms, 2 attached bathrooms and a balcony with a nice sea view (floor area 53 m sq.). The double rooms with partial sea views are 20 m sq. in floor area and have lateral sea views. 
Room Tip: The rooms have ocean views though some will allow you a lateral view while the premium priced suites and rooms have direct views. Look for rooms on the higher floors…these have better views… strangely odd numbered rooms here seemed to have better views. Check the room properly…sometimes the king sized bed is two beds pushed together!!! 
All Inclusive Features
At the Riu Palace, all guests need to pay the all-inclusive fee that comprises of several amenities and features apart from the room tariff. 
The buffet breakfast with live fruit juice selections, cava etc. is included along with an option of continental breakfast and snacks. 
The lunch has options of hot and cold buffets along with live food preparation stations and a limited selection of desserts. Light made to order meals are also available. There are special theme centric meals 3 times a week and on other days buffets are available with some live food preparation counters. 
Guests of this hotel can opt for ala-carte dining at steakhouse, Sir Alexander Gourmet restaurant, Krystal Fusion restaurant or Tengko Japanese restaurant. All these places require formal dress code. 
Supply of local and some imported alcoholic and nonalcoholic beverages are an art of the all-inclusive offer. You will get pool side service and the liquor dispenser as well as minibar will be stocked up regularly. 
You can avail the daily day time entertainment shows (only for adults) and the Riu night entertainment programs and live music. The entertainment options include karaoke, DJ Night, couple's games, poo parties, live dance, Tina Turner nights etc. 
Sauna and whirlpool baths, free access to beach volleyball court and gym along with some other sports is a part of the inclusive deal. resort-wide Wi-fi is free.  
The all-inclusive fee includes accommodation, above mentioned features, taxes and tips so you don't have extra surcharges and surprise gratuities …and that's an advantage. 
Dining
One good thing about staying at the Riu Palace is that there are lots of options in terms of restaurants that you can chose to dine in. As mentioned this resort is all inclusive so basically you will be dining at one of the following restaurants. 
The Steakhouse looks nice but has a limited menu with 2 appetizers, 8 main courses and assorted pastries for dessert. The seating arrangement is appealing and there is occasional live music. 
Krystal Fusion is a popular dining option amongst guests at the Riu Palace and it basically serves fusion food. If you like novelty and are a food experimenter then this place will appeal to you. The lobster Risotto here is a hot favorite. 
Sir Alexander is a gourmet style restaurant with a focus on fine dining. You have to dress up to dine here and it's perfect for an evening date or a romantic dinner. 
Tengoku is a Japanese restaurant that serves basic Japanese food. So far, it seems to be the least popular dining option in Riu Palace. 
The main buffet space at Riu Palace is called Atlantic. The place is beautiful in a classic way with dark wood furniture and long windows opening up to great views. Theme dinners are available here thrice a week and the place is open every day for the buffet lunch and dinner. 
You have to book the A la Carte restaurants in advance otherwise it gets difficult to find a table. Dinner usually has two sittings; one at 6.30 p.m. and another at 9 p.m. 
Romantic open air dinners and candle light dinners are available at an extra charge. A premium selection of wines and liquors is also available at an added charge. 
There is a swim up bar and a lobby bar at Riu Palace with decent stock. There is a mini bar and alcohol dispenser in each room and they are refurbished daily. 
Most of the great Atlantis restaurants are near and you can walk across to most of them from your room at Riu Palace. For local food, go to
The Fish Fry
... it's a string of small shacks near downtown Nassau serving fish and sea food items.  
Room service is available 24 * 7 and though the menu is pretty limited…it's sufficient to take care of sudden hunger pangs. 
If you want fine dining then walk up to the road leading to the convention center…right before you reach Beach Tower are 3 other restaurants with sophisticated menus. While Chop Stix serves Chinese with a Caribbean twist, Casa D' Angelo serves Italian food and the Bahamian Club is a refined steak house. All are kid friendly but these will require you to dress up…at least in resort attire!! 
If you want to try restaurants nearby the Atlantis then some popular options are Double Dragon Chinese Restaurant, Newsbit's Delaporte Restaurant and Blue Lagoon Seafood Restaurant. 
Other facilities
The resort has tie ups with several water sports organizers and day trip tour agencies. You should negotiate the prices with these service providers before you opt for a particular excursion or sport. The excursions desk at Riu is quite helpful and these third party service providers are open to bargaining. The Booze cruise with its free flowing alcohol, dancing and fun is one of the most popular option for couples. 
The in-house Spa named Rennova offers beauty treatments, body wraps, therapeutic massages and waxing services along with manicures and pedicures. All these services are chargeable i.e. Guests need to pay extra for availing massage, spa therapies, beauty treatments. However here is an adjacent open lounge with 2 Jacuzzis with steam facilities and these are free (included in the all-inclusive feature). The lounges feature comfortable chairs with foot massagers. 
The fitness center is near the spa and it currently has 3 treadmills, 3 exercise bikes, steppers, mini module gym with leg extenders and shoulder- chest presses along with dumbbell racks and weight benches. 
Laundry service is provided but it usually isn't on time so keep a tab and get your laundry done at least a couple of days before you are leaving the resort. 
Besides the skin care amenities provided in the rooms…everything else you buy at the resort is chargeable. Sunscreen is something that's expensive and so are tanning lotions so it's best to bring your own supply. 
You will be given a bracelet at the time of check in and you need to keep it on while enjoying the resort facilities. 
You will be provided beach umbrellas and beach towels for free…however there are limited numbers and everything is first come first served. 
If you are travelling with family then you can bring your own stroller filled with beverages and water near the pool (the resort allows it) and the beach. Unlike Atlantis there is no other provision to get drinks and snacks on the beach. 
Since Atlantis is next door…you can walk right in to explore Aqua venture water park of Atlantis and Casino (you have to pay extra) and the Marina. 
Destination weddings, vow renewals, parties and conferences are arranged by the Riu on prior notice. However these services are only available post October 2017 when the renovations are completed. 
Overall Opinion
The Riu palace has a nice location on Paradise Island, its proximity to the beach and to Atlantis complex are its primary advantages. The Seagrapes Lagoon Marine Habitat and the Paradise Shopping Plaza along with the Atlantis Marina are all near. 
The sea on this side of Island tends to be rather rough and is unsuitable for swimming. You might find the vendors and their incessant salesmanship irritating. 
It's rather disheartening to see that there are no commercial agreements with Atlantis that will allow you free entry into the Atlantis grounds…but then Riu Palace is an all-inclusive resort and most of your time will be spent in using all the facilities that are offered on site in the hotel. The plentiful supply of alcohol is a big advantage and so are the in room dispensers…you can basically make your own cocktails. 
The entertainment activities need a revamp and if you are in the mood to party…you should not depend on the options provided by Riu. Some of the Spanish theme dances were too loud. The sports bar at Riu is not of optimum quality especially if you have been to other Riu hotels and seen their bars…then you could be disappointed. There are no substantial snacks like burgers and hot dogs and all they have is nachos and other nibbles. 
Indoor games in the sports bar like pool etc. are chargeable. Buffet is adequate and the a la carte restaurants are good (except the Japanese one) though you have to really book early or risk waiting in a line. Expect your minibar to be stocked with brands like Appleton, Heineken, Appleton and seltzers…the staff is willing to refurbish but unwilling to change these brands. 
As mentioned construction is on at the Riu Palace so that makes it inconvenient for guests. As of now the best rooms at Riu Palace are a bit lower in tariff than the cheapest rooms at Atlantis next door but the prices may be revamped soon following renovations. The food at Riu Palace is plentiful and so is the supply of booze and the rates are definitely more affordable than Atlantis. 
There is no bar near the beach and that's a pity because once you are out of drinks in the beach you will have to come back to get a refill. 
Overall staff is friendly and the facilities offered will seem good when you check the price that it's been offered at (things become rosier when you compare it with Atlantis prices). Riu all inclusive could be a good place to enjoy the Bahamian life for adults only once it reopens in a renovated version. 
How to reach
The Nassau International Airport is about 20 km away and you can book a cab from the airport to reach the hotel in about 35 minutes. The hotel is in Paradise Island that's connected to Nassau by bridges. 
Road Map
Contact Info
Hotel Riu Palace Paradise Island 
6307 Casino Drive, All Inclusive - Paradise Island, Bahamas 
phone: 1 (888) 774 0040 or (305) 774 0040 
Related Articles
Visitors' Reviews and Comments