Paradise Island Beach Club, Bahamas
Category: Mid-Range 
The Paradise Island Beach Club is right there on the hugely popular Cabbage beach….this is a beachside resort and timeshare property that has 44 Villas in a pretty setting. The property stretches over 3.5 acres and has lots of other amenities like swimming pool, entertainment center, fitness center, in-house dining (although limited), shopping hubs etc. There is a golf course within 3 km of the property and the hotel has its own pool bar and café. 
Incidentally this property shares a commercial agreement with Atlantis and guests of the Beach club can enjoy discounted rates at the Aqua venture Water Theme Park. For those looking for a vacation right on the beachfront, the Paradise Island Beach Club is a good option. 
The beach is shared by both Beach Club and Ocean's Club which are small condo like properties so you can expect the beach to be relatively quieter. Being a timeshare property, if you want you can own a condo for a specific period of time and you will have a set of rights over it, or just plan to stay for few days like any other hotel. 
Paradise Island Beach Club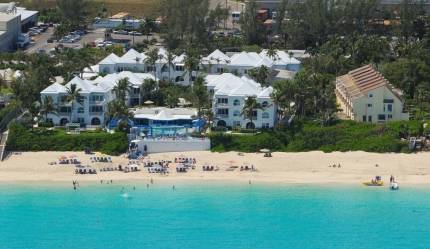 Rooms
There are 44 Villas in the Beach Club and each offer some degree of privacy as well as social access …each villa is surrounded by tropical foliage and has a beach view. The villas are purely island inspired and the décor is tropical all throughout. 
Their 980 sq. feet area can take in up to 6 people and kids below the age 7 can stay free of cost. Each villa has either a private terrace or a balcony that offers nice views. 
Bedroom 
Each villa has a master bedroom suite along with a guest suite along with attached bathrooms that have his and her wash basins, bath tubs with showers etc., all villas are air conditioned and are also equipped with ceiling fans. The master bedroom has 1 king sized bed while the guest bedroom has two double beds and these can be joined to form a king sized bed if required. There is a kitchen with basic cook ware, mid-sized fridge, dishwasher, toaster, coffee maker, counter top etc. apart from a separate dining and living space. If you wish you can ask for the villa to be converted into two private suites which can be used by two couples or two families. 
Living Room 
Some common amenities are cable TV, alarms, electronic locks, smoke detectors, safe, hair dryer, coffee maker, ironing board, mini bar, phone with voice mail etc. Sofa with pull out bed in the living room and table chair sets in the balcony/ patio are other special features. Room service and daily maid service is available and is free of charge. The resort provides ample and free parking for guests. 
WI fi in the lobby and some resort public areas is free. In room WI fi is also free. If guests want to upgrade to a faster internet speed, they have to pay extra. Wi Fi works reliably inside the resort but on and off on the beach. 
Dining
One disadvantage of staying at the Paradise Island Beach Resort is that there is no noteworthy restaurant. You can choose to avail the daily buffet or use the in house café for light meals. Most guests choose to rustle up some meals in the kitchen which is pretty full-fledged and has lots of amenities. Alternatively you can order in from the in-room menu too. 
Breakfast and lunch are served buffet style in the Reef Bar that is a part of the resort. You can find this bar right next to the largish pool deck. One nice thing about the service here is that the staff will deliver your lunch right up to your beach chair as you sit lounging by the beach. Dinner is also served in buffet and if you pay an extra charge then this can be a romantic beachside candle lit affair. The cheese burgers and fries at the Reef Bar are really nice. 
The Mini Grocery store on the property is one of the nicest things you will discover here. It's convenient to quickly pick up seafood, cold cuts, cooking essentials, snacks, fruits, milk, meats, beer, wine etc from the large selection at the store. You will even get essentials and toiletries here and the prices are reasonable by Paradise Island standards. 
There is a facility at the resort which allows guests to pre-order their grocery list so that the villa kitchen is stocked in advance. There is no extra charge for this… all you have to do is to e-mail your personal shopping list to
[email protected]
or fax at 242-362-0101 and your job is done… this is a pretty useful service!! Naturally the grocery prices are pricier than what you would find at Nassau but it's still cheaper if compared to Paradise Island standards. 
If you want you can stop at the grocery store in Nassau to pick up more reasonably priced groceries, beverages etc on your way from the airport. 
With limited options of in-house dining, guests who want to eat out have to go about exploring nearby options. There is an advantage of having Atlantis nearby…you can find a bunch of good restaurants in there. One and Only Ocean Club is also a neighbor and this too offers some good dining options. Some good restaurants you can walk to includes Bahamian Club, Antony's Grill, Murray's Deli and Café Martinique. 
You can also take a short taxi ride to Mac Donald and
Fish Fry
nearby and some other good dining options around are Conch Fritters Bar and Grill, Gregory's Mediterranean delights along with Bahamian Cooking Restaurant. 
Other facilities
There is a baggage storage area and foreign currency exchange service at the resort. There is a separate recreation desk which organizes guest's activities and a dedicated laundry service. 
There is a fitness center with an average range of cardio and weight equipment. 
Guests have free access to basketball, beach games, fitness room and paid access to sightseeing tours, snorkeling, water sports and sailing. 
There are two in-house pools that are temperature controlled with a separate kid's area. Lounge chairs, umbrellas, pool side chairs and beach towel service is provided till 6 p.m. 
Paradise Island Beach Club has a range of massage services that help sweep away niggling aches and pains and rejuvenates the body. There is a team of trained masseuses in the club. 
Golf sessions can be arranged at the nearby 18 course Championship Golf Course (incidentally this is designed by Tom Weiskopf). 
The picturesque setting of the hotel makes it ideal for weddings, vow renewals and engagements. The beach and the 3 beach decks are popular spots for such function. Special destination wedding packages are offered by the Club. 
An interesting option of a horse and carriage tour in the nearby rural landscape and picturesque beaches is available. A tour guide is also available… kids might specially enjoy this experience. 
The Resort has tie ups with Powerboat Adventures who provide a fleet of speedy powerboats which can take you on a thrilling ocean ride. A ride can be combined with a structured snorkeling trip amidst spectacular crystal reefs. There are special stingray, iguana and shark feeding sessions…. 
Adastra Gardens and Zoo
are nearby in Nassau and this has an interesting mini zoo, more than 200 mammals, reptiles, birds etc. and is spread over 5 acres of tropical foliage. This is a good nearby destination for nature lovers, families with kids and biologists. 
A range of food trails and seafood culture expeditions are available at the nearby
Arawak Cay
. An experienced guide will be provided at an added charge on pre booking. 
Birthday parties, anniversaries, dinner parties on decks and other functions can also be arranged at the Resort as well as candlelight dinners, romantic picnics, hampers for outdoor lunches for families and groups. Corporate barbeques and official refreshment meets are also arranged by the resort on prior notice. 
The Paradise Island Beach Club sells Day passes to guests and that includes access to restaurants, beach, water sports, swimming pool etc. so you need to understand that most places in the resort can be accessed by day guests. However there is not much of a crowd here. 
Honeymoon packages and other special offers are available though their terms and conditions need to be verified from the official website. 
Overall Opinion
The best thing about Paradise Island Beach Club is that it's a niche condo like property that has only 44 units. The pretty stretch of cabbage beach adjacent to the property has not got too many resorts. This basically means that you get to enjoy your vacation time in peace unless you are the type that requires a buzzing crowd around. 
There is a beautiful rocky point very near the resort that is surrounded by pools of fish…on some lucky days you can see barracudas and sting rays in their natural environment and that's so different from seeing marine life in an aquarium. A short walk to the right from the resort will take you to a cove like place that's an excellent spot for snorkeling. 
This property is quite near the Atlantis and you can saunter inside Atlantis post 7 p.m. and see at the aquariums and reefs etc for free. If you have kids with you then you will really like this place as it has bicycles, pools, banana boats and jet skis which you can rent on the beach. The resort also provides for nice short tours, day trips and excursions that takes you around the islands. 
The three decks owned by the resort are another advantage…these are great for long walks, great for photography and great for views. One of the decks even has its own mini bar. There is an adequate beach towel service and you can trade in your used bundle of towels for fresh sets every day. 
There is a treatment plant nearby that's owned by Atlantis and it gives off a really unpleasant odor at times. It's a longish walk to the famous shopping hubs in Atlantis so that might be a drawback. It's rather disappointing to see the beach chairs, umbrellas, lounge chairs etc. been taken away at 6 p.m. The beach umbrellas (especially the large ones) are not enough in number. 
Customer service needs an overhaul. The Reef Bar menu should be displayed on the websites and inside the villas and it would be nice to keep the bar open for longer periods of time.  
The Paradise Island Beach Club is not a young property and she has been remodeled quite a few times and she looks as if she needs some more repairs. There is overall lack of maintenance, sometimes a musty smell may come from rooms and there are leaks in faucets and cracks in tubs. 
The ocean is in direct view from the balconies of half the villas so if the view is important then check your villa in advance. Basically the first floor villas have obstructed views and the third floor ones have nice views. The ceilings are kind of thin and if you stay in the middle floor then you can be disturbed by the activities of people living in the unit above you. There are some oddities that you might find irksome…there is a coffee maker but no free coffee sachets and there are no free shampoo and conditioner bottles. It's best that you bring in your own supply of toiletries. 
Paddle boarding, kayaking and snorkeling equipment are available in the hotel but these are managed by third party providers. If proximity to the Atlantis and owning a beautiful piece of beach for some days are what you seek from your vacation then you will love this resort. If amenities and great service mean a lot to you then this is not your type of place. 
Rates provided by booking.com 
If you have a friend or relative who owns a condo unit here then you can get them to invite you!! 
How to reach
The Nassau International Airport is about 35 minutes of cab ride and you can book a cab from the airport to reach the Paradise Island Beach Club. The resort is right next to Atlantis in Paradise Island that's connected to Nassau by bridges 
Road Map
Contact Info
Paradise Island Beach Club, Paradise Island,  
Garden View and Ocean Ridge Drive, Bahamas 
Phone: 242-363-0101; Fax: 242-363-2130 
Related Articles
Visitors' Reviews and Comments