Aquatic Bermuda
Great Charter Boats
Captain Tony and his wife own Aquatic Bermuda and operate a small 22-foot glass bottom boat, called the Coral Reefer. This boat from Aquatic Bermuda has a capacity of 14 persons. Only 6 inches of the boat remains under the water. Tony can cut out the engine and drift silently over reefs that are sometimes less than a foot below the surface! 
We saw vibrant parrotfish and other colorful fish right below the water surface. We had our toes curling! Aquatic Bermuda puts a lot of emphasis on sightseeing and glass bottom view of corals and marine life. They focus mainly on the lagoon patch reefs about midway between shore and barrier reef. Water is quite shallow there. With wonderful reef and coral formations, it gives you breathtaking views. 
The experience is completely different when you compare it with the views you get from the shore. This charter boat tour on
Coral Reefer
can be highly satisfying if you are looking to have a lot of information about the island, sightseeing experience as well as a great glass bottom view of the underwater world. If you plan to charter a boat for a snorkeling tour, you may consider
Jessie James
. 
However they won't focus much on sightseeing and glass bottom view as much as Aquatic Bermuda. Aquatic Bermuda also offers snorkeling tours but because their boat isn't that fast, they tend not to go all the way offshore unless it's a small group and the weather is calm. 
For offshore snorkeling, Aquatic Bermuda offers only private charters. So the size of the group will determine how affordable it can be. If you are a group of 8-12 it can be a great deal to have a trip customized to your needs. You will pay around the same price as what you'd pay otherwise to join a bunch of other people on a trip that works on a cost per-person basis.  
If you'd like lots of attention while you learn to snorkel, Tony can be an awesome instructor. While Coral Reefer has a capacity of 14 persons, Tony prefers to limit the group size to 10. 
Indicative Rates 
Private hire charge of the Aquatic Bermuda coral reefer is $150 per hour. However, minimum charge is for two hours or $300. They also rent out small self-driven motorboats, the 17-foot Boston Whaler and 23-foot Beach Cat, for you to do your own independent water activities. However, you will be limited in your range to a half a mile from the shore. But you can still get to some of the great areas of the lagoon patch reef I talked about earlier. 
Boston Whaler has a capacity of 6 persons. This boat can be chartered for $150 for half day or $260 for full day. Beach Cat has a capacity of up to 10. This boat can be chartered for $230 for half day or $400 for full day. 
Update June 2013: Unfortunately Tony had to sell off his Coral Reefer to cover medical expenses. The Coral Reefer is no longer available for charters. However the Boston Whaler and Beach Cat are still available on rental.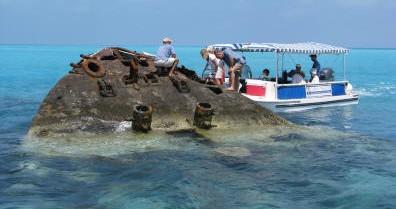 Location 
Aquatic Bermuda operates from the Hamilton area. Aquatic Bermuda has no city office. For glass-bottom tours, you will find them with the boat at the Hamilton Ferry terminal which is at the west end of Front Street, next to Bank of Bermuda. Pick up is from Barr's Bay Park at the West end of Front Street (at the Hamilton waterfront). 
To reach Aquatic Bermuda at
Barr's Bay
from Hamilton Ferry Terminal, keep harbor to your left, walk past the Bank of Bermuda and turn left then immediately right. Walk down the short lane between red and green building to the Marine Police Station. Barr's Park is ahead beyond the hedge. Enter park through the gate and look for a boat with a Red Canopy. The chartered boat tours also depart from
Pompano Beach hotel
, Willow bank and the
Fairmont Southampton
on certain days of the week. 
Contacts 
Postal address: Suite #240, 12 Church St, Hamilton HM11, Bermuda 
Raj Bhattacharya
Raj is an avid traveler and a full-time travel blogger. He has traveled to numerous countries across the world and loves to keep travelling. His mission here is to help viewers like you visiting Bermuda or seeking insights into related matters with the most comprehensive content compared to any other online resources. Since years now he has been helping countless viewers by posting quality articles on this website, answering questions and sharing experiences. Launched in 2008, this website is Bermuda's leading source of online information since many years. 
Related Articles
Visitors' Reviews
Review and share your experience.