Angelo's Bistro Bermuda
$$, Italian 
The Restaurant and Ambience
As the name suggests, it's more like a bistro or a cafe rather than a proper restaurant. The bistro is not easy to find but would be worth the effort. It's tucked in a mall (Walkers Arcade) and located off the Front Street in Hamilton and at a walking distance from the Hamilton ferry terminal. The place might be a bit difficult to find but is absolutely worth the effort. You can simply ask a local how to get to Walkers Arcade or look for sign boards on Reid Street and Front Street. 
The restaurant is owned and managed by Angelo Buglione, the person who once used to run the erstwhile well known restaurant
Splendido
which closed down in 2011 because the hotel (Horizons and Cottages) where the restaurant was housed, had also closed down. 
Angelo's Bistro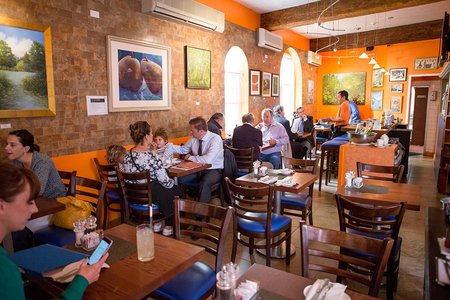 Source: Angelo's Bistro 
This restaurant is quite small. Other than inside dining, there is a small courtyard outside. Weather permitting, tables are a laid out in the courtyard (i.e. an outside patio) in a circular fashion around a fountain. It is an interesting concept architecturally as it is surrounded on all four sides with galleria balconies and columns that shelters you from strong breeze while allowing you to enjoy the sunshine. The setting is very complimentary of the cuisine that is served here. 
Courtyard at Angelo's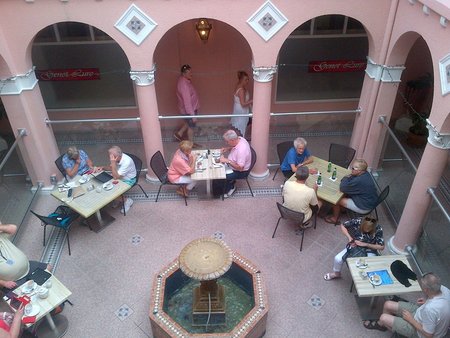 Source: Angelo's Bistro 
You can choose to sit inside or outside. The inside dining is air-conditioned and the interior is lively having bright orange walls, tiled floor and wooden tables laid out in rows. The bar counter with tall wooden stools is tucked in one corner. The walls are full of paintings. The place is not too fancy but is quite warm and welcoming. 
Food and Drinks
Angelo's Bistro received 'Best of Bermuda' award in 2015 for their quality and range of
gluten free food
. Yes they do serve a large variety of gluten free items including chocolate cakes, and they really make them well. If you are looking for gluten free food, then ask for the gluten free menu. They offer take out as well and there is a separate take out menu which includes most of regular dinner menu items plus more. 
They serve some great food made with the freshest ingredients and in the right portions. There is always a large and diverse array of tasty daily specials in addition to the regular menu that is in fact a Taste of Italy! The menu is extensive and authentic Italian and the nightly specials are sometimes upward of fifteen dishes! If you can make room from appetizer to entree and all the way to the dessert, you will not be disappointed. Here are some of our favorites. 
Start your day here with a Lavazza cappuccino and eggs Benedict. The breakfast menu also includes Pancakes and Crepes (of various types), eggs to order, toast, bacon, house cut fries, muffins etc.  
If you are planning for lunch or dinner, in starters some of the favorites here are Bermuda Fish Chowder (local soup made with ground head of fish), grilled seafood or or the wonderful pastas- fresh and made with a lot of heart. The house-made Pappardelle pasta and risotto with duck sausages are very tasty. The pasta is cooked al dente, the sauce precise and tasty.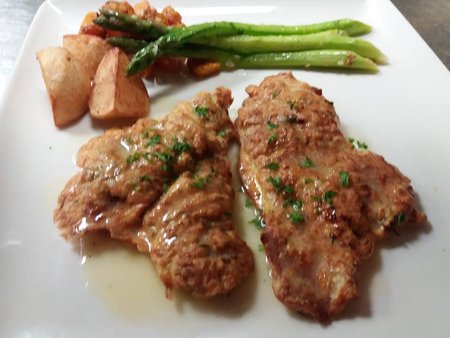 Source: Angelo's Bistro 
In salads, tiger shrimp salads, artichokes and avocado salad, arugula salad, crispy fried calamari, fresh salmon gravlax etc are good choices. The black bean and corn salad is quite nice and beautifully presented on a bed of fresh greens. The Caprese salad comes with sliced avocado, sweet tomatoes and cheese that has a perfect flavor. The Cranberry mimosas are refreshing and pairs well with the salads. Portions are good enough for two. We had ordered a goat cheese and zucchini tart which came with mixed greens. The tart was delicious, the puff pastry cooked to perfection and the goat cheese and zucchini were wonderfully savory. 
The menu also includes a range of seafood, meat, homemade pasta and risotto items. Try out the grilled seafood medley which is prepared with wahoo, shrimps, scallops, lemon, risotto and spinach. Steaks and lamb chops are also great. If you want to stick to authentic Italian fare, the lasagna and the linguine are very good. The handmade ravioli especially the spinach and mushroom one is so fresh it melts in your mouth. The crispy gnocchi is scrumptious and so is the local Rockfish with lemon risotto.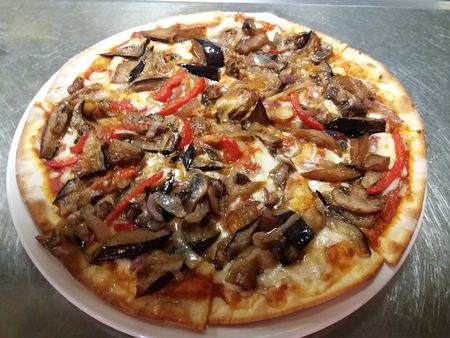 Source: Angelo's Bistro 
Other items to try during lunch and dinner would be beef striploin, pan roasted salmon, seafood spaghetti, handmade ravioli, breaded chicken milanese, handmade crispy gnocchi etc. They serve a complimentary limoncello shot which is actually a nice palate cleanser between dinner and dessert. 
There is a large choice of vegetarian dishes. They even take requests and make dishes off the menu. They have a nice and simple kids menu as well which includes items like chicken tenders with fries, crusted cheeze pizza, cheese sandwiches, fish and chips, pasta etc. 
A wonderful way to finish off would be with a dessert of coffee and cream with its perfect bold flavors. You can also try their vanilla ice cream with some apple tart which comes in rich buttery flavors. 
The Service
The service is usually good and quite friendly. The staff is quite attentive and accommodating and take care of food allergies if any. They know the menu well. The owner in fact will make your mouth water when describing the dishes to you! The restaurant is small and intimate but they actually take good care of you and make you feel at home without hovering or being overbearing.  
Trivia
They serve alcohol. Free wi-fi is offered. You need to ask the waiter for the password and he would usually walk up to the manager to get you the password. Dress code is smart casual. Reservation is not required, although they do take reservations. Note however, the restaurant does tend to get busy during lunch because of its location. The place is wheelchair accessible from Reid street with access directly to the outside dining area and also indoors. There is street parking and parking lot available. 
Conclusion
Whether you want to eat indoors or out in the atrium around the fountain, that lends a very European touch to it, or are here for a takeout, the food never disappoints. You will find a lot of locals frequenting here and that's a pointer to the fact that the place is really good. Although it doesn't quite give you an ocean view or any of the other beautiful sights that most other outlets on the island offer, it is your go to Italian place in Bermuda. The dishes combine traditional Italian cooking with local fish, meats and vegetables into a wonderful experience. The food here are specially created- fresh, beautifully prepared and presented and of course, so flavorful.  
Indicative Prices
Starters range from $9-$14 and some Specialty drinks come for around $8-$9.  
Pastas, risottos, homemade ravioli and gnocchi cost around $18-$22,  
Main Courses are served with fresh vegetables and potatoes: $26 to $29 
17% gratuity is added to your bill 
Open Hours
Monday through Saturday: 11am to 9pm (Sunday closed). 
Serves Breakfast, Lunch and Dinner. 
Happy Hour: 4pm to 6pm, Monday to Friday 
Location and Contact
Angelo's Bistro 
Walker Arcade, Reid Street (off Front Street), Hamilton City, Bermuda 
Road Map 
Related Articles
Visitors' Reviews and Comments
Share your experience...