Cruise Ports in Bermuda
There are three ports in Bermuda for cruise ships to dock... Royal Naval Dockyard located at the western end on
Great Sound
(the busiest port),  Hamilton Port located centrally on Hamilton Harbor, and St. George's Port located at the eastern end of the island on St. George's harbor. 
Royal Naval Dockyard
Located at the western end of Bermuda in Sandy's Parish, Royal Naval Dockyard has two berths or cruise piers - Kings Wharf and more recently built Heritage Wharf. The berths are lined up one after the other as you can see in the picture below. This is where most cruise ships dock these days. The piers can accommodate large passenger ships. 
Explorer of the Seas and Norwegian Spirit at Dockyard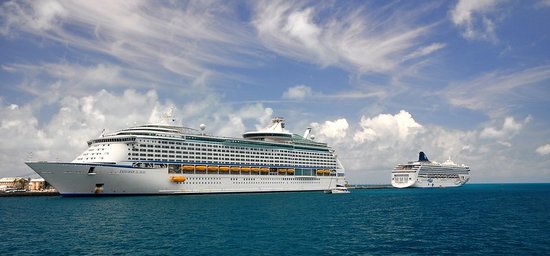 Photo: Kansasphoto, flickr, cc by 2.0 
The older berth at Kings Wharf was inaugurated in 1990 by late Princess Margaret. However in early 2000 it was realized that a second berth was necessary for the future of Bermuda's tourism. So the Heritage Wharf was built in 2009 as planned although it overshot the construction budget by 70%. Protection of the pregnant dolphins at the nearby
Dolphin Center
was supposed to be one of the main contributors to such cost overrun. 
The new dock at the Heritage Wharf was built originally for Voyager Class of ships and not the latest Genesis Class. So it had to be redesigned several times, which too heavily added to the extra cost. However the largest and the latest cruise ships can now dock here. Over 350,000 visitors come to Bermuda every year by cruise, and most of the ships dock here at the dockyard. So it's a busy port. During the high season (April to October) you will see large cruise ships docking here almost everyday. 
Cruise ships at Dockyard, Bermuda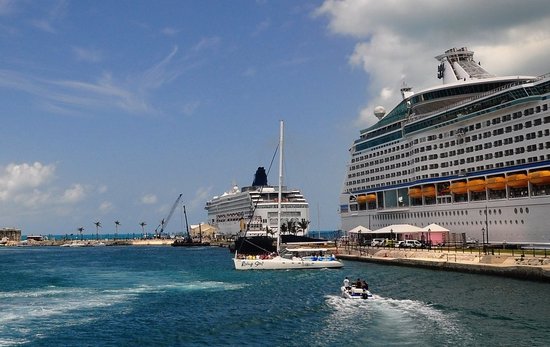 As you can see in the picture above, several small sightseeing boats anchor right next to the berths and pick up cruise passengers for
various sailing tours
around the Great Sound water area. Such tours include sunset sailing, offshore swimming and snorkeling, or simply water-based sightseeing. 
This huge dockyard complex where the cruise berths are located was once a base of Royal Navy and built by the British in early 19th century. It has come a long way since. It is now one of the top sightseeing and tourist attractions in Bermuda. 
Check out
Kings Wharf and The Dockyard
to know about the port, various tourist attractions within the dockyard including the National Museum, numerous tours and shopping options, and more. 
Hamilton City Port
The City of Hamilton is centrally located in Pembroke Parish and is the port capital of Bermuda. The cruise berths are located on
Hamilton Harbor
and along the Front Street. 
Due to overcrowding of the city when passenger ships dock here, the number of cruise ships calling Hamilton port has been reduced in recent times. 
Cruise ship at Hamilton Port, Bermuda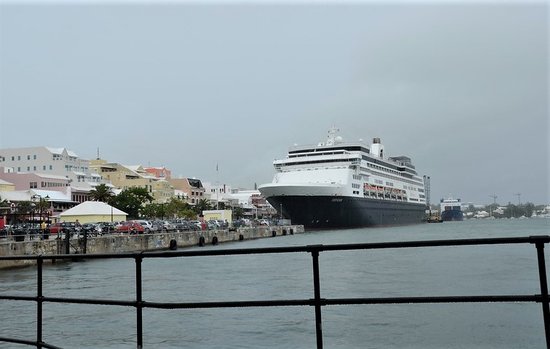 These days only one or two cruise lines are allowed to dock here. The narrow channel through which the cruise ships enter the Hamilton Harbor is known as the Two Rock Passage. This channel is located off the north shore of Bermuda and in between two large rocks, and hence the name. 
Hamilton City
has 2 cruise berths. Both can take ships of up to 750-foot. So only small to medium size ships can dock here. A big advantage of the Hamilton Port location is that you can walk right across to Front Street as you come out of the ship.
Front Street
is the main bustling place of Hamilton with all the glittering shops, best of restaurants and activities. 
There is a public ferry terminal at the western end of Front Street. A direct ferry to the dockyard takes about 25 minutes. St. George is also connected by ferry via the dockyard. The city has the main terminals for Bermuda buses. So you can easily reach out to any place within the island from here. 
Update October 2011: A study by the Ministry of Transport has revealed that cruise ships that are longer than 720-foot are unable to safely navigate through the Two Rock Passage and dock at the Hamilton port. This leaves only 30 small ships out of the total of 165 that currently operate from Europe and US to enter the Hamilton port. This includes the Veendam and its three sister ships. 
St. George's Port
St. George's port is located in
St. George's Harbor
at the eastern end of Bermuda and between the Gates Fort and Higgs island. The narrow cruise channel
Town Cut
is used by the ships to enter the port. Although it has been widened in the past, only small to medium size ships can pass through the channel and dock at St. George these days. 
At times even heavy winds cause difficulty for the captains to navigate the ship through this channel. There had been instances earlier where ships had been diverted to the port of Hamilton city in such cases, which is about 15 miles from St George and is centrally located. 
Norwegian Majesty in port at St. George, Bermuda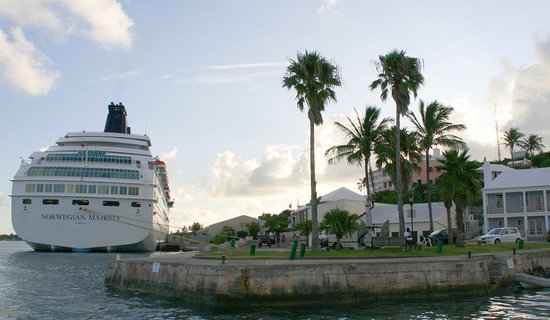 Photo: David/flickr 
As the water is becoming shallow at the St. George Port due to continuous deposits, there has also been cases when cruise ships had to anchor a little further away in a nearby water area called the Murrays Anchorage. And the passengers had to be ferried between the ship and the shore. 
The cruise berths at St. George's are located at
Penno's Wharf
and
Ordnance Island
. Both can take ships of up to 750-foot length. Once you get off at the ports, you can easily walk into the town in minutes. 
St. George is well connected to Hamilton City by both Bus and Ferry services. There is also a ferry service between St. George and the Royal Naval dockyard between April to November. Find out all about
St George Bermuda
. 
Update October 2011: A study by the Ministry of Transport showed that cruise ships that are longer than 680-foot and wider than 94-foot can no longer safely navigate through the Town Cut channel and dock at the St. George's Port. So out of the total of 165 cruise ships that presently operate to Bermuda from US and Europe, only 26 can enter through this channel. 
Bermuda Marinas
There are marinas in many places in Bermuda providing mooring and other services for boats and yachts. Here is all about marinas in Bermuda:
Bermuda Marinas
Related Articles
1) Check out
Bermuda Cruises
to know all about cruises calling ports in Bermuda. 
Visitors' Reviews and Comments
Reg Ohlson (March 2017) 
Today I am booking a cruise for August on Oceania's Insignia which stops in Hamilton. Since I will have a suite with balcony, I would like to overlook downtown and Front Street from the balcony while we are docked. I love that view of all the activity. Can you please tell me - do cruise ships usually tie up in Hamilton on their port or starboard side? Thank you - can't wait until August - my 10th visit! 
Raj (bermuda-attractions.com) March 2017 
Well the answer to your question is a bit tricky. I have often seen cruise ships in Hamilton docked with starboard side facing the Front Street. However there has been exceptions as well. So there is no guarantee. But your chances of watching Front street is higher with a starboard side cabin (that is the right side as you look forward).