Brightside Apartments Bermuda
Category: $,  Location: Hamilton Parish 
Located in the picturesque
Flatts Village
at the eastern end of Bermuda, Brightside with its informal atmosphere, is a great place if you are looking for a relaxed island vacation. Brightside is a family owned and run property and nicely maintained with beautiful manicured garden. It has a variety of units that are furnished with ceiling fans and air conditioners. 
They range from basic rooms and apartments for single or 2 persons to cottage for 4 to 8 with verandas overlooking Flatts Inlet. The swimming pool is set in a beautiful garden setting. 
Brightside Guest Apartments Bermuda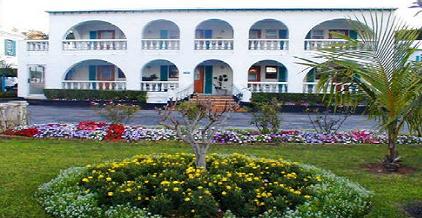 All rooms and apartments have Refrigerator, Microwave and Internet services. There is a convenience store which is about 5 minutes walk from the property. You will get your essentials here. There are also a few restaurants in Flatts Village, the closest one is about 5 minutes walk. 
Most apartments have kitchens where you can cook your food. However the nearest grocery store is about 10 minutes by bus. You can also go to Hamilton City to get your provisions. 
Here are in-room amenities for each type of accommodation: 
1) Basic room (for two) has 1 Double Bed, Fridge, Microwave, Coffee Maker, Toaster, Shower, Cable TV, Phone, AC.  
2) Studio apartment (for two) has King/Queen bed, Kitchen, Bath, K-Bed, Cable TV, Phone, AC. 
3) One bedroom apartment (for two) has queen bed, one Queen pull out couch sofa, living/dining area, Kitchen, Bath, Cable TV, Phone, AC etc 
4) Family cottage (for two) has 2 Bedroom, K-beds, Full Kitchen, 2 baths, Living Room, Cable TV Phone, AC 
Other accommodations include Poolside Studio, Large Studio Units, Two Bedrooms (Deluxe), Two Bedrooms(Master), Large Family Cottage, Terrace etc. 
Although there is no in-house dining at Brightside, there is a nice Italian restaurant called
Rustico
which is located at the property's site and gives youa great option to dine. 
Nearby Attractions
Bermuda Aquarium, Museum and Zoo
which is one of the top attractions in the island is just one minute walk and across the Flatts bridge. There are also Souvenir Shop, Deli and Ice Cream Parlor, Pizza Shop, Cycle Rental and Convenience Store, all conveniently located in the village within short walking distance. 
It takes about fifteen minutes by bus to reach Hamilton city towards west and same for the Airport or St George. The nearest beach is
Shelly Bay
which is about 1.5 miles away and only few minutes by bus. 
My overall opinion
This is a nice collection of budget apartments of various types. If you plan to stay at the Flatts Village which gives you the charm of a village life in Bermuda at the same time located conveniently between Hamilton City and the Airport, then this is a great option. 
There are no meals provided and you will need to cook your own food or eat outside. Most units have kitchens where you can cook your food. The back side rooms near the pool are much quieter. However the upstairs rooms with the balconies have great view of Flats Inlet. Overall a nice choice. 
Location and Contacts
Brightside Apartments, 38 North Shore Road, Flatts Village, Hamilton Parish. 
It takes 15 minutes by bus to reach Hamilton City and the Airport. 
Bus Routes #1, 3 10, 11 (operating between Hamilton and St George) pass by close. 
Phone: (441) 292-8410 
Road Map 
Related Articles
3) Check out
Hamilton Parish
to find out other great attractions in the parish. 
Visitors' Reviews and Comments
Sannyu Carlton (December 2015) 
This review is very long overdue!  I returned to Bermuda (July 2013) from the US for a month long stay with my four children, who had never been "home." Brightside was the perfect place, conveniently located, beautiful grounds, private swimming pool that my children could not get enough of, and wonderfully polite and professional housekeeping.  
Both women respected my privacy and went over and above by anticipating all my needs. The bus stop was right outside, restaurants, and the aquarium within walking distance. The grocery store was right around the corner one way and a small convenient store to grab a paper, toiletries, and bread and milk was just a short walk in the other direction. Waking up to that view every morning was spectacular! 
Michael was an amazing host, friendly and accommodating! I did not want to leave! The free wifi was a plus.  I am definitely looking forward to returning soon! 
Anthony and Michelle Torre (April 2013) 
My husband and I are both yacht captains and recently moved to Bermuda for a new position in Tuckers Town. While awaiting our new quarters to be finished, we stayed at a few hotels that were very lovely. Soon we realized our interim stay would be longer than thought, and we began seeking a more long-term housing situation. At one of the worker's recommendations, we took a cab to Brightside in Flatts village, and we never turned back!  
We love Michael the owner, and his friendly staff. They accommodated us in the far end cottage up on a hill with beautiful views of the village and marina. A full length front porch was a delight for reading and dining. Because of the huge fully equipped kitchen, we were able to take the bus to town for food shopping and made wonderful meals to enjoy at our cottage. 
The grounds are lovely with flowers and palm trees and perfectly manicured by a friendly hard working full time gardener. 
The housekeeping staff especially Suzy was friendly and helpful and always appreciative of our presence there, and very respectfully of our privacy and needs. We worked out of our cottage for several weeks, so the internet was a blessing--and what a view to work with looking out at every day. The living room was also huge, with full size dining table and chairs, and two couches, and big TV and screened windows and doors. 
We had our own side and front yard to walk around in and enjoy the flowers. It is a perfectly central location to Hamilton, St. George, Dockyard, and Tuckers Town. If we did not have our own home to move into, we would love to stay here forever, it is true Bermuda! Thanks Michael, Gwen, and Suzy--we love you!