Ruby Murrys - Indian Restaurant, Bermuda
$$, Indian Cuisine 
The Restaurant and Ambience
Does the name of the restaurant sound Indian at all? Of course not. But does it serve great Indian dishes? Of course yes and in fact it's dedicated to serving authentic Indian cuisine. Then why such name? Those having visited east London would know that. The Brick Lane in east London is full of Indian curry houses and bustling with Indian food lovers. And the Brick Lane Music Hall once had its bills with pictures of the famous Irish singer Ruby Murray of 1950s. And her name became synonymous to Indian curry in Brick Lane. The restaurant owners would have drawn inspiration from that. 
The restaurant belongs to Yellowfin Group which also owns
Port O' Call
and few other well known restaurants in the island. And that should indicate that you can expect quality here. The restaurant now seriously challenges the other Indian restaurant
House of India
which too is a great name to tourists and locals. But that is located in the outskirts of Hamilton and reaching the place is not easy and the locality is also not too inviting. However Ruby Murry's overcomes that constraint with an excellent location just off Front Street and an easy walk from the Hamilton Ferry Terminal. 
Ruby Murrys Bermuda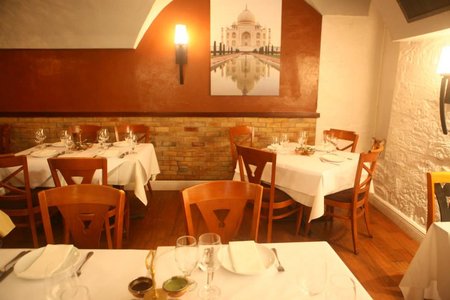 Photo: Ruby Murrys 
This is one of the relatively new restaurants which opened in 2014 and has been consistently attracting both locals and tourists since it opened. The main strengths of the restaurant are its very friendly and cordial staff, Indian chefs who are capable of tuning the dishes to right tastes and flavors, and a relaxed friendly ambience which reflects an authentic Indian aura. 
The restaurant is located on a lane which is pedestrian-only area but lit up very nicely at night and just off the Front Street. As you walk in you need to go past an open sitting area which I would think is not so appealing (few picnic tables in an informal surrounding). 
Once inside the ambience is excellent... white walls with Indian art (look for the picture of Taj Mahal of India and the metallic sculpture of an elephant), low arched ceilings, spotless white table-covers with wooden chairs and dishes served on metallic containers typical of Indian tradition. Actually this place where the restaurant is housed used to be a wine cellar once. The downside however, is that the restaurant could get a little noisy especially when doing a full house as the establishment is small, the tables quite close to each other and sounds tend to reverberate. 
Food and Drinks
Although the restaurant claims that it can serve cuisine from all over India including from the east, north, west and south India, the menu reflects more of northern and to some extent eastern India. And apart from traditional Indian cuisine, the chefs have very cleverly added several modern Indian cuisine to suite western taste which very few Indians would be actually familiar with. 
The menu is long and therefore unless you know it can be confusing. First, assess your tolerance for spice level. If you are not used to spicy food, I would strongly recommend that you go for items with medium to low spice level although this would take you further away from authentic Indian tastes, but still would be worth considering your palate. They offer dishes here in four different spice levels- mild, medium, spicy or Indian spicy, although for someone not accustomed to spicy food at all, even medium could be a little too harsh on the palate. There are four different kinds of sauces placed on the table to further augment the taste ... mint chutney, tamarind sauce, coriander sauce etc. 
Some popular appetizers include tandoori chicken (note that all tandoor items are made in earthen oven), coconut and noodle crusted shrimps, lamb gilafi, chicken or veg samosas (basically stuffed and fried dumplings), chicken tikka etc. They even serve you 'pappadams' which are Indian style crisps along with several dips or chutney options. 
Byriani and Curry dishes with Naans 
Source: Ruby Murrys 
In Indian dinner or lunch, the traditional practice is to take a combination of naan (tandoor made bread), tandoori roti (another type of tandoor bread) or rice along with curry dishes of your choice. In naan there are several options. However the raisin coconut naan is a specialty here and adds a mild sweetened flavor that goes well with the curry spices. A good choice of chicken-stuffed bread is Kheema Kulcha. 
Some of the great tandoor items include tandoori fish tikka, murgh malai kebab, kebab platter, Punjabi shrimp tikka... note these are all dry items with no curry. Most curry or tandoor items come with servings of rice, so ask them before you order for rice separately. 
In traditional Indian curries, try out some of these ... chicken jhalfreizi, chicken or fish tikka masala (note masala means spices and this is a very spicy item), lamb vindaloo or lamb bhuna, chicken sagwala (chicken prepared with spinach and onion) etc. The Butter chicken here is especially nice and goes very well with the Naan. However, if you really want to taste the Mughal Indian cuisine, then there is no substitute to Biriyanis which is a combination of  Basmati rice, fried onions and mint and comes combined with pieces of chicken, lamb, beef or shrimp ... as per your choice. A typical meal of naan and curry should ideally be accompanied with raita which is a yogurt and cucumber side and a perfect balance to the heat of the curries. 
There are many vegetarian items in the menu ... some favorites are sahi or saag paneer (made with cottage cheese), dal makhani (specially prepared lentils with butter), gobi matar masala (combination of cauliflower and green peas) etc. In modern Indian entrees, there are dishes such a lamb chops, slow braised lamb shanks, goan coconut fish curry, samundari ratan (assorted seafood) etc. 
For lunch they have a buffet service which offer a wide variety of dishes that are altered to keep the variety going on different days of the week. 
In dessert, try out the hot gulaab jamun.... juicy Indian sweet dipped in a sauce. They have a bar as well. While you get spirits, beer and wine, you won't get draught beer though. You can even finish off with a glass of lassi which is a cool yogurt drink that sometimes comes with added flavors. The Mango Lassi for instance is really great. 
The Service
Although mostly friendly and informative, the service here could be a little flawed. You could find yourself reminding the wait staff for certain essentials like paper towel or even water refills.  having said that, it would be unjust not to mention how accommodating they can be as they will happily prepare a dish off menu if you so please and are also extremely mindful about the spice levels if you happen to make such a request. If you are here to celebrate a special occasion you could expect a little surprise from the staff at the restaurant! 
Trivia
Reservations are recommended for a good table in the smaller quieter room, as the place is not too big and tends to fill up fast. Dress code is smart casual. They also have takeaway service. The restrooms are on a different level and you have to take the stairs to go there. 
Conclusion
Situated in a colorful alleyway behind Front Street, the restaurant is quite small in size but makes for an amazingly intimate place in a cool dimly lit beautiful ambience for rejuvenation. So don't let its  hidden location deter you as this place is a locals' favorite and worth seeking out. 
The Indian flair of the food served here with its generous use of rich spices and tendency to go a wee bit over the top, is a refreshing foil to the otherwise bland and regular island fare. When you think of Indian food what comes to mind is heat, pungency, aromas and flavors and Ruby Murrys does not disappoint on any of those counts. 
Indicative Prices
Appetizers: $8-16, you can also start off with a plate of poppadoms and chutney that come for around $3.75  
Main Courses: Breads cost around $5-$7 and around $15 for the family size ones, Vegetable options $18 - $15, Tandoor options $17-$29, Curries $18-$26 and Biryanis $19-$21 
Open Hours
Lunch: (Monday to Friday) 12noon to 2:30pm 
Dinner: (Monday to Sunday) 5pm to 10pm. 
Location and Contact
2, Chancery Lane, Hamilton City, Bermuda. 
Road Map 
Related Articles
2) Check out
Top Cheap Restaurants
to know about the inexpensive dining choices in Bermuda that serve great dishes and are quite popular in the island. 
Visitors' Reviews
Review and share your experience.