Bermuda College
Bermuda College, located in Paget Parish, is the only institute in the island that offers post secondary education. Established in 1974 by the parliament of Bermuda, this Community College was created by merging three popular institutes in the island. 
They include Bermuda Technical Institute that was established in 1956, Bermuda Hotel and Catering College (set up in 1965), and the Academic Sixth Form Center (established in 1967). 
Bermuda College has about 1400 students with an average class size of 15. There are over 50 full time faculties and another 50+ adjunct lecturers. In November 2010, Bermuda College has received affiliation with New England Association of Schools and Colleges (NEASC). Read
Bermuda College Accreditation
to know what that implies for the students and the college.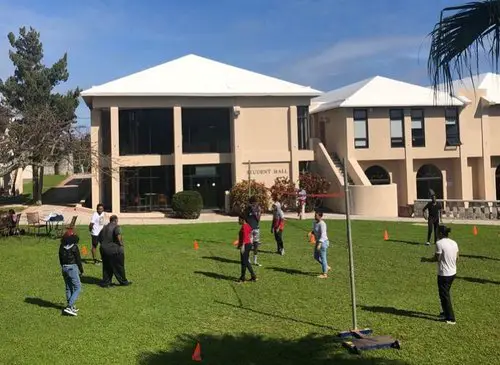 Photo: Bermuda College (Facebook) 
Programs and Course Offerings
There are three kinds of programs run by the Bermuda College. 
Associate Degree Courses 
This provides the first two years of college work which can then be either used to get a job in the local market or transferred to an overseas university for continuation of post secondary education. Subjects covered in Associate Degree courses include:  Arts, Business Administration, Computer Information Systems, Culinary Arts, Education, Electronics Technology, Heating Ventilation and Air Conditioning Technology, Hospitality Management, Human Services, Motor Vehicle Technology, Plumbing Technology, Science, Web Development, Wood Technology etc. 
Diploma Courses 
The diploma programs are part of the Associate Degree courses. They are targeted to develop occupation specific competency and skills so that a student can take up an immediate job in the island. Alternatively the student can carry forward the credits from this program to continue on the Associate Degree course at a later point in time. 
Subjects include: Chef Apprenticeship, Computer Network Administration, Computer Network Technology, Culinary Arts, Electronics Technology, Food and Beverage Management, Heating Ventilation and Air Conditioning, Masonry Technology, Motor Vehicle Technology, Office Administration, Plumbing Technology, Website Development, Welding Technology, Wood Technology etc. 
Certificate Courses 
This program makes the student job ready with necessary competencies in one of the many job professions for immediate employment in the island. 
Subjects include: Accounting Assistants, Electrical Wiring Technology, Electronics Technology, Heating Ventilation and Air Conditioning Technology, Motor Vehicle Technology, Office Assistants, Office Skills, Plumbing Technology, Wood Technology etc. 
This is a continuing education arm of the Bermuda college that provides career and professional education to Bermuda's workforce so that they can further improve on their job skills. 
Facilities in Bermuda College
The library in the Bermuda College has more than 35,000 volumes and 1,315 reels of microfilm. There is also a special collection of Bermuda based rare books that are now out of print. The library also has an extensive computer network and provides access to online resources including software packages, applications, Internet and other online information. 
Admission
Bermudian students can apply online at www.bercol.bm. They are required to take a Computerized Placement Test (CPT) that is used to assess entry-level skills in mathematics, English and writing. 
International students from US and Canada can also make online applications and then need to complete a Bermuda Department of Immigration form. They need a minimum high school GPA of 2.0 along with good TOEFL score. 
Other international students need to contact the Enrollment Office of the college to get admission information (email:
[email protected]
). 
Location and Contacts
Bermuda College, 
Stonington Avenue, South Road, Paget, PG 04 
Related Articles
2) Visit
Living in Bermuda
to know all about what it takes to make the best of life in Bermuda.