The Island Brasserie, Bermuda
$$$, Bermudian 
Restaurant and Ambience
Located within the
Rosewood Tucker's Point Hotel and Spa
in Hamilton Parish, this is a gorgeous restaurant living up to the luxury standards of the hotel. As you come to the lobby of the hotel and walk towards The Island Brasserie restaurant, the wide marbled floor, high ceilings, graceful corridor, they all build up to the glamorous ambience of the restaurant. 
It's a spacious dining room that has an elaborate mural depicting ships and ports of the 1800s. The Executive Director of Rosewood Tucker's Point Hotel Edward Trippe is the son of Juan Trippe, the founder of Pan Am. And the mural, created by Gerard Henderson, had once hung in the offices of Pan Am in New York. The tables are spaced out and you have enough elbow rooms. 
The Island Brasserie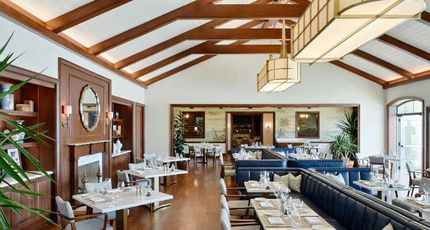 Photo: Rosewood Bermuda 
Around 105 persons can be seated here and there are over 20 waiters serving the guests. There is also an excellent English style bar attached to the restaurant. Overall we love the ambience here. While there is a nice view of the waters from the window-side tables, you can choose to dine alfresco on the terrace with a wonderful view of the Harrington Sound water area. The sunset view from here is exceptional. 
The Rum Room is a beautiful part of the restaurant that has thousands of bottles of wine adorning its walls, wood plank floors and brick ceiling. It makes for a perfect setting for special candle lit dinners and a la carte dining. 
The Swiss Chef Serge Bottelli had shared some unique ideas when the restaurant was opened in 2009 (it was then known as The Point). He said that there would be two types of menu - Sea Menu and Land Menu. He felt that visitors end up having the same types of food in Bermuda wherever they go. So he wanted to make some innovative dishes and experiment a new dish everyday if possible. He sources the ingredients locally and gets the chicken and lamb from the local
Wadson's farm
. 
Food and Drinks
The restaurant has an excellent selections of wine. There is a wonderful 3,000 bottle wine cellar. 
The menu here is quite innovative, island inspired and delicious. It is a great option for breakfasts too. The buffet for breakfast is actually fairly extensive. You can choose from a Continental buffet or a warm entree buffet depending upon how much you want to eat. You can also try the Make-your-own-omelettes counter or the fresh fruit and granola. 
They have a wide range of beverages including a good selection of tea, coffee, smoothies and freshly squeezed juice of orange or grapefruit. Breads are served with a selection of homemade fruit preserves, honey and butter. Besides these you can try their Traditional American or even the Full English breakfast. A well rounded meal, the Traditional American comes with two eggs in any style, smoked bacon or pork sausage link, potatoes, toast, homemade preserves and butter. The English breakfast comes will all these and an additional platter of baked beans. mushrooms and grilled tomatoes. 
The lunch and dinner menu are quite elaborate too with much to offer.   
In Soups and Salads some of the popular ones are Bermuda Fish Chowder, Castle Harbor Salad and JJ's Kale Caesar. The Cream based onion soup which has been reintroduced to the menu is delicious. They have a couple of vegan options as well. 
In main courses, some of the great dishes that are prepared in traditional island style includes Jerk Pork Shoulder, Piri Piri Chicken Breast, Dry Rubbed Strip Steak, Flame Grilled with Jumbo Onion Rings, Lamb Roti, Beef and Mushroom Pie etc. The Calamari is cooked to perfection and the portion is ample. The strip steak is nice too. The mac n cheese is served as an entree and is made very well. 
If you prefer seafood, try out some of these... Pan Seared Rockfish, Locally Caught Yellow Fin Tuna, Tiger Shrip Curry and accompany that with Island Peas and Rice. The menu also includes some comfort food such as chicken and cheese burgers, fish sandwich, fish and chips etc. The fish soup as well as the fish sandwich are delicious. You can also ask for the fish to be grilled. However, we felt that a raisin bread would further enhance the fish sandwich. 
In desserts they have ice creams, sorbet, soufflé, brulee etc in the menu. The ice creams are very smooth and creamy. The Run and Raisin is especially good with its full bodied rum flavor and the creaminess that you can feel on the palate. 
Update: 
The restaurant now has some interesting additions on its menu that includes an authentic fare straight out of a classic steakhouse adorned in innovative concepts of its own. You will get the choicest of cuts and can enjoy anything from the Long Island Strip, Dry-Aged Strip, Cowgirl steak, Petit Fillet to even the seasonal Australian Wagyu Strip Loin. Each of these are served beautifully seared on the Char Grill. The restaurant also serves signature cuts like Chateaubriand and Tomahawk steak for two which are served table-side maintaining traditional steakhouse patterns. Amongst their elaborate meat selections, you also have a choice of Pork chop, Rack of lamb, Chicken or Duck breast. 
The restaurant also serves locally caught fresh seafood and signature dishes like the Tuna Wellington with a little twist to its more classic Bermudian counterpart where a succulent Yellow Fin Tuna is served beautifully wrapped in flaky puff pastry. They also offer Pan Roasted Rockfish, Scottish Salmon or even the choice of feasting upon the day's catch. All dishes come with a wide selection of sides that include Creamed Spinach, Broccoli with garlic, Wild mushroom medley, Mash potatoes and much more. 
The Service
Service is quick and friendly and the staff genuinely happy and engaged. They are also accommodating and ready to make any substitutions as needed. 
Trivia
The location is easy to get to and there is ample parking. Dress code is smart casual although Jackets are no longer required in your attire, as was the need during the time when the restaurant was known as The Point. For dinner however you have to wear closed shoes and collared shirt. It now aims to provide high end dining with a more relaxed vibe. 
Conclusion
With a wonderful outside view and comfortable interiors, the restaurant is great for special occasions and group dinners. You can also opt for a quiet and pleasant meal on the charming terrace with a lovely view of the sunset. So enjoy the restaurant's contemporary version of Bermudian traditional food while keeping the importance of spices and tralatitious cooking techniques in place. 
Open Hours
Open daily (however days and hours of operation can change depending on season) 
Breakfast: 7am to 11am; Lunch: 11am to 5.30pm; Dinner: 5:30 to 9:30pm 
Indicative prices
Soups and salads: $12-$19 
Appetizers : $17-$22 
Main course: $36-$55 and sides: $7-$9 
Desserts: $12-$32 
Wines by the glass: White: $14-$16, Red: $15-$17,Champagne and Sparkling: $15-$18 ; Bottles: $71-$98 
Bottle of Champenois, Charmat and Rose: $75-$500 
Location and Contact
60 Tucker's Point Drive, Hamilton Parish, Bermuda. 
Phone (for reservation): (441) 298 4070. 
Bus # 1, 3, 10, or 11 (all these bus routes operate between Hamilton City and St George). 
Road Map 
Related Articles
Visitors' Reviews and Comments
Share your experience.