The Point Restaurant Bermuda
$$$, Mediterranean 
Located within the
Tucker's Point Hotel & Spa
in Hamilton Parish, The Point is a gorgeous restaurant living up to the luxury standards of the hotel. As you come to the lobby of the hotel and walk towards
The Point
restaurant, the wide marbled floor, high ceilings, graceful corridor, they all buildup to the glamorous ambience of the restaurant. 
It's a spacious dining room that has an elaborate mural depicting ships and ports of the 1800s. The Executive Director of Tucker's Point Hotel Edward Trippe is the son of Juan Trippe, the founder of Pan Am. And the mural, created by Gerard Henderson, had once hung in the offices of Pan Am in New York. The tables are spaced out and you have enough elbow rooms. Around 105 persons can be seated here and there are over 20 waiters serving the guests. There is also an excellent English style bar attached to the restaurant. Overall we love the ambience here. 
While there is a nice view of the waters from the window-side tables, you can choose to dine alfresco on the terrace with a wonderful view of the Harrington Sound water area. The sunset view from here is exceptional. 
The Point Restaurant Bermuda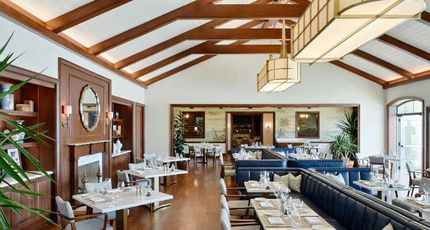 The Swiss Chef Serge Bottelli had shared some unique ideas when the restaurant was opened in 2009. He said that there would be two types of menu - Sea Menu and Land Menu. He felt that visitors end up having the same types of food in Bermuda wherever they go. So he wanted to make some innovative dishes and experiment a new dish everyday if possible. He sources the ingredients locally and gets the chicken and lamb from the local
Wadson's farm
. 
The restaurant has an excellent selections of wine. There is a wonderful 3,000 bottle wine cellar. 
Coming to food, the first thing that comes on the table is the Chef's Amuse-Bouche which is a sweet & salty lobster brisque or a thick creamy soup served on a cup. Well I am not too sure if this is something which I really liked here. 
The hazelnut soup here is excellent. You can also try the combination of grapefruit, shrimp, and lobster salad. For vegetarians, try fennel, goat cheese and pine nut salad. Remember though that in order to keep the original flavors of the ingredients, sometimes only minimal dressings are used. This sometimes results in a flat taste. 
Blue crab and asparagus was great as a starter, or you can try the 3 ways tuna special (sashimi, smoked and tartar). Some of the popular main courses are porcini-crusted fish, grilled swordfish with neck clams and chorizo, boneless rack of lamb, chicken stuffed with pine nuts and dry aged Angus beef rib eye. 
One of the good things about The Point Restaurant is that you can order for smaller portions for about 3/4 of the price. This is great if you have smaller appetite and you pay less. Kids menu is available. 
They accept credit cards. Reservation is required. Dress code is formal, which means that men are required to wear jackets after sunset, ladies to wear evening attire. 
Update December 2015: While there has been change in Chef and the menu, the overall cuisine has remained the same although they call it International cuisine now. Lot more dishes have been added to the menu. 
Open Hours 
Open daily (however days and hours of operation can change depending on season) 
Breakfast: 7am to 11am; Lunch: 12pm to 3pm; Dinner: 6:30-9:30pm 
Location and Contact 
The Point 
60 Tucker's Point Drive, Hamilton Parish, Bermuda. 
Phone (for reservation): (441) 298 4070. 
Bus # 1, 3, 10, or 11 (all these bus routes operate between Hamilton City and St George). 
Related Articles 
Visitors' Reviews & Comments 
Share your experience.