Red Carpet Bar & Restaurant Bermuda
$$$, Italian/French/Mediterranean 
Located at the center of Hamilton City in Bermuda and opposite to the
Butterfield Bank
, this small restaurant looks like an English Pub. However, it serves French, Italian and American cuisine that are favorites to the locals. The restaurant is housed in the Armoury building which is over 150 years old. During the lunch hours the restaurant becomes quite busy with local office goers, businessmen and even politicians. If you are shopping in Hamilton, this is a good place to take your lunch. 
In the evenings, it is relatively less crowded and one can dine in an unhurried relaxed atmosphere. The patrons start to come in to relax over the cool draught beer or other favorite drinks at the bar. 
If you like seafood, try the seafood kettle that has a mix of mussels, shrimp, fish, scallops, and lobster tail in a creamy white-wine and curry sauce. Other favorites include grilled fresh Bermuda fish with fried banana & almonds, cold meat platters, pan-fried wahoo, lamb chops, and Mussels Red Carpet. They also serve nice steaks. 
The Red Carpet Bermuda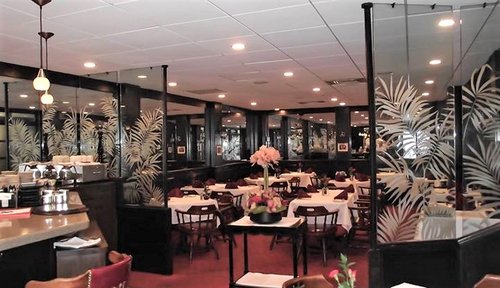 Dinner menu includes additional Italian favorites like the pasta primavera, Veal Marsala etc. 
They accept credit cards. Dress code is smart casual. 
Open Hours
Lunch: 11:30am-3pm Monday-Saturday,  
Dinner: 6:30pm-10pm Monday-Saturday,  
Bar until 1am, 
Sunday closed. 
Location & Contacts
Armoury Buiilding,  
37 Reid Street, Hamilton City, Bermuda 
Phone: 441/292-6195 
Raj Bhattacharya
Raj is an avid traveler and a full-time travel blogger. He has traveled to numerous countries across the world and loves to keep travelling. His mission here is to help viewers like you visiting Bermuda or seeking insights into related matters with the most comprehensive content compared to any other online resources. Since years now he has been helping countless viewers by posting quality articles on this website, answering questions and sharing experiences. Launched in 2008, this website is Bermuda's leading source of online information since many years. 
Related Articles
Visitors' Reviews & Comments
Mark Steiman 
What fabulous meals I had at the Red Carpet while staying in Bermuda. I found the service to be outstanding and only overshadowed by my taste buds enjoyment of succulent steaks and seafood dishes cooked to perfection. My best wishes to Sandy and the entire staff of the Red Carpet for their royal service and standards of excellence.