Somerset Bridge Watersports Bermuda
Tony Roache has been running his family owned business for over 25 years. Located next to the Somerset Bridge at the Robinsons Marina, they offer Boston Whalers motor boats, Kayaks and Jet Skis on rent along with guides to take you around. The guides will help you navigate through the water areas and get you to the great wrecks and reefs that you like to see. They are located in a great position for exploring the western part of the island.  
Some of the main attractions that you can explore from here includes view of
Royal Naval Dockyard
from the water, Mangrove Bay, the partially submerged shipwreck HMS Vixen, the water area known as Sea Gardens where you can see some spectacular reefs and marine life in shallow waters, some secluded beaches and more. 
Offerings 
The Boston Whalers are small motorized boats that are virtually unsinkable and easy to operate. It can travel at speeds up to 35 miles per hours, has a 30hp engine, a central console, retractable sun top shade, seats with back support, ladder and safety equipment. You can also optionally carry snorkel equipment, fishing gears and cooler with ice. Capacity is 4 persons (maximum). 
Somerset Bridge Watersports - Kayaks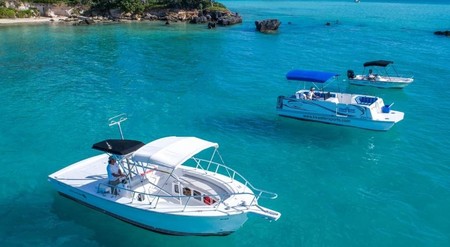 The Sea Doo Jet Skis offered are very stable, can take speeds up to 50mph, they are easy to control with rudder-like vanes that allows slow speed turns. These Jet Skis are comparatively more silent and eco friendly due to their 4 stroke engine. 
The Kayaks are very stable as well. Some of the key areas that you can explore on them include the coast line with secluded coves and tiny islands, get to the HMS Vixen Shipwreck and hand feed the fish there, or spot the turtles who otherwise get scared by the engine noise of the motorized boats. 
Somerset Bridge Watersports provides transport for the dockyard cruise ship passengers who would like to avail their offerings. 
Indicative Rates 
Jet Ski Adventure (1 hour 15 minutes): Single $125; Double $135 
2 Hour Ski and Snorkel: Single $200; Double $230 
21ft Pontoon Boat Rental (for up to 10 persons): 4 hour: $300; 8 hour: $550 
Boston Whaler (Motorboat) Rental 
13ft (4 persons): $95 (2hrs), $145 (4hrs), $200 (6hrs) 
15ft (6 persons): $105 (2hrs), $165 (4hrs), $230 (6hrs) 
Kayak Single: $25 (1hr), $40 (2hrs), $60 (4 hrs) 
Kayak Double: $30 (1hr), $50 (2hrs), $75 (4 hrs) 
Location & Timings 
They are located next to the Somerset Bridge in Sandys Parish at Robinsons Marina. 
Address: 180 Somerset Road, Sandys Parish (West End) 
You can reach the center by bus #7 or 8 (operating between Hamilton and Dockyard). It takes about 10 minutes ride from the dockyard. If you are coming from the dockyard and approaching Somerset Bridge, you will need to take the right turn into Robinsons Marina just before the bridge. 
They are open daily and can be contacted between 7:30am and 7:30pm local time. 
Contact Info 
Phone: 441/234-0914 and 441/234-3145. 
Road Map 
Related Articles 
Visitors' Reviews & Comments 
Share your experience.