The Dockyard Pastry Shop, Bermuda
$, Cafe / Desserts 
The Restaurant and Ambience
Just across the street from the ferry terminal, The Dockyard Pastry shop is a little eatery that serves great coffee and delicious food and refreshments. They open for breakfast and serve light meals for lunch along with afternoon tea, coffee and drinks throughout the day. The place is low key but very pleasant to have a cup of coffee and some pastries. 
The restaurant has a calm and inviting atmosphere with an indoor and an outdoor seating. The bistro style dining room upstairs is air conditioned and the tables on the outside patio are in a walled garden area and are covered with large bright blue/red umbrellas. It is very pleasant in the sunshine to sit outdoors, but could be a tad humid during summers. 
Dockyard Pastry Shop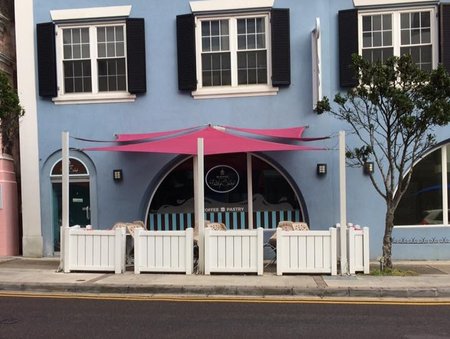 Source: Dockyard Pastry Shop 
Food and Drinks
There is a good choice of hot and cold drinks along with an array of tempting and tasty pastries. In drinks you can go for the simple 'chai' (tea) with almond milk. If you are here mid afternoon and looking for a cool drink with a bit of fruity energy burst, try their smoothies, which come in a variety of delicious flavors. 
They serve a fresh and filling continental breakfast of fried or scrambled egg sandwich with toast or bagel. There are a variety of add-ons that you can pick from like bacons, sausages, Swiss or cheddar cheese, avocado, lettuce, tomato etc on Panini bread or croissant. The scones are served warm and fresh with butter and jam and there is also a large assortment of Danish pastry to choose from. The ham, mustard and cheddar cheese filled croissants are lovely too. 
Inside Dockyard Pastry Shop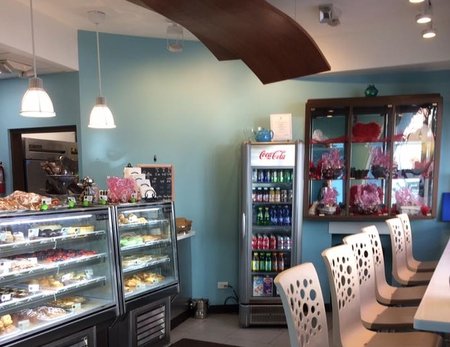 Source: Dockyard Pastry Shop 
They have a different selection of gluten free desserts and cookies to offer each day, that you can check out in the display case or ask your server about. They have vegetarian options too and if you need a
vegan meal
, they can even make some modifications to accommodate your request. 
They have a variety of sandwiches, wraps, paninis and salads which although is not extensive, but all freshly made to order. We enjoyed the creativity of the sandwiches and the fresh taste. You can try the avocado, mozzarella and tomato sandwich which is very well made. The chicken panini and the chicken curry wrap are great too. There is also a nice selection of soups in the munch menu. Ensure you check the 'Specials' board as there are always some great choices there. 
The
Afternoon Hi Tea
menu is available every day after 2pm. The scones and mini sandwiches are delicious. You can try the Earl Gray tea or the Green Tea with tropical flavor which has a wonderful aroma. 
In desserts, the dulce de leche cheesecake is fabulous. The Oreo cheesecake is very tasty too. You can even try the Spiced Pumpkin pie or one of their delectable pastries. If you want to go for one of their ice cream sundaes, the Carmelita is simply scrumptious with vanilla ice cream, caramelized rice crisp, topped with whipped cream and caramel sauce. In drinks, they have a small selection of beers and cider along with spirits, liqueur and cocktails.  
Service
The wait staff is quite friendly and welcoming, though a bit slow at times. They are accommodating to special requests too and try to make things as comfortable for you as possible. The chef and the manager regularly visit the tables without being intrusive or overbearing. 
Conclusion
Right at the heart of the action in the Dockyard area, this is a nice venue to have breakfast or a light lunch. Sitting outside on a bright day for your
afternoon tea
with a medley of traditional scones with cream and jam, cucumber sandwiches, and other assorted pastries is delightfully reminiscent of the teas in England. A cute setting to relax with friendly service and a delectable fare, this makes for a perfect stop if you are out exploring the Dockyard area. The prices are quite reasonable here compared to the island standards. 
Open Hours
Open daily from 9am to 5pm  
Indicative Prices
Continental Breakfast: $6, add-ons : $1-$3, Breakfast of Croissants, egg, bacon etc: $3-$9 
Sandwiches, salads, wraps etc: $8-$19 
Desserts of ice cream sundaes: $10 
English afternoon tea: $26 per person, $38 (with a glass of champagne) 
Coffee, tea, smoothies: $2-$10 
Beer: $7-$10, Cocktails: $6-$10, wine by the glass: $9-$12, Juice, soda etc: $3-$4 
Location and Contact
It is located at the entrance to the Victualling Yard at Dockyard. You can reach by Bus #7 or 8, or by Ferry from City of Hamilton. 
Address: 12 Dockyard Terrace, Sandys, Bermuda. Phone: (441) 232-2253 
Road Map 

By Raj Bhattacharya 
Raj, a seasoned travel writer and Bermuda destination expert, has extensive global travel experience. This website reflects his profound insights, garnered over nearly two decades of dedicated findings and research on the island. Raj has assisted countless Bermuda-bound visitors by providing direct, personalized responses to their queries and imparting his wealth of knowledge through this platform. This site serves as an indispensable guide for those seeking informed and reliable insights into Bermuda's treasures. 
Related Articles
3) Check out
Restaurants in Sandys
know about all the great restaurants and bars in and around Southampton parish. 
Visitors' Reviews and Comments
Share your experience.