Traditional & Historic Homes
In St. George's Bermuda
The first settlement in Bermuda took place in early 1600s. There are many private residences that still exist since 17th and 18th centuries reflecting the architecture and lifestyle of such era. Most of such houses can be seen in St. George at the eastern part of Bermuda. 
And that is because this is the place where the first human settlement took place, and St. George remained as the first capital of Bermuda for more than two centuries. 
Walk along the narrow streets of St. George many of which still bear the original names, and observe the wonderful traditional and historic houses. Most of these houses would have white gabled or hip roofs, chimneys, windows with wooden shutters placed high near the eaves, pilasters, low garden wall, impressive gateposts etc. 
Many of these properties are today leased out for residential and commercial purposes. So entry to some of such properties may not be allowed but you can always see the buildings and houses from the streets and take pictures. 
A Short Video on Bermuda's Traditional Architecture
Fanny Foxís cottage
(Location: 10 Governorís Alley, St. George) 
This is a small cottage built around 1707 in St. George and one of the most photographed ones. Although the house went through several extensions over the years, it has retained its original architecture and remained attractive. 
The original house is likely the one with rectangular gable by the street side. In late 1700s, the cottage was extended towards north beyond the chimney and another gable was added. There is also another section in the eastern side which too is quite old. Several additions were made at the backside as well. Some of the notable features of this cottage includes the windows with flush frames and placed high up near the eaves, a water tank above the ground, low height fence etc. 
In 1800s, the house belonged to the Zuill family. There is a background to the name of this cottage. The owner Miss Fanny Zuill married a person named Mr. Fox. However the marriage lasted only for a day and Fanny Zuill lived rest of her life here in this cottage. Since then the house is known as Fanny Fox's Cottage. Presently it is used as a private residential house and the ownership is under Bermuda National Trust. 
Durnford House
(Location: 36 Wellington Street, St. George) 
This is a lovely pink colored large traditional house in St. George with white slanted roof and set up in a lush garden setting. A stairway with two support walls (welcoming arms) leads up to upper level. This house was built in 1795 by Mayor Andrew Durnford as his residence. 
He was the first Mayor of St. George. Durnford came to Bermuda mainly to look after the construction work of the forts in St. George's. It is said that a part of the fund allocated for forts were diverted to build this house. Some of his enemies called this house 'The Fifth Fort'. 
Andrew Durnford did not live long to enjoy the house. He died on September 11, 1798 and was buried in the grounds here. You can see his memorial. 
This large house is complete with kitchen, fireplaces etc and has wonderful views of the town and St. George's harbor from its balcony and windows upstairs. Some features to this house were added later including the moulding around the gables, decorative keystones above the windows etc. 
A porch in the northern side and a large verandah in the south were also added later. There is a service house in the grounds. Gateposts are impressive. The property is under Bermuda National Trust. It's offered on rent for residential purpose. 
Whitehall
(Location: 12 Clarence Street, St. George's) 
Whitehall is a 2-storey mansion built by St. George's Mayor John Van Norden in 1815 as his own residence. He was himself the architect of the building and supervised its construction. Many upper-class social functions were once held here. It later became residence of several other Mayors of the town. 
This excellent mansion house has a slanted hipped roof, quoins at the corners of the walls, moulding around the windows, eaves and wonderful double verandas. However the veranda was added later by the Mayor B.F. James. There is a nice wooden porch at the western side. 
The gateposts look very attractive and so does the staircase with two welcoming arms. Presently it's a private property and used as a private residence. 
(Location: 1 Bridge Street, St. George's) 
This property was originally built in early 1700s and was once a private residence. It was rebuilt in early 19th century. The oldest part of the house is its north/south section. There was also a separate kitchen building which is now linked. 
Some interesting features of the building includes the many cedar work inside and the early 19th century porch. All chimneys are quite different and one has a gap between the flues. On the eastern side you will find several small courtyards. The property is now under Bermuda National Trust. It's a two storey white house. The upper floor has two bedrooms and the lovely porch overlooking the town square. 
The ground floor is used commercially as a space for art gallery, while the upper floor is offered as residential accommodation on rent. 
(Location: 1 Nea's Alley, St. George's) 
This elegant house was built in 1700s. It was once the residence of the American Consul of Bermuda. Later the Wright Robinson family owned it since 1911. The original cedar work have all been retained in the house. In 1961 the house was converted into a guesthouse under the name 'Hillcrest Guest House' with the objective of offering guests the old world charm. Later it became known as Aunt Nea's Inn. 
In 2011, the PBS TV show 'This Old House' had shown the annex property of Aunt Nea's Inn known as Harbour View located in the same premises (just south of it). Harbour View used to be the former innkeeper's house. 
(Location: Silk Alley, St. George's) 
This is a small house which belonged to Pilot James Darrell. He was a black slave but freed in 1796 because of his great skills of ship navigation. The place where his house is located is known as Darrell's Square. This house is also known as Hermit's Court. Darrell's descendants still continue to occupy the house. 
(Location: 1 Broad Alley, St. George's) 
This residential house was built sometime around 1699 and is one of the oldest homes in St. George's. The house was originally built by a pirate but later went through major refurbishment in 1825. There was a time when a bishop lived in this house and therefore the name Old Rectory although the house never actually operated as a rectory. 
Some of the unique features of the house includes its several chimneys (one at the eastern end is separated from the roof), the windows, cellar, a front staircase with welcoming arms etc. The house is now owned by Bermuda National Trust and rented out for residential purpose. 
Buckingham House (Location: 2 King Street, St. George, near State House) 
This is a 3-storeyed Georgian building which was constructed in mid 1700s. The municipal corporation of St. George has its office in this building. It also houses a gift shop. So you can enter the property. There is a nice lawn next to it where a sculpture (bust) of the Irish poet George Moore has been erected. The poet visited the island in 1803. 
(Location: 3 Featherbed Alley, St. George) 
This is now home to St. George's Historical Society Museum. It was a private residence and built circa 1731 by a person named Walter Mitchell. It later changed hands many times. In 1901 it was bought over by George C. Wailes when it was run commercially as a hotel. However in 1922 it became the museum. 
Some great features of the house includes the Welcoming arms with steps leading to a flat sitting area on top, chimneys, exposed eves, slanted hipped roof etc. There had been a number of additions that took place over time. The plantations on the grounds have been done in recent time. In 1956 the roof collapsed and had to be rebuilt. 
Reeve Court
(Location: 3 King Street, St. George's) 
This is another traditional old house typical of St. George. Reeve Court was built in 1706 and by 1800 it became the residence of Captain William Foote and his wife Jehoadan Tucker Foote. It remained with the Tucker family until early 1900s. The house is located quite close to the State House in St. George. 
It has several sections and extensions. The main section has a gable roof at the east and a hipped roof at the west. There is a nice chimney with double flue. The house also has a veranda at the southern side. There are two other sections in the northern side extending from the main building and both have hipped roof. These sections were built later. 
Other interesting features include the entry steps flushed to the wall to save space, garden wall, small outer buildings etc. The building is presently used for office and residential purpose and owned by Bermuda National Trust. There are large rooms and a full kitchen. 
Hunter Building
(Location: 4 Pennoís Drive, St. George) 
This is a large U-shaped 2-storied building in St. George with four impressive chimneys. It was built by J.S. Hunter likely before 1791 and it remained with the Hunter family until 1918. On the eastern side a large beautiful verandah was added in 1920s which serves as a great example of such time. 
In the eastern and northern sides you will see lovely 9 by 9 window panes with mouldings around. However windows at the other sides have been replaced. Inside you will see huge ceiling beams, great woodwork and attractive floors. There is also a service house and a toilet in the back side. The building is presently owned by W E Meyer and Company Limited and lying mostly vacant. 
(Location: 5 Water Street, St. George) 
Tucker House is a great example of a home of successful and prominent merchants. It was originally built in 1753. Henry Tucker who was the President of Governor's Council in Bermuda between 1775 to 1807 lived here. The house features flushed staircase, hip roof, chimney etc and elegant furnishing inside. Today Tucker House is a museum run by Bermuda National Trust. Many collections of silverware and old furniture of Tucker's family are on display here. 
Tucker's House, Bermuda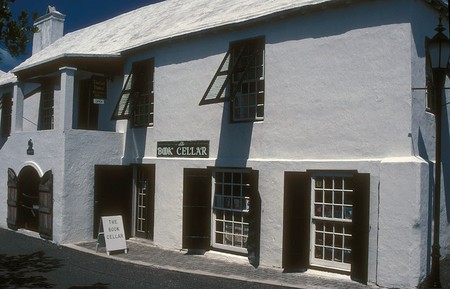 Photo: JERRYE AND ROY KLOTZ MD / CC by SA 3.0 
(Location: 29 Water Street, St. George) 
Located at a corner plot on Water Street, this is an 'L' shaped building built in 1843. The house has remained unchanged since its construction. The main features include the fanlight at the entry door making the entrance so impressive, there are two sidelights at the entry door as well. 
Additionally the white hip roof contrasting so well with the deep color of the building, the eaves and the mouldings around the windows, pilasters are all very impressive. Today the house is a museum run by Bermuda National Trust showcasing the heritage and history of black slaves in the island. The museum also has many records of the lodges and Friendly Societies in the island. 
Stockdale House
(Location: 3 Printerís Alley, St. George) 
This house is named after Joseph Stockdale who was the first printer in Bermuda. He arrived in 1783, made this house his residence and also setup his printing press in the house. He started publishing Bermuda Gazette from 1784 and continued to publish till 1803 when he died. His three daughters took over the press and continued with the Gazette till 1816. One of them also had a small shop in the house selling dress and sewing materials. 
The house was originally built in early 1700s. Although small, it is quite complex in its design. The oldest section of the house runs east-west with a gable roof and a chimney on each side of the roof. Later a north section was added also with gabled roof while a south wing was added with a nice wooden porch. Gateposts and the boundary walls are impressive. Presently Stockdale House is privately owned and is a residential house. 
Stewart Hall
(Location: 5 Queen Street, St. George) 
This is one of the most attractive houses in St. George that reflect the traditional designs of 1700s. The original section of the house was constructed in early 1700s and is on Queen Street. It's a two storey building with gable roof and two huge chimneys at each end with double flues. Later in early 1800s, several additions were made including a single storey section in the northern side, couple of more chimneys etc. 
There are out houses as well. Stewart Hall was named after Duncan Stewart who was the Attorney General and bought the property in 1849. But he never lived here himself. The house is a property of Bermuda National Trust.
Bermuda Perfumery
is located at Stewart Hall. 

By Raj Bhattacharya 
Raj, a seasoned travel writer and Bermuda destination expert, has extensive global travel experience. This website reflects his profound insights, garnered over nearly two decades of dedicated findings and research on the island. Raj has assisted countless Bermuda-bound visitors by providing direct, personalized responses to their queries and imparting his wealth of knowledge through this platform. This site serves as an indispensable guide for those seeking informed and reliable insights into Bermuda's treasures. 
Related Articles
Visitors' Reviews and†Comments
Share your experience.