Aunt Nea's Inn Bermuda
Category: $$, Location: St. George's 
Aunt Nea's Inn, an old Bermudian style Lodge built in 18th century is located in the eastern part of the island at the historic town of St George. The property encompasses the entire Nea's Alley. The Irish Poet Thomas Moore is said to have stayed here as a guest in early 1800s and had great admiration for the place. The property known as Hillcrest was built in 18th century when two plots of land were granted, one in the northern part was built by a widow Alice Finney and the other by Daniel Jones. 
After the marriage between Finney's daughter and Daniel Jones, the two houses were merged into a common property. The house later went through several change in ownership as well as many modifications. An wooden veranda was changed to concrete in 1920. 
This guest house is famous for it's old Bermudian style architecture and homely ambience. All original cedar work still exists. The accommodations consist of 12 guest rooms (Jasmine rooms), 2 suites (the Palm suites) and the house of a former innkeeper (the Harbour View Vacation Rental). 
Aunt Nea's Inn Bermuda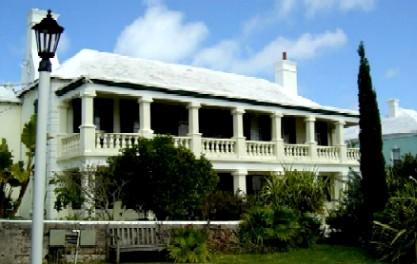 The Palm suites have Master bedroom with queen or King canopy bed, adjoining lounge with cable TV, access to main verandah with its views of St Georges' Harbor. All rooms have TV, Air Conditioning, Fireplace, Kitchen, Hair Dryer, Iron / Board, King/Queen size four-poster, canopy or sleigh beds. 
The house Harbour View Vacation Rental includes a kitchen with appliances, nice bathrooms with Kohler fixtures, and a Drexel Heritage living room that leads onto a private Mexican colonial courtyard with its fountains, swim-spa and hot tub. The courtyard is for the private use of vacation rental guests only. 
The upstairs verandah and deck has excellent views of the St George's Harbor. However one strange feature of most rooms here is the tub and shower being put in the bed room itself and next to the bed. This can make the room quite humid during the summer. 
Aunt Nea's Inn is quite conveniently located. You can easily stroll down to or take a minibus service to several nearby
Attractions in St George
. The bus stop, scooter/cycle rental, post office, restaurants and stores are all within 5-10 minutes walking distance. 
The nearest beaches are
Tobacco Bay
and
Achilles Bay
which are about 20 minutes walk. Continental breakfast is served at a large dining table and includes fresh fruit, muffins, scones and tea. 
When you walk in, you may not find anybody at the front desk and the service is limited. A package in your mail box will have the room key and directions from Rachel to find your room and what to do if you need any help. The rooms have cedar floors, four poster beds (most rooms), fire place and furniture that reflect old world charm.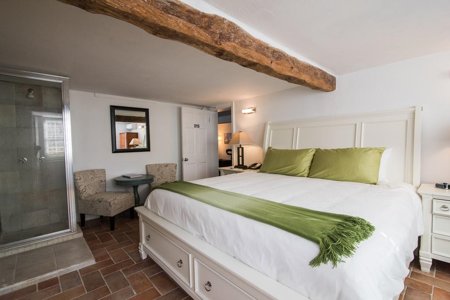 You will also find a note next to the AC requesting you to switch it off before leaving the room to help save power. But in summer, when you get back, the room may be very hot and humid if you had switched off the AC. But if you don't, the housekeeping staff is likely to do it. 
This is a non-smoking property. 
Daily maid service is available. Front desk hours are limited to day time only. 
During peak season, there may be minimum stay requirements on some room types. 
Update October 2013: Breakfast is no longer served.
Temptations Cafe
located down the road serves breakfast. However free coffee is available to all guests. Over the years, the property has become a bit run down. The old main building was built during the early settlement days. There has been signs of aging and the property needs some maintenance and upgrades. 
Although free Wi-Fi is offered in all rooms, it may not always work. While rooms have all window air-conditioners, don't be surprised if you find one broken. The constant ocean breeze has taken its toll on the property as you see paints peeled off at several places. Like several other properties in its category, Aunt Nea's Inn is also frequently invaded by ants. 
Aunt Nea's Inn - Balcony view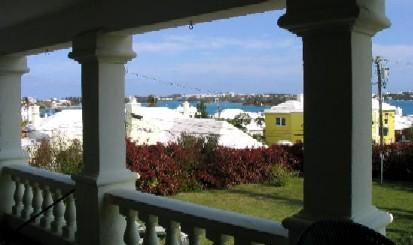 My overall opinion
While the property shows glaring signs of aging, in my view it still offers a value when you are looking for the old world charm. You need to keep in mind that it falls in budget category (by Bermuda's standards). This is a place where you soak in the charm of an olde town life, hear the rooster in the morning, chirping of the birds in the garden, and enjoy the view of the harbor. 
If you don't expect a 3-star property or worry much about the wifi always working or the flat TV showing you great channels (which it does by the way), then Aunt Nea's Inn can still be a nice choice if you decide to stay at St. George, the historic town. I just wish the property gets a bit more attention ... it's time for a LOT of renovation and maintenance work. 
Update January 2016 
The property has gone through major renovations. The upper floor is being used by the owners as their home and the ground floor as the inn or guesthouse. There are now 6 rooms in total and all have gone through extensive renovations including floors, ceilings, plumbing and electrical works. There are 3 king size rooms, one queen size, one with two double beds (i.e. can sleep four), and one like a studio with a kitchenette and living area. 
In-room amenities now include flat TV, coffee maker, safe, mini-fridge, hair dryer, iron, clock radio, phone with free local dialing etc. Complimentary wi-fi is also made available. There is a common living / dining area, a kitchen equipped with fridge, microwave oven, toaster, coffee maker, ice maker, gas oven etc. There is also a porch and a nice garden where one can sit and relax. 
Rate includes complimentary continental breakfast. So now overall a good value for money if you are looking for a nice budget/mid-range accommodation in St. George that gives you a location which is convenient, rich with history, having several great restaurants and of course lovely beaches. 
Rates provided by booking.com 
Location and Contacts
Aunt Nea's Inn, 1 Neas Alley, St. George's, Bermuda 
Road Map 
Related Articles
Visitors' Reviews and Comments
Review and share your experience.